Nature Studies: The unimaginable riches in one tiny English village
There are at least 20 mammals in Shingle Street, from otters to pygmy shrews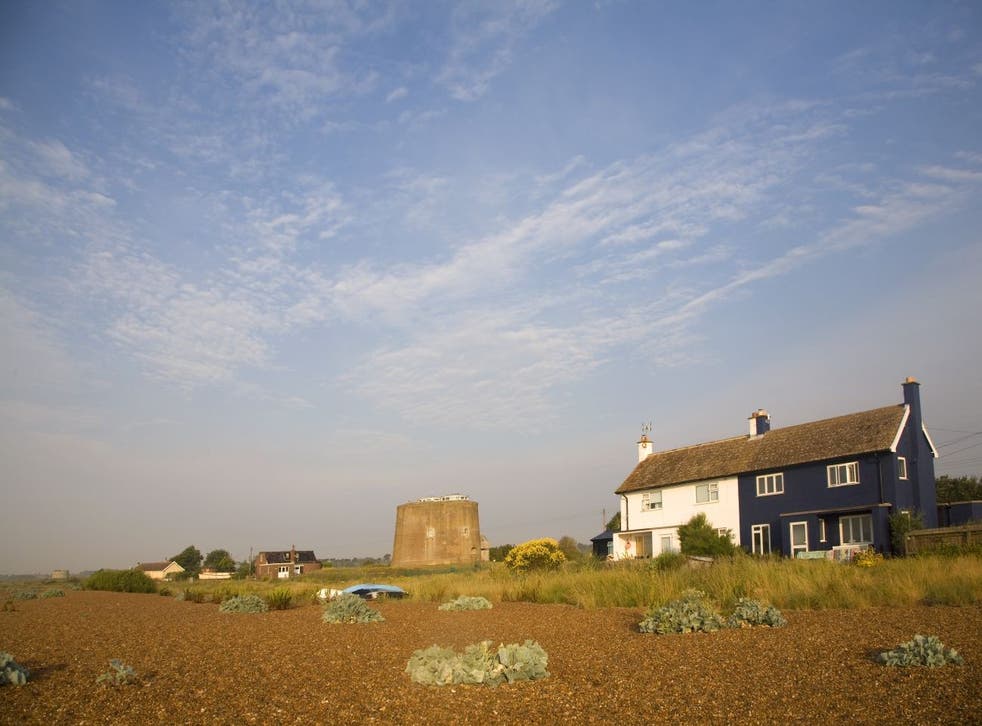 What's in a place? You'd be surprised. Take Shingle Street. It's remote – in fact, it's one of the remotest villages in England, sitting on the loneliest stretch of the Suffolk coast, a collection of just 29 dwellings behind a great long shingle bank on the edge of the North Sea, midway between Aldeburgh and Felixstowe. There is no pub, no shop, and little infrastructure at all, really, although the coastline does host several Martello towers, those squat round mini-fortresses built to repel Napoleonic invasions.
The population of Shingle Street is a small and shifting one, as not all its residents are there all the time, but at most it comes to a mere 60 souls, which gives the place a somewhat bare and empty feel. Yet the human inhabitants are vastly outnumbered by non-human life-forms, which are astonishing in their abundance, as a detailed wildlife survey, carried out on behalf of the village over the last year, has just demonstrated.
It was a surprise to everyone who took part, to realise the scale of the biodiversity they are sharing their coastal corner with. There are at least 20 mammal species in the area, from otters and brown hares to pygmy shrews and harvest mice, but they are far outnumbered by the birds: a scarcely believable 249 species have been recorded.
Shingle Street's east coast location makes it a key place for colourful spring and autumn migrants, such as wrynecks, firecrest and ring ouzels, while rare summer breeders include avocets, little terns and marsh harriers, and spectacular winter visitors range from short-eared owls to snow buntings.
But move on from vertebrates, and the life becomes more numerous still. The survey listed no fewer than 328 flowering plant species, headed by the flowers that are specialists on shingle such as sea kale, sea pea, sea beet and yellow horned poppy, while behind the houses, in the rabbit-grazed grasslands, there are extravagant displays of such locally common species as sea lavender, thrift, sea campion, biting stonecrop, golden samphire, viper's bugloss, and red and white valerian. Add to the flowering plants 36 moss species and 28 lichen species; and then try and count the invertebrates.
It's quite a job: 10 species of grasshoppers and crickets; 16 species of dragonflies and damselflies; 26 species of butterflies; 34 species of bugs; 52 species of beetles; 57 species of molluscs; 63 species of spiders; and, believe it or not, in this one diminutive Suffolk settlement, 379 species of moths. Total it all up and besides its one hominid, Homo sapiens, Shingle Street is found to contain at least another 1,352 life-forms.
This is surely remarkable, and the reason is partly that the village lies in a relatively unspoiled area of very diverse habitats: shingle bank, coastal grassland, mudflats, salt marsh and farmland all occur close together. But it is not unique, says the Shingle Street resident behind the survey, Jeremy Mynott. Many places will show unexpected wildlife riches if looked at closely, and now we should be looking, he says. A retired publisher – he was the head of Cambridge University Press – Mr Mynott is a keen amateur naturalist who is very concerned at the catastrophic crash in Britain's biodiversity over the last 40 years (many indications, including the Government's own figures, suggest it has gone down by more than half).
"Britain's wildlife is currently threatened as never before and I think it is increasingly important for local communities to document and celebrate the biodiversity of the areas in which they live," he says.
The reason is obvious: if you don't know what you've got, you don't notice when it starts to slip away, which is clearly what has happened across our whole countryside in recent decades. What Shingle Street has is now known, in staggering detail: the full 200-page technical report can be found on the website shinglestreetsurvey.org.uk. But as this will be of interest mainly to specialists, Mr Mynott is writing a 40-page illustrated booklet making the highlights of the survey available for the general reader, which will be published next month.
Its title is Knowing Your Place. Let's hope it's the start of a trend, because Shingle Street proves that once you do look at your place, in real detail – wherever it is – it's likely to contain more life than you ever imagined.
Join our new commenting forum
Join thought-provoking conversations, follow other Independent readers and see their replies