Without net neutrality, the internet will be sold to the highest bidder
The changes in the US set a dangerous precedent for other governments who may want to follow suit, not only to put some extra profit into the pockets of corporate allies, but to gain even more control over what their citizens can see and do online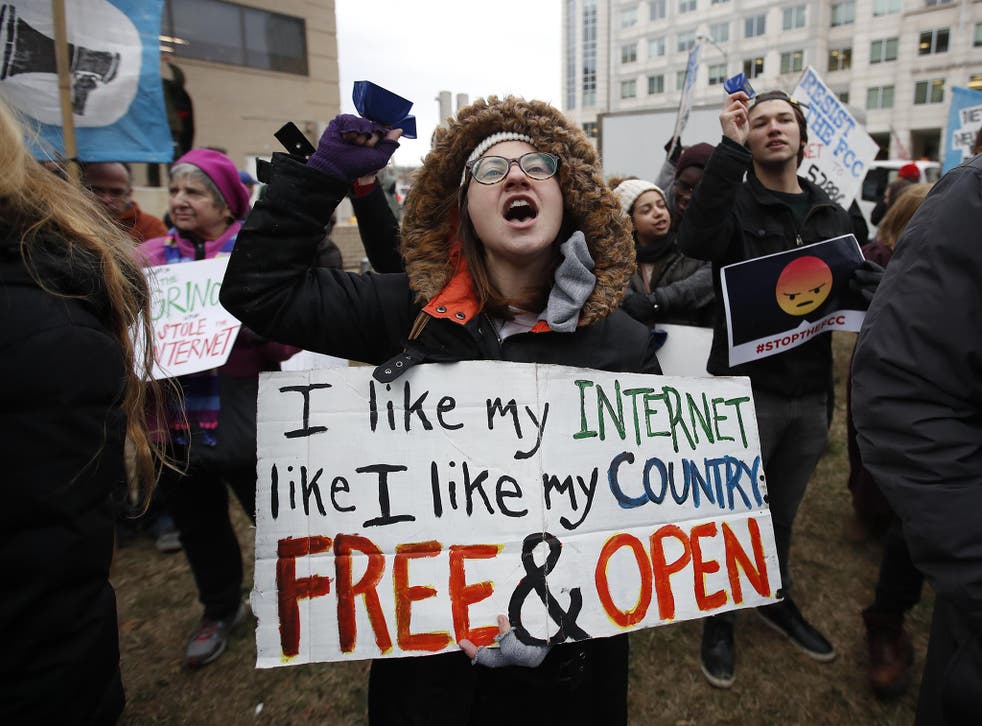 After the European Union and other large democracies like India followed the American lead to enact rules to protect net neutrality, it seemed like a settled question. No matter how profitable it may be for internet service providers (ISPs) to put a price tag on accessing certain content, keeping the internet an open, unobstructed platform for everyone is just too important. However, after the US Federal Communications Commission (FCC) led by chairman Ajit Pai abruptly reversed course to eliminate all net neutrality protections – finalised yesterday in a 3-2 vote – those conversations may begin again from Cambridge to Canberra.
Net neutrality is the concept that ISPs who build networks should not use that privileged position to choose who can use those networks to share or access information online. Net neutrality rules prevent an ISP from prioritising some content while slowing other content or blocking it all together.
Without net neutrality, ISPs have an incentive to create a pay-to-play world, where content providers can pay to have their sites connect to users at higher speeds than their competitors. In that world, we would probably all still be using Myspace, because Mark Zuckerberg couldn't afford to pay the fees to speed up access to his dorm-room startup. It also means that private companies connecting you to the internet can impose their own moral and value judgments on what content we can afford to see, whether that's news, art, educational materials, or anything in between.
Net Neutrality: Ajit Pai and FCC scraps online regulation changing how the internet works
The deeper US companies move into a model of net discrimination, the more difficult it will be for American entrepreneurs to get their products to market, for students to access free academic sources, for independent journalists to share their research, and for activists to organise online or challenge authority through their digital content. In response, we will probably see a major uptick in the use of circumvention tools like virtual private networks (VPNs) and Tor, which allow internet users to connect to the internet from a different location with fewer restrictions, and community-based networks that can eliminate dependency on ISPs altogether.
This decision will also impact internet users around the world, and there has been a global outcry denouncing it. It sets a dangerous precedent for other governments who may want to follow suit, not only to put some extra profit into the pockets of corporate allies, but also to gain even more control over what their citizens can see and do online.
It's tempting to think that the attack on net neutrality by chairman Pai – a Trump appointee – is an aberration, like President Trump's position on the Paris Agreement, which is also unsupported by the majority of the US. However, chairman Pai's opinions are actually closely aligned with the Republican majority in Congress, who have argued regulation of internet service providers is unjustified, unfair and unnecessary.
Net neutrality protests – in pictures

Show all 5
Many Republicans in Congress feel that any rule that applies to those who build networks should also apply to content platforms like Google and Facebook, who use those networks and also have significant power over our online activities. The fundamental difference, though, is we each have a choice in which platforms we use to communicate, access information, and express ourselves. But most consumers have little or no choice in which company provides them internet access. (It's worth noting, too, that the overwhelming majority of the members of Congress who take this position have also received campaign contributions from ISPs.)
A recent poll shows that more than 80 per cent of Americans support net neutrality principles, including the overwhelming majority of Republican voters. In the months before the primary election season, members of Congress will be pressed hard to take action to ensure freedom online. Whether that comes in the form of reversing the FCC's decision or new regulation that could change the entire internet landscape is yet to be seen. But one thing is clear – internet users are not going to sit idly by while government officials weigh their options.
Nathan White is the senior legislative manager at Access Now
Register for free to continue reading
Registration is a free and easy way to support our truly independent journalism
By registering, you will also enjoy limited access to Premium articles, exclusive newsletters, commenting, and virtual events with our leading journalists
Already have an account? sign in
Register for free to continue reading
Registration is a free and easy way to support our truly independent journalism
By registering, you will also enjoy limited access to Premium articles, exclusive newsletters, commenting, and virtual events with our leading journalists
Already have an account? sign in
Join our new commenting forum
Join thought-provoking conversations, follow other Independent readers and see their replies