Where have the Never Trumpers gone? Republicans are abandoning their integrity to get into government
Where are the Never Trumpers now? Rallying around a man they had castigated as a fake Republican, a disgrace to the country and a threat to the very survival of the planet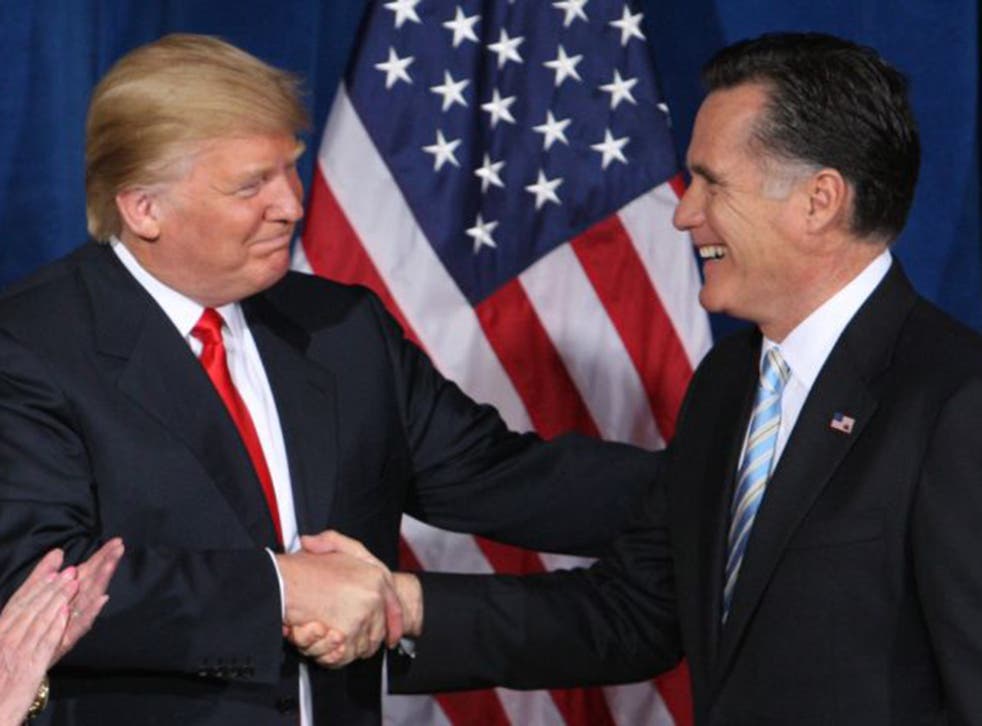 Never, it turns out, isn't such a long time after all.
For many Republicans, indeed, it denotes less than a week, since Donald Trump defied every prediction, even in his own adopted party, and won the White House.
Where are the Never Trumpers now? In many cases, rallying around a man they had castigated as a fake Republican, a disgrace to the country who was temperamentally unfit to be president, and a threat to the very survival of the planet.
Here are just a few choice NeverTrumpers turned apparent believers.
Lindsey Graham, the respected South Carolina senator who once called the Manhattan billionaire a "divisive, race-baiting bigot" now says Trump "really does want to make a difference, and the only way to make a difference is to bring us together."
Then there's Ted Cruz, Trump's most enduring rival in the primaries, who this week condemned the "hypocrisy" of anti-Trump protesters who were refusing to accept the result of the election – after accusing Trump in the closing stages of the campaign of doing precisely the same thing.
Hypocrisy? This is the same Ted Cruz, aka "Lyin' Ted" whose father was accused by Trump of being involved in the Kennedy assassination. Cruz also dropped by Trump Tower this week to pay his respects, professing himself "eager to work with the new president in whatever capacity."
And what of Ben Sasse, perhaps the first Senator to come out unequivocally against Trump, and who cast his presidential vote for vice-president Mike Pence? "Let's all hope for our president's success," Sasse wrote in an open letter to his fellow Nebraskans after the election. Yet another bitter Trump primary rival, governor John Kasich of Ohio, now says he is "praying for the success of Donald Trump."
Mitt Romney takes down Trump
This weekend Mitt Romney becomes the latest to take the long walk to Canossa, or rather its modern equivalent for dissident Republicans, Trump Tower.
Unlike the medieval Holy Roman Emperor Henry IV, Romney isn't being forced to wait three days in the snow to beg the Pope to lift his excommunication. Indeed, his trip is being presented as a sign of how the party is coming together.
Yet even if Romney isn't offered the job of Secretary of State, as some speculation has it, it's a pretty remarkable about-face from the 2012 Republican presidential nominee, who last spring was lambasting Trump as a "fraud" and a "conman".
Ted Cruz Booed Off Stage at RNC Amidst Cries of ˜We Want Trump"
Yes, there are some holdouts, especially in the Republican foreign policy establishment, which had come out en masse against the notion of a president Trump, trigger-happy and wilfully ignorant of the subtleties of world affairs.
One of them, the former Bush administration State Department official Eliot Cohen, this week accused the incoming president of "surrounding himself with mediocrities whose chief qualification seems to be unquestioning loyalty".
But perhaps the changes of heart shouldn't be so surprising. Trump has taken steps to reassure, most notably by naming Reince Priebus, the Republican National Committee chairman and bridge-building face of the party establishment, as White House chief of staff, a post often described as the second most powerful in Washington.
More importantly, politics is a business unlike any other, where "never" rarely lasts forever. Slights and grudges have to be set aside if the system is to work, especially now when people want to forget the sordidness of Campaign 2016, and return to at least a semblance of reality.
"When the facts change, sir, I change my mind," runs the quotation rightly or wrongly attributed to John Maynard Keynes.
In the last 10 days, one overriding fact has changed. Contrary to every expectation, Donald Trump will be the 45th president of the United States.
But by the same token of course, if everything goes wrong, the Never Trumpers will be back.
Register for free to continue reading
Registration is a free and easy way to support our truly independent journalism
By registering, you will also enjoy limited access to Premium articles, exclusive newsletters, commenting, and virtual events with our leading journalists
Already have an account? sign in
Join our new commenting forum
Join thought-provoking conversations, follow other Independent readers and see their replies