New Labour with a working-class accent: Phil Wilson on Tony Blair's political origins
This year's 'Blair Years' course at King's College London kicked off with a claim that it was New Labour rather than Jeremy Corbyn's version that was more rooted in class politics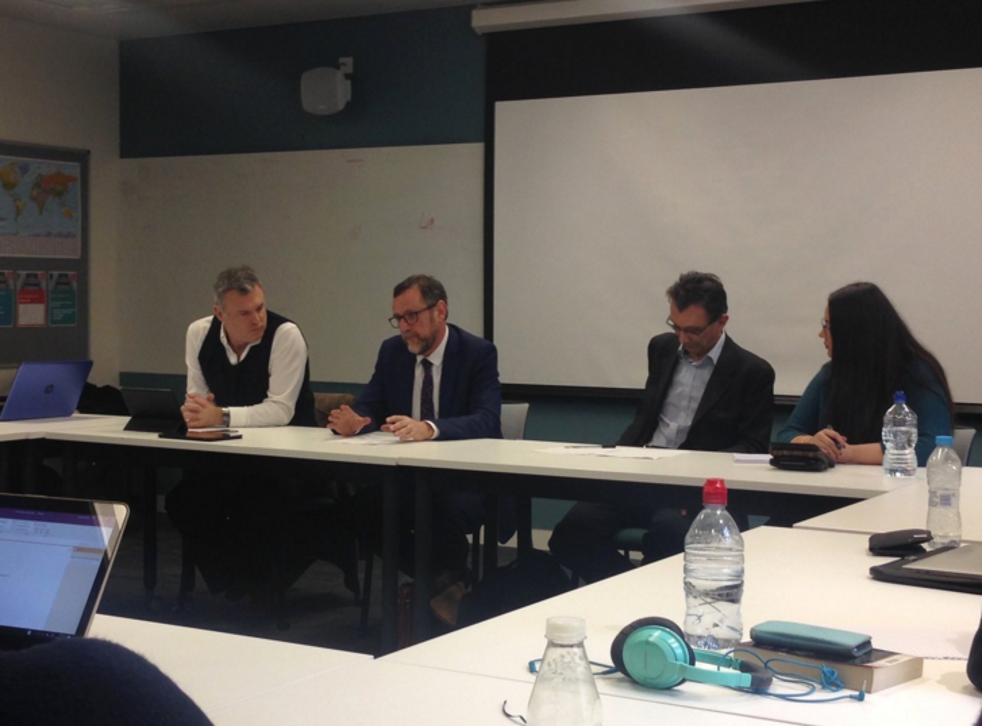 Phil Wilson came to talk to the "Blair Years" class at King's College London yesterday. He was one of the "famous five" who helped get Tony Blair selected as the Labour candidate in Sedgefield in 1983, and who supported him all the time he was an MP. Wilson then succeeded Blair as MP for the constituency in 2007.
His undiminished passion for New Labour, and his account of how it was rooted in the working-class towns and pit villages of County Durham, was a new perspective for most of the MA students on the course taught by Jon Davis, Michelle Clement and me.
He told the story of when he first met Blair. Wilson was a leftwinger at the time, aged 22: "I wanted socialism tomorrow." He was away at a conference of his trade union when Blair arrived in Sedgefield, the last Labour seat in the country to select a candidate, two days after Margaret Thatcher called the election.
When he got back, his friends in the Sedgefield Labour Party had already decided that Blair was their choice. John Burton, local councillor and chair of Wilson's branch party, told Wilson he could see Blair being in the Cabinet.
Wilson met the 30-year-old Blair in a school hall being used by the party as a campaign office. "He was personable; he had charisma; he was from a different background." Wilson was struck by two things. Blair, a London barrister, wore expensive brown leather slip-on shoes that looked as if they were hand made. And he wore a green Labour Party tie. This was smart, Wilson explained, because green was the traditional Labour colour locally, partly because Tory landowners had campaigned in red, and partly because green appealed to Irish working-class immigrants, such as Wilson's family.
Wilson, the impatient lefty and keen member of the Campaign for Nuclear Disarmament, learned from Blair, and from campaigning on the doorstep for him. "You've got to temper what you want to achieve with what you can achieve," he said. He knocked on the doors of working-class families like his own, and they wanted something done about crime, they wanted to keep the Bomb and they wanted better jobs for their children than the old jobs in the pits, all of which had closed by then.
"They want to talk about not the overthrow of capitalism, but, 'What are you going to do about those people burgling our house? What are you going to do about the anti-social behaviour?'"
He was asked by one of the students what the Sedgefield Labour Party thought of Blair now. Wilson said that 10 years of government meant that most people had something to disagree with. The local party has shifted to the left, he said, with the biggest growth in membership coming from the middle-class areas.
He was asked if Blair had not paved the way for the Conservative use of the private sector in the NHS. He said he remembered canvassing someone in the 2007 by-election when he took over the seat from Blair. "He had this eye patch so I asked what it was for. He had just had a cataract removed a few days after being referred. He didn't care that it was done by a private company. Private companies provide extra capacity for cataract and hip operations. It was free at the point of need. The ideology of it all doesn't come into play."
Another student mentioned The Sun's endorsement of Blair in 1997. "It was astute to get The Sun to support us. What's wrong with that?"
He was asked what he, as someone who had been "very left wing", thought of Blair becoming seen as right wing. He accepted that was the perception of Blair, but he didn't think it was right. He said he welcomed all the young people who had joined the Labour Party who, like him at their age (most of the class are 21 or 22), were enthused by the idea of "socialism tomorrow" and getting rid of nuclear weapons. He was less keen on "old people who left the party in 1997 and rejoined after we lost telling us how we got it all wrong".
He said he was not a fan of Jeremy Corbyn's. He felt that, for some of Corbyn's supporters, the Labour Party was "a lifestyle choice not class politics". He thought that the common perception was wrong. It was Corbyn's politics that came from north London dinner parties, not New Labour. He felt New Labour was rooted in making a difference for the working-class communities of the former coalfields of the North-East.
And he concluded by saying he was proud of being part of keeping the Conservatives out of power for longer than at any time since 1762.*
*This is true: the Tory party, precursor of the modern Conservatives, in 1762 took over from the Whigs, who had been in government for 48 years. Since then, 13 years is the longest a non-Tory, non-Conservative government has held continuous office.
Register for free to continue reading
Registration is a free and easy way to support our truly independent journalism
By registering, you will also enjoy limited access to Premium articles, exclusive newsletters, commenting, and virtual events with our leading journalists
Already have an account? sign in
Join our new commenting forum
Join thought-provoking conversations, follow other Independent readers and see their replies