Remember 11th February 2016. It's the day Jeremy Hunt tried to kill the NHS
We joke about Mr Hunt having shares in Australian emigration, but really this is no laughing matter. Record amounts are leaving the country - or the medical profession altogether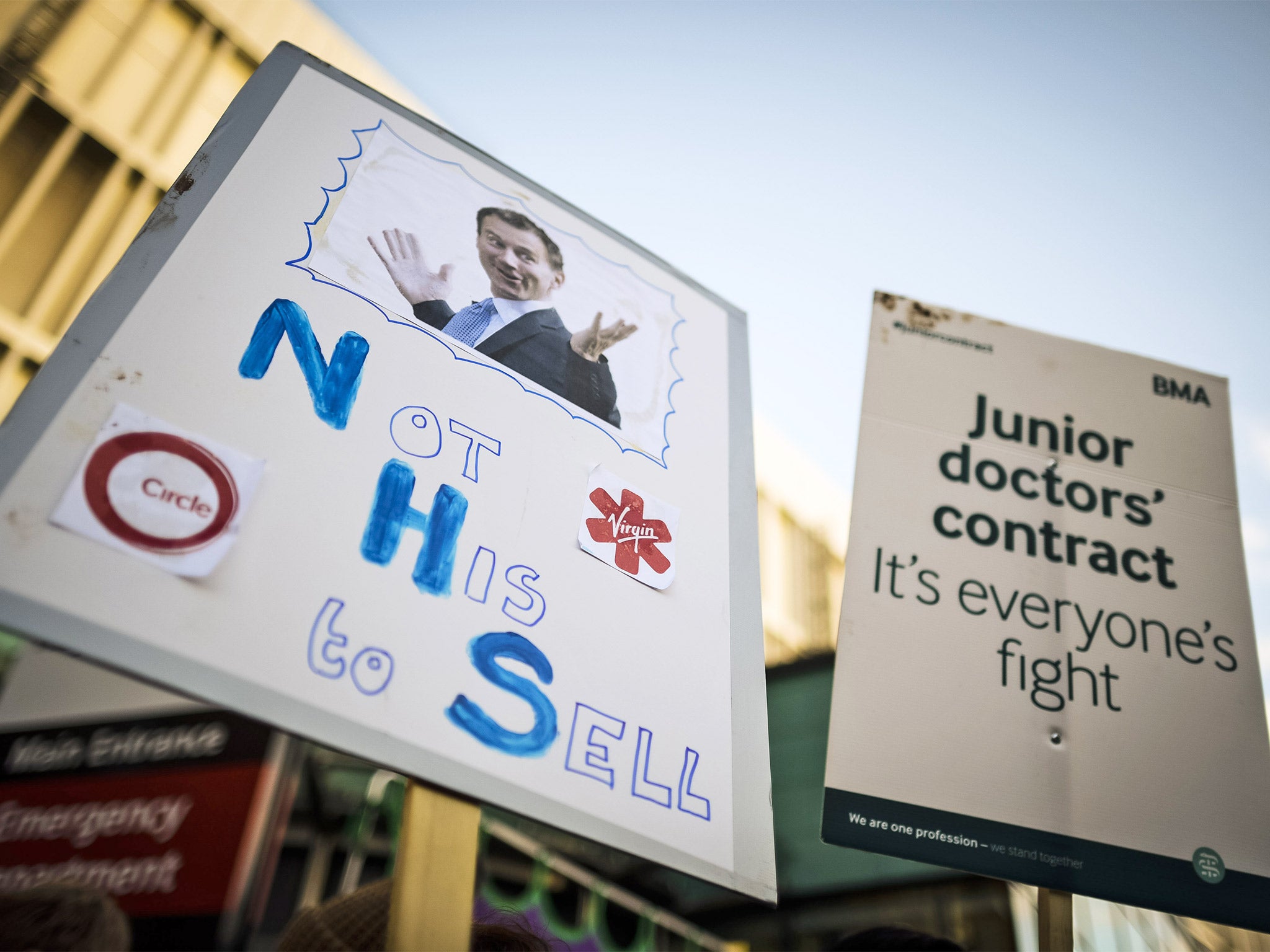 News this morning of the government's failure to listen to its front-line employees in the NHS is unsurprising, but felt with a heavy heart. I am tired: I am tired of fighting this unsafe and unfair contract. And I am frustrated: I am frustrated that we are not been listened to by our employer. But mostly I am fearful: if Mr Hunt continues to proceed with this imposition, then I fear that this will be the beginning of the end of our much-loved NHS – not to mention a threat to the safety of innumerable patients.
Throughout this scandal it is fair to say the majority of us have felt insulted by the patronising nature of Mr Hunt. We are highly educated and well respected members of society. The majority of us would never dream of misinterpreting data for our own gain, especially if we are aware that the consequences would cause great harm to patients. Mr Hunt's claim that we are only against the contract because of the BMA is quite frankly insulting and absurd.
To presume that we are foolish enough to not read evidence and to make our own interpretation of the data is wrong - that is what we do; that is how we practice medicine. As evidence-based medicine is such a fundamental to our care, misinterpretation of data is seen as a serious and potentially disciplinary event – just look at the case of Andrew Wakefield.
Jeremy Hunt imposes Junior Doctors contract
The thing that scares me most is the change to our work patterns. The numbers of doctors in training is failing. Between 2013 and 2015 there was a 25 per cent drop in doctors applying for GP training. Furthermore, one in three emergency medicine trainees are leaving the UK to work abroad. This is bad news, and it's serious.
We joke about Mr Hunt having shares in Australian emigration, but really this is no laughing matter. Working on the front line of medical care in the UK, we see the NHS straining under the massive stresses, and we need more feet on the ground. The effects of the new contract will only go to stretch an already overstretched service.
What people need is good emergency care. What they don't need is an ingrowing toe-nail removed on a Saturday afternoon. What patients need is a well-rested doctor – and what they don't need is one who is physically, mentally and emotionally exhausted after working unsafe hours.
In pictures: Junior doctors protests in UK
Show all 10
On strike day, 43 per cent of junior doctors reported to work. Given the cover for emergency care is the same every day, does that mean that 43 per cent of juniors are working each weekend? I don't know, Jeremy - apparently I can't interpret data and I need my union to do that for me.
It is incredibly rare to have such a strong union vote against a change. As a group of professionals who haven't taken industrial action for a generation, it shows the strength of our feeling about the proposed changes. Furthermore, we are thankful and grateful to find that the majority of the public – and our superiors - are behind us, and also believe that this contract is unsafe and unfair.
Simply put, I fear that this contract is the beginning of the end. Many of my junior doctor friends have either moved to Australia or left medicine altogether. When I ask why, the answer is always the same: my employer respects me. That is the true reason why so many have left and why so many won't return.
My immediate reaction to the news this morning? We must keep fighting. I don't know how we will do it or what the outcome will be, but we cannot let this atrociously misguided and chronically unsafe contract happen without a fight.
Some believe that we are fighting for our pay and for our right to a family life, but we are not. This is not our primary reason. We are fighting for patient safety and the survival of our beloved NHS. If a contract is imposed upon us, it will be the death knell for an institution we hold very dear to our hearts.
Join our commenting forum
Join thought-provoking conversations, follow other Independent readers and see their replies