NHS weekend care is a disgrace, particularly for elderly patients - just ask my mum 86-year-old mother
Politicians argue about waiting lists and targets, but it's first hand hospital experience that paints the most telling picture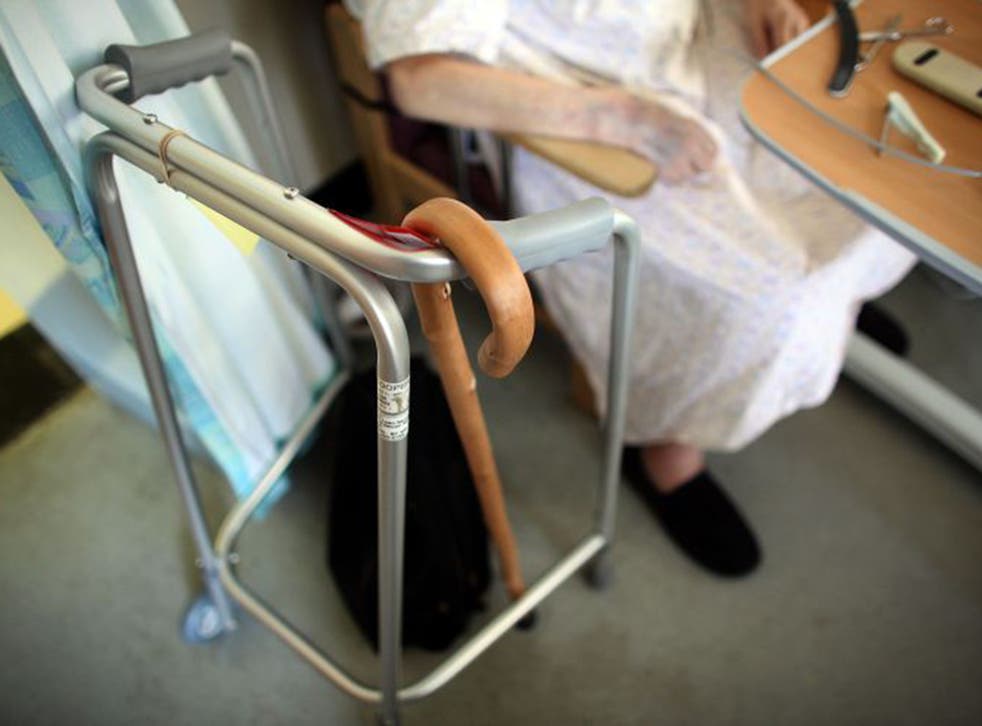 Fridays have a special significance in the NHS. Go under the surgeon's knife on this day and you are 44 per cent more likely to die than after the same operation on a Monday. This conclusion, from a study of four million patients by Imperial College London, blamed poor hospital care over weekends.
Here was just another of this year's scary reports about the NHS. It would be wrong to say that what I witnessed last month in a suburban London hospital amounted to outright cruelty, as in Stafford, or the "extremely poor", working relationships exposed last week at the maternity department of Cumbria's Furness hospital.
But during hours spent watching staff and patients on a ward – particularly over one weekend – it became blindingly clear why so many people die at the weekend. Not that I only saw appalling conduct – there were instances of compassion and the best possible technical care. But it seemed to be a matter of luck and timing – plus the presence of bolshie relatives – as to which prevailed.
My 86-year-old mother is proud, in fair health, and a scourge of squirrels on her bird table. It was after spotting one raider from her bedroom and rushing down to shoo it away that she lost her footing. She picked herself up, and went to the doctor. The nurse placed a Steri-strip on the wound and sent her on her way. By the next day her arm was swollen and turning black. Worse, she was in a lot of pain.
An X-ray on the Thursday afternoon revealed that she had chipped a chunk of bone off her elbow and needed an immediate operation to pin it together. Eight hours later, she was still waiting in a cubicle to be admitted to an orthopaedic ward. Her face was etched with fatigue and pain, and despite her hearing aids, she was finding it hard to follow what people were saying.
When my mother reached the ward at 10pm, an unsmiling staff nurse demanded the same information that she had already given in A&E. But this time, instead of a kindly young doctor kneeling in front of her, the nurse hunched over a computer with her back to my mother, barking questions.
The increasing strain on NHS resources

Show all 4
In other circumstances, the fact that the nurse's English was so bad would have been worthy of understanding. But amid incomprehension and anxiety, I found my liberal sensibilities sorely tested. "When did you fell?" she shouted into the computer. My mother was startled and increasingly teary and did not know how to reply. "When did you FELL?" the nurse screeched, still not looking round.
I explained she was hard of hearing and tried to answer for her, but it was nearly 11pm by the time my mother was allowed into bed. "Please, please make sure someone helps her with her hearing aids in the morning, as she will otherwise not be able to hear at all," were my parting words.
Before her procedure the next day, a doctor phoned to say that she was not responding to questions and he was going to have to operate without her consent. Only after he hung up, did my sister and I wonder if anyone had remembered her hearing aids.
We knew that after the operation it would be essential to keep her broken elbow high to help restore circulation, and that the next few hours and days would be crucial if she were to keep the use of her arm. Yet later, my sister found her on the ward racked with pain and with her bad elbow jammed between the mattress and the bed's metal frame. Blood from her canula had stained the sheets, and there was no sign of her hearing aids. We eventually found one under the bed – along with various items of medical waste.
After we remonstrated, my mother was finally given morphine, but that night became confused and was moved nearer the nurses' station for "closer observation". The next day, a Saturday, a woman was sitting up in her chair – but she was no longer our mother.
She recognised me, but was making no sense. Again, there were no nurses in sight. I eventually tracked down a junior doctor (in charge of three large wards), but he refused to examine her as he knew "nothing about her" and had other patients who were "very unwell". The bandage on her arm had slipped leaving the wound unprotected. It took four requests to the nurse before she redid it, tutting as she went.
Lunch came – and we were there to help – but no one took the Cellophane off our elderly neighbour's salad, and her plate was balanced on her cutlery so that she could not find her fork. Another patient called and called for assistance to go to the loo and in her desperation weed on the floor. When the nurse returned she crossly grabbed an adult nappy, and wiped it up and down over the puddle with her shoe.
Another fed-up patient tried to escape, and others tried to follow her to freedom. An overwhelmed auxiliary was reduced to raising her voice at the agency nurse in charge who seemed reluctant to come out of her office.
My mother – in what we assumed to be a drug- and trauma-induced haze – seemed unaware of the mayhem. The next day, though, something of her normal personality had returned. So had the pain. Her pills had been left in front of her but without any water.
Monday brought a different world. The kind doctor returned; a physiotherapist turned up with a sling (three days after the op); order was imposed under Sister's beady eye. There were no attempted break-outs or accidents. "I will be looking after your mother today," Sister said, to my great relief.
But why were none of these people on duty at weekends? Why did patients and visitors put up with such lack of care as if they expected or deserved no better? Perhaps what I witnessed does not warrant a full report, but it shocked me all the same.
Register for free to continue reading
Registration is a free and easy way to support our truly independent journalism
By registering, you will also enjoy limited access to Premium articles, exclusive newsletters, commenting, and virtual events with our leading journalists
Already have an account? sign in
Join our new commenting forum
Join thought-provoking conversations, follow other Independent readers and see their replies