Nigel Farage has managed to rewrite history – and now we're stuck with him forever
Perhaps Farage could be a US and UK ambassador at the same time, and have a meeting with himself in a bar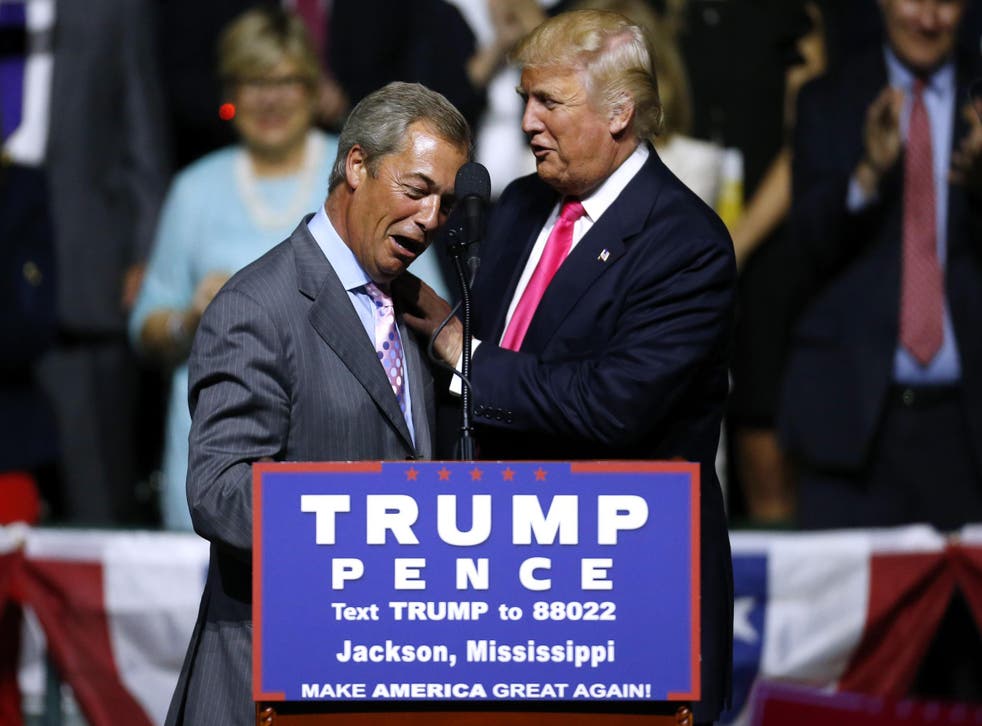 Just when Nigel Farage's critics thought they had seen the back of him, he has not only returned as Ukip leader for a fourth time but now claimed the credit for Donald Trump's remarkable victory. He is in Washington this weekend as he angles for a job with the Trump administration in Washington.
For the second time in five months, the man who secured and won the EU referendum can revel in his self-styled role as the most important man in Britain.
You couldn't make it up. Perhaps Farage is doing just that, or at least over-hyping his connections to Trump a little. We can hardly blame him. Trump hailed him as "Mr Brexit" during the presidential campaign and took his advice; now he is being described as the second "Mr Brexit".
Farage boasts he was "the catalyst" for Trump's triumph and "the downfall of the Blairites, the Clintonites, the Bushites". There is a bit of rewriting history going on. Farage has admitted previously the EU referendum would not have been won without Boris Johnson, to which we can add Vote Leave, which froze Farage out.
He never formally endorsed Trump, saying only that he would not vote for Hillary Clinton if he were American.
Nigel Farage jokes about Donald Trump groping Theresa May
Before Trump won, the Ukip leader even played down his appearance on a platform with him in August. He said last month: "I happened to be invited to go to Mississippi by the governor of Mississippi to talk about Brexit … and just by happenstance, coincidence, finished up meeting Trump, going on stage with him. I haven't endorsed him as a candidate, I don't agree with everything he says but I do think in terms of direction of travel, he's right on several big issues."
But that was then, and now Trump has won. So Farage applied – during a radio interview this week– to be US ambassador to the EU. He may have been half-joking, even though he usually doesn't do halves. Normally such a post would be held by an American. But Farage's application has been taken seriously by the media and so we will soon find out how influential he really is in Trumpland.
Allies of Farage insist Trump was grateful for him recommending a data company which helped his Leave.EU campaign target voters by understanding their worries, and very interested in how working-class Labour supporters in the North were persuaded to vote Leave, foreshadowing Trump's appeal among blue-collar workers.
Farage stood by Trump over the allegations that he abused women. "They couldn't care less," he said after meeting Trump supporters. Just as Tony Blair stood shoulder-to-shoulder with Bill Clinton at the height of the Monica Lewinsky scandal, leaders remember those who stay loyal in hard times.
Ukip MEPs who criticised Farage for dismissing the allegations are also happy to bask in Trump's glory now. William Dartmouth, a deputy party chairman, called for Farage to be made UK ambassador to Washington because he has better ties with Trump than anyone else in British public life. Perhaps Farage could be a US and UK ambassador at the same time, and have a meeting with himself in a bar.
World reaction to President Trump: In pictures

Show all 29
Johnson, now an insider as Foreign Secretary, has been urged to give Farage a role as a go-between with Trump for Theresa May's Government, which hoped and believed that Clinton would win and has built few links with Trump's closed inner circle. "The traditional relationship between the British Conservative Party and the Republicans has completely broken down," Farage claimed in another job application.
Inevitably, Downing Street stamped on the idea of using Farage, with sources dismissing him as an "irrelevance". May would never give a rival party such oxygen, especially with Ukip gasping for breath after so many self-inflicted wounds since the referendum. The most likely link man with Trump will be Liam Fox, the International Trade Secretary, who has long-standing ties with the Republicans.
Even if Farage fails to win a formal role on either side of the Atlantic, he is not going to disappear. He will hand over the Ukip leadership next month, probably to either Paul Nuttall or Suzanne Evans. But he has fallen out with both of them and his former aide Raheem Kassam has pulled out of the race.
That, and Trump's victory, will increase the prospects of a new grassroots, social media-based movement being launched by Arron Banks, the Ukip donor and Leave.EU founder. Despite protestation that he wants to "get [his] life back," Farage is surely bound to emerge as its figurehead.
His critics would like to stop this mad new world and get off. They will be glad when 2016 is over. But Trump and Farage, the two Mr Brexits, are going to be around for a while. "There are plenty more shocks to come," Farage said ominously. "2017 may surprise us as much as 2016."
Let's hope not.
Register for free to continue reading
Registration is a free and easy way to support our truly independent journalism
By registering, you will also enjoy limited access to Premium articles, exclusive newsletters, commenting, and virtual events with our leading journalists
Already have an account? sign in
Join our new commenting forum
Join thought-provoking conversations, follow other Independent readers and see their replies