Now that Donald Trump is the President-elect, Nigel Farage has become the most powerful man in politics
Trump himself suggested his victory would be 'Brexit times ten'. Make no mistake, this theme has a deep resonance for many American voters: the narrative of the little guy getting his own back will have inspired so many people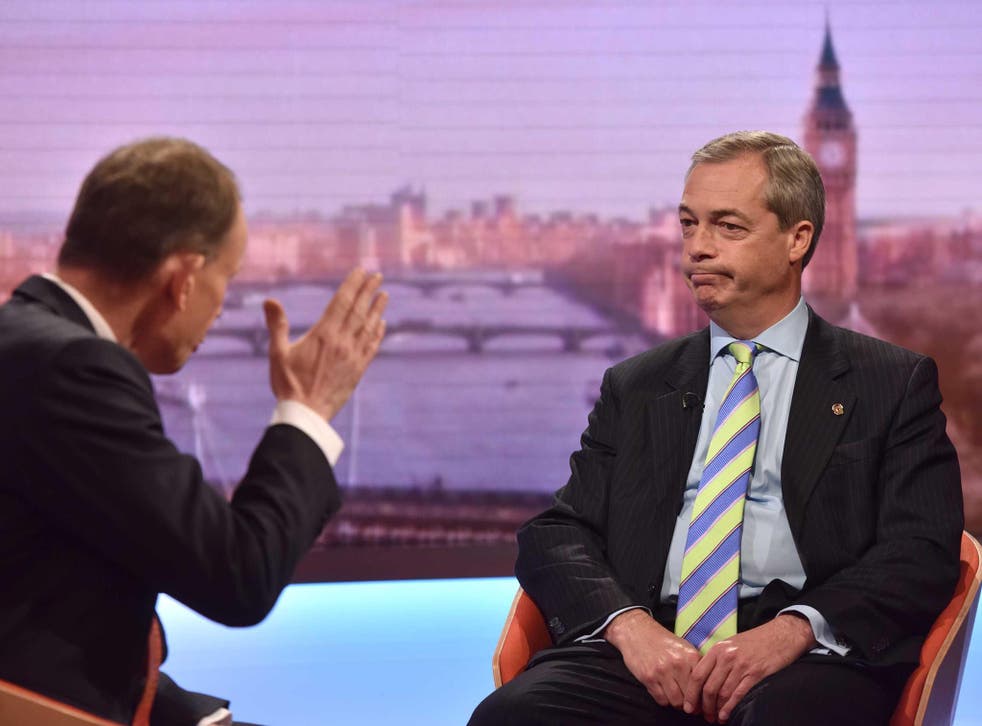 The enduring image of this astonishing US presidential election will be of Donald J. Trump. Whether it be at a rally, spewing his brash rhetoric, hoisting a small child up onto his shoulder, or, in what is now the iconic moment of the election, when he descended the escalator of Trump Tower, this finger – wagging, slack – jawed old rake has made history, winning the most improbable race in the books. We've seen it all, this year; Trump grotesque, Trump bombastic, Trump resplendent, and Trump triumphant. Now on the 20th of January 2017, he will be sworn in on the steps of the Capitol, the 45th President of the United States, and the most powerful man in the free world.
Yet for all this, he is not yet the most influential politician today. That dubious honour goes to our very own "Mr. Brexit", Nigel P. Farage.
Perhaps we should get used to adding the initial if Farage, as he joked in the wake of Trump's win, is offered the position of US ambassador to the European Union; he wouldn't be an American public figure without it. It seems supremely unlikely that such a thing would happen, but this is, after all, the year that the going really got weird.
The Donald may be many things, but he is not stupid. He knew he was taking an awful risk, both in terms of his reputation and his finances, by throwing his hat into the ring. He knew the section of society he was appealing to included millions of Americans, untrusting or unaware, who simply never voted.
Nigel Farage jokes about Donald Trump groping Theresa May
That is precisely why he invited Farage to speak at a rally in Jackson, Mississippi on the 24th of August. He wanted to energise non – voters like the referendum had done, and felt Farage was the man to do it again.
Americans may have rejected our monarchy, dumped our tea and shot our redcoats, but as Christopher Hitchens, Benedict Cumberbatch and Tom Hiddleston have demonstrated, an Englishman in a suit with a public school accent can send even the roughest of Rednecks weak at the knees. When appearing as the head of a successful political insurgency, claiming to have "taken on the establishment", he could have donned a sombrero and that moustache of his, and they would have cheered him to the rafters.
Well, for that crowd, perhaps not a sombrero.
When quizzed for the cameras, it is never long before Brexit is mentioned by Trump supporters. It has become a point of reference as strong as any of The Donald's wild pledges. Trump himself suggested his victory would be "Brexit times ten". Make no mistake, this theme has a deep resonance for many American voters: the narrative of the little guy getting his own back will have inspired so many people who are normally non – voters. A ridiculous narrative, given the men involved in both Trump and Brexit campaigns, but it has stuck.
President Trump protests

Show all 20
Farage can now lay claim to having had a pivotal role in two of the most seismic events in Western political history. What is all the more remarkable is that he has done this from relative obscurity; just over two years ago, he was the leader of a party with no elected MPs, vying to be Britain's fourth or fifth biggest in a two party duopoly. He has never been in government, and his allies were few.
Since then, he has even managed to elude the scandal that has embroiled his party and the Brexit campaign. UKIP descended into farce, and the "promise" of £350m for the NHS has become the howl of anger from the Remain campaign. Through no lack of dusting, however, The Nigel's prints can be found on neither. His cause in Europe is won. His man is in the White House.
And what now? There are elections on the continent to be fought; what chance Nigel lending a hand to Marine Le Pen, whose popularity grows by the day? Who will be the next country to threaten to leave the EU; could we soon see Farage on jaunts to Budapest or Rome? Not forgetting, of course, the little matter of a looming general election back home.
Love him or (probably) loathe him, he is, somehow, at the centre of American and European politics. He doesn't command an army, or a country, or even a party of substance. Yet where he goes, furious change follows. Strange though it may be, few can argue that he is not the most influential man in Western politics.
Register for free to continue reading
Registration is a free and easy way to support our truly independent journalism
By registering, you will also enjoy limited access to Premium articles, exclusive newsletters, commenting, and virtual events with our leading journalists
Already have an account? sign in
Register for free to continue reading
Registration is a free and easy way to support our truly independent journalism
By registering, you will also enjoy limited access to Premium articles, exclusive newsletters, commenting, and virtual events with our leading journalists
Already have an account? sign in
Join our new commenting forum
Join thought-provoking conversations, follow other Independent readers and see their replies