Thought you'd finally heard the last of Nigel Farage? Sorry, you're wrong
Having won his war to get Britain out of the EU, he now wants to win the peace. Nigel Farage may be about to embark on a European tour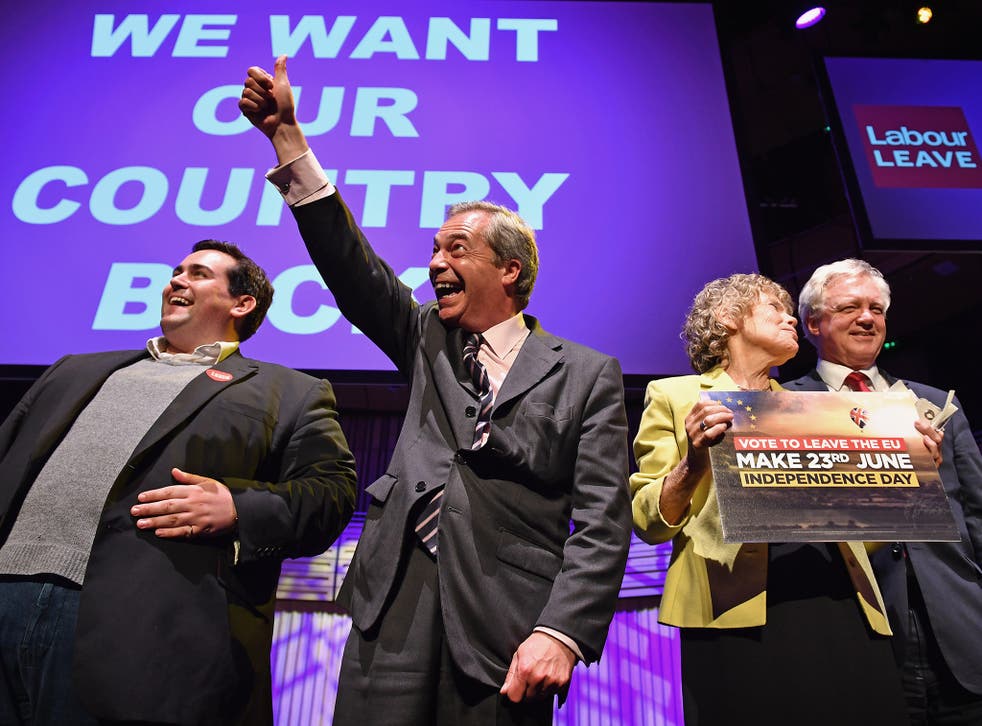 "All political careers end in failure," David Cameron is reported to have said in the early hours of 24 June, as it became ever more apparent that Britain had voted to leave the European Union. Since first uttered by Enoch Powell, it is a political maxim that has held up rather well. In resigning now, however, Nigel Farage appears to have defied it.
Galling as it is for his many opponents – political and moral – to admit, Farage is one of the great political winners of our time. Out of "fruitcake" and "loony" obscurity, he exerted enough pressure on the Conservative party to force Cameron into the historic misjudgement that was calling the EU referendum.
It would be doing Farage too much credit to suggest that he knew the referendum would become mixed up in the personal power politics of the Conservative party and attract a more popular figurehead for Leave – Boris Johnson – who helped deliver the vote by reaching people who the polarising Farage never could. But it is hard to deny that Britain voting to leave was Farage's victory. The battle was won by Conservatives reading from his hymn sheet, stoking fears about migration, blithely dismissing the European post-war project as an elitist stich-up. Many will look on Farage's legacy with a combination of fear and horror but, purely on his terms, he leaves the stage a victor. Perhaps not all political lives end in failure.
However to believe Mr Farage has defied political gravity is to assume that this is, in fact, the end for him. As devoutly as such a scenario may be wished by many, I am sorry to report that we have not seen the last of Nigel Farage.
Four of Nigel Farage's most controversial moments
Let us, for now, take him at his word that he has actually resigned this time and will not, as last year, return to our television screens after a brief respite to humbly resume his position at the request of the Ukip members. Even as an ex-leader, it seems likely that Mr Farage will continue to wield enormous influence in Ukip.
It is a party that sometimes appears to be making up its internal rules as it goes along. Asked during his resignation event whether the party's suspended deputy chairman Suzanne Evans could stand as leader, Farage said he was unsure. Deputy leader Paul Nuttall has said the party will finalise the rules of the leadership election on Monday afternoon. On the hop, in other words.
The chaotic internal structures has allowed a mini cult of the personality to grow up within the party around Farage, feeding his ego and giving an otherwise rudderless operation a clear sense of direction. The party has needed him and he has needed it for so long that he will want to continue to assert power – either clashing with his successor and causing an almighty power struggle, or else playing the part of power behind the throne.
What he will do with that power is already evident. Having won his "war" to get Britain out of the EU, he now wants to win the peace. With the Leave vote in the bag, Ukip's raison d'être is now to ensure that our next prime minister leaves the EU in the most Ukip-friendly manner possible. That means no compromises on immigration. Farage calls it "backsliding".
And proving that his uncanny ability to pick words for maximum inflammatory effect has not slackened despite his resignation, he warned on Monday that to betray the British public's apparent wish for an end to free movement would be tantamount to "appeasement". Is he now comparing the threat posed by immigration to that posed by Nazis, or implying that to do nothing is the road to war? And you thought we'd heard the last from him.
Perhaps it is just the beginning. A man with Farage's hunger for attention will have revelled in the display of John Bullish bombast he gave at the European Parliament last week. He will have thrilled at the words of praise he and Britain received from French far right leader Marine Le Pen. No wonder then, that in his resignation statement, the biggest clue to his future direction was the following comment: "I am very keen to help the independence movements that are springing up elsewhere in the European Union because I'm certain of one thing: you haven't seen the last country that wants to leave the EU."
As ridiculous as that phrase "independence movements" is, it gives a clue to Mr Farage's sense of the historical moment we have arrived at. He thinks of the EU as a wicked empire, and of the nationalist movements springing up within it in the same heroic terms as former colonies remembering their own independence movements. Never mind that each and every member of the EU is already a sovereign state – "independence" it must be! It is a patently absurd narrative, co-opted to foster the re-emergence of political and cultural nationalism in a world that so nearly learned its lesson about nationalism after 1945.
So hold onto your berets and assorted items of national dress – Nigel may be about to embark on a European tour.
Register for free to continue reading
Registration is a free and easy way to support our truly independent journalism
By registering, you will also enjoy limited access to Premium articles, exclusive newsletters, commenting, and virtual events with our leading journalists
Already have an account? sign in
Join our new commenting forum
Join thought-provoking conversations, follow other Independent readers and see their replies