The Independent's journalism is supported by our readers. When you purchase through links on our site, we may earn commission.
If I were making Farage The Movie, I'd cast Kevin Spacey in the title role
Spacey has more than the essential Faragean lizardiness, he has the killer-behind-a-genial-facade actorly presence – and form in playing a seeming political irrelevance who grabbed the prize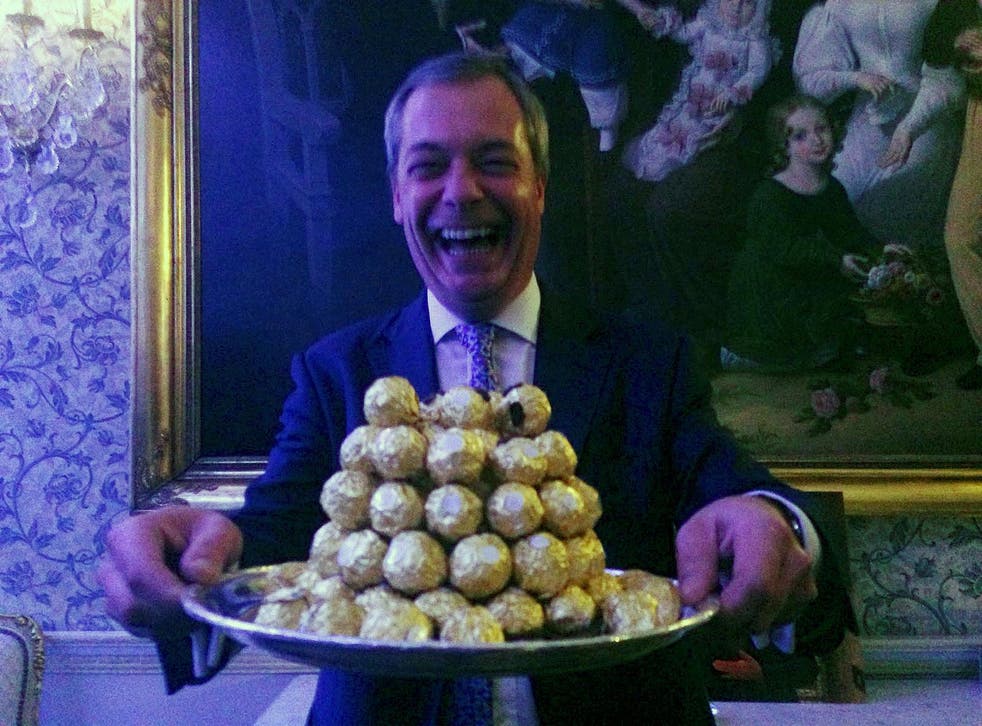 Coming soon, maybe, to a theatre near you is the blockbuster for which we've slavered these recent months like panting bloodhounds on the scent of a wounded fox.
I say "soon", though it won't be that soon. And that "maybe" is a delicate euphemism for "probably not". Still, in tribute to the miraculous flavour of the year just passed, we won't lightly dismiss the apparently impossible. So prepare for the motion picture to which I take the liberty of according the drab working title: Nigel Farage – The Movie.
At this embryonic stage of what tends in Hollywood to be an elephantine gestation period, the details are patchy. What we know is that Arron Banks – the insurance salesman, Ukip bankroller, and tigerish warrior against Europe – claims Warner Bros is very interested in optioning a book he wrote.
Hand on heart, I haven't read The Bad Boys of Brexit: Tales of Mischief, Mayhem & Guerrilla Warfare in the EU Referendum Campaign. The reviews suggest it is a (what else?) "rollicking" and "irreverent" account of how he and his compadres in the provisional anti-Brussels wing of the Keystone Kops haphazardly steered Britain towards the momentous decision of 23 June 2016. "Lurching from comedy to crisis (often several times a day)," the publisher's blurb encapsulates, "he found himself in the glare of the media spotlight, fending off daily bollockings from Nigel Farage and po-faced MPs." Oh my aching sides.
Nigel Farage's most controversial moments

Show all 12
But before we go on, a point that's far obvious to evade even the studio execs at Warners. This story isn't about Arron Banks. Banks is not an above-the-titles part. With the look of a cocky GBH defendant in an episode of Judge John Deed, he isn't a movie character at all (though, being charitable, he might have enough about him for an exquisitely droll cameo from the late Phillip Seymour Hoffman, or the later Bernard Bresslaw.)
There can only be one star of this movie, and that's the adorably toadish heartthrob whose efforts to restore our ancient liberties took him on an amazing journey from the back streets of Thanet to the up escalator at Trump Tower.
Who to cast as Nigel Farage depends on what kind of movie this is. A Banks spokesman hints at a comic caper, in keeping with the slapstick style of the book (ball-gowned Ukip doyennes falling into swimming pools; that kind of hilarity). In which case, Lee Evans, a gifted physical comic with a Hollywood track record, would be the first pick.
But that doesn't feel right. The only point to making any madcap British comedy is to enable people to invest £100,000, and then claim £125m in tax relief after it takes £24.50 nationally on its opening weekend. If Warner Brothers is serious about this project, and wishes to make a profit, it will go for something more substantial than Carry On Sticking It Up Them Filthy Foreign Scum.
It could opt for a classy crime caper influenced by the Ocean's franchise – Farage stole a country from under our noses, much as Danny Ocean and the gang stole tens of millions from under snouts of Vegas casino owners – with George Clooney cast to type in the title role.
Nigel Farage seen at Trump Tower again
But that's wrong too. In a British context, the only reliable route to Oscar and box office glory is via a biopic about a contemporary or recent historical character. Colin Firth in The King's Speech, Meryl Streep in The Iron Lady, Helen Mirren in The Queen, Eddie Redmayne in The Theory of Everything … Why the hell shouldn't Farage take his Oscar-generating place alongside George VI, Margaret Thatcher, Elizabeth II and Stephen Hawking?
He's up there with any of them in terms of historic significance. You could argue that he has changed this country more than Thatch. You could certainly argue (as I and others have) that we'd have avoided the horror of Brexit had we stopped sneering at the farcicality and taken him seriously a decade ago.
With this film, the almost limitless possibilities for comic relief include Alec Baldwin reprising his Saturday Night Live turn as Trump. But the astounding tale of Farage, the Dickensian urchin who escaped the privations of a leading public school and commodity broking to lead his equally deprived compatriots out of the EU wilderness, and his melodramatic life (testicular cancer, that plane crash, the Latvian barmaid) demands more gravitas than Banks appreciates.
As casting director, I pick Kevin Spacey for the lead. Spacey has more than the essential Faragean lizardiness; he has the killer-behind-a-genial-facade actorly presence. As Frank Underwood in House of Cards, he has form playing a seeming political irrelevance who grabbed the prize.
Whether Warners would hire Robin Wright to reprise her glacial Lady MacBeth bit as Clare Underwood, by playing Farage's missus, I leave to them. In real life, Frau Farage follows Mrs Arthur Daley ("'Er Indoors") and Niles Crane's Maris as a broodingly unseen spouse. But the timeless beauty of the movies, even biopics, is that real life can be manipulated and recreated at will. Everyone knows that.
What we didn't know, until the title character of a future major motion picture taught us in 2016, is that so can real life.
Register for free to continue reading
Registration is a free and easy way to support our truly independent journalism
By registering, you will also enjoy limited access to Premium articles, exclusive newsletters, commenting, and virtual events with our leading journalists
Already have an account? sign in
Register for free to continue reading
Registration is a free and easy way to support our truly independent journalism
By registering, you will also enjoy limited access to Premium articles, exclusive newsletters, commenting, and virtual events with our leading journalists
Already have an account? sign in
Join our new commenting forum
Join thought-provoking conversations, follow other Independent readers and see their replies