The Nigeria mosque attack should remind us that the people most likely to be victims of terrorism are Muslims
This vile attack has, once again, shown that although terrorists may use religious rhetoric they neither follow Islam nor represent the 1.5 billion Muslims across the world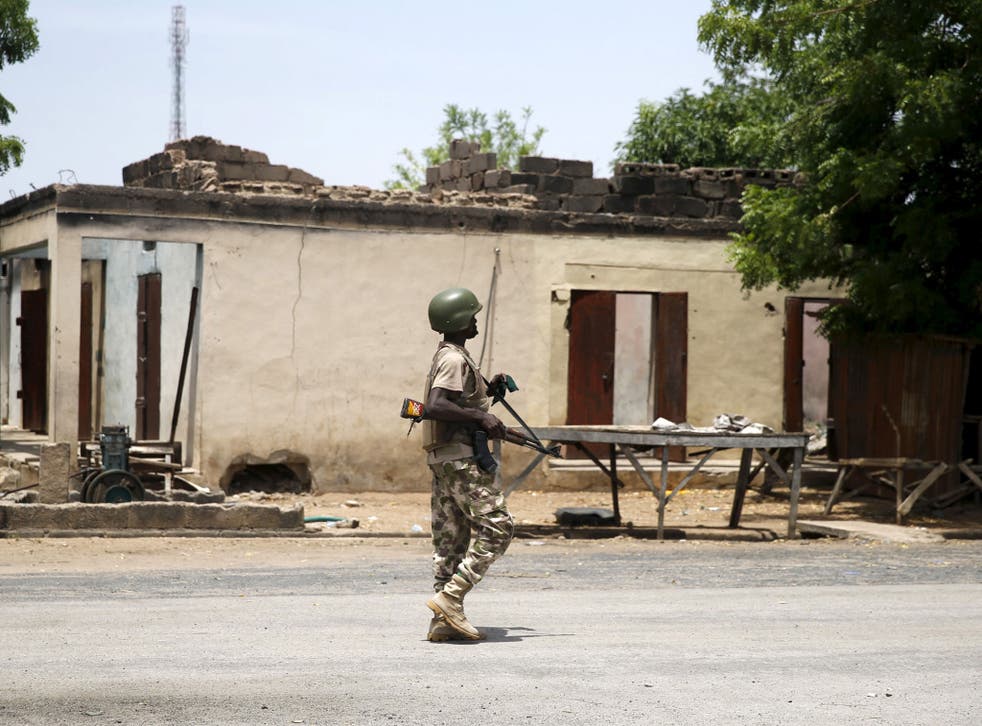 A teenage suicide bomber has blown himself up as worshippers gathered for morning prayers at a mosque in north-eastern Nigeria, killing at least 50 people. It is unimaginable to think what could possess a person to mercilessly and indiscriminately kill innocent people who are kneeling before God.
While no-one has claimed responsibility for the brutal attack yet, it bears the hallmarks of Boko Haram, the terrorist group based in neighbouring Borno state that has been responsible for scores of similar attacks in public places, including mosques.
Since 2009, Boko Haram has waged an insurgency in northeast Nigeria in its attempt to create an "Islamic state" in the region, killing more than 20,000 and forcing around 2 million people to flee their homes. Although the terrorists – whether Boko Haram, Isis or Taliban – claim that they want to create an "Islamic State", their brutal actions could not be any further from Islam. If they even had a shred of faith in them, they would surely see that their actions go against the most basic tenets of the religion I am proud to follow.
Indeed, if one wanted to illustrate how un-Islamic these groups are, what better way could one find than the brutal murder of people at prayer? This vile attack has, once again, shown that although the terrorists may use religious rhetoric they neither follow Islam nor represent the 1.5 billion Muslims across the world. Targeting innocent civilians in places of worship or educational institutions is satanic, not Islamic.
Aftermath of suicide bombing in Nigerian mosque
An irony of modern day terrorism is that its violent attacks have killed more Muslims than people of any other faith, yet Muslims are still considered by some, en masse, as terrorists. According to Global Terrorism Index data, of the top 10 countries with the biggest threat of terrorism, eight are Muslim majority countries. Nigeria, which ranks third in the world for terrorism threats has an almost-equal spread of Islam and Christianity.
After the fall of Isis, it is more important than ever that politicians, social scientists and the media review its approach to terrorism.
We Muslims must also acknowledge that "Islamist" terrorists use religious rhetoric and concepts to manipulate young people's personal, social and political grievances to turn them into "martyrs". This phenomenon is not new and over the centuries many religious zealots – across different religions – have been using this mechanism to recruit young people to fight for their causes, irrespective of how evil they may be.
These modern-day religious extremists are known as Khawārij (literally "those who went out" the fold of Islam) in the Islamic tradition. They emerged in the seventh century, less than 40 years after the passing away of the Prophet (peace be upon him). Essentially, when they emerged Khawarij had political ambitions and wanted to impose a distorted version of Islam on Muslims. Muslims defeated Khawārij then and they will do so now.
The vast majority of Imams, across the world, are acutely aware of their role in challenging religious narratives that conflate religious passion, personal grievances or territorial ambitions to motivate hatred and violence. In the next few weeks, I am attending conferences with Imams and Muslim scholars in the Middle East, Asia and Africa, discussing the fall of Isis. The twisted ideology is not going to die with the fall of Isis and my fear is that they and Boko Haram will next lash out in Africa.
In the last four decades, there have been three major Khawarij insurgencies, following a similar trajectory: a gradual unnoticed period of growth, a huge event bringing the new threat to public attention, a phase of brutal struggle and bloodshed, then retreat and resurgence. We need to ensure that parts of the Middle East or Africa are not the new battle grounds.
Whether extremists are inspired by misinterpretation of religious text, or a racist, supremacist ideology, they want to undermine our values and co-existence. The only way to defeat them is to replace hatred with understanding and compassion. The values of tolerance, civil liberties and freedom, that human beings from across cultures cherish, must not be compromised.
Imam Qari Asim is a member of the Government's Anti-Muslim Hatred working group and can be reached at @QariAsim
Join our new commenting forum
Join thought-provoking conversations, follow other Independent readers and see their replies