What would a denuclearised North Korea mean for the balance of military power in Asia?
World leaders are racing to adapt to the new state of relations with Kim Jong-un's regime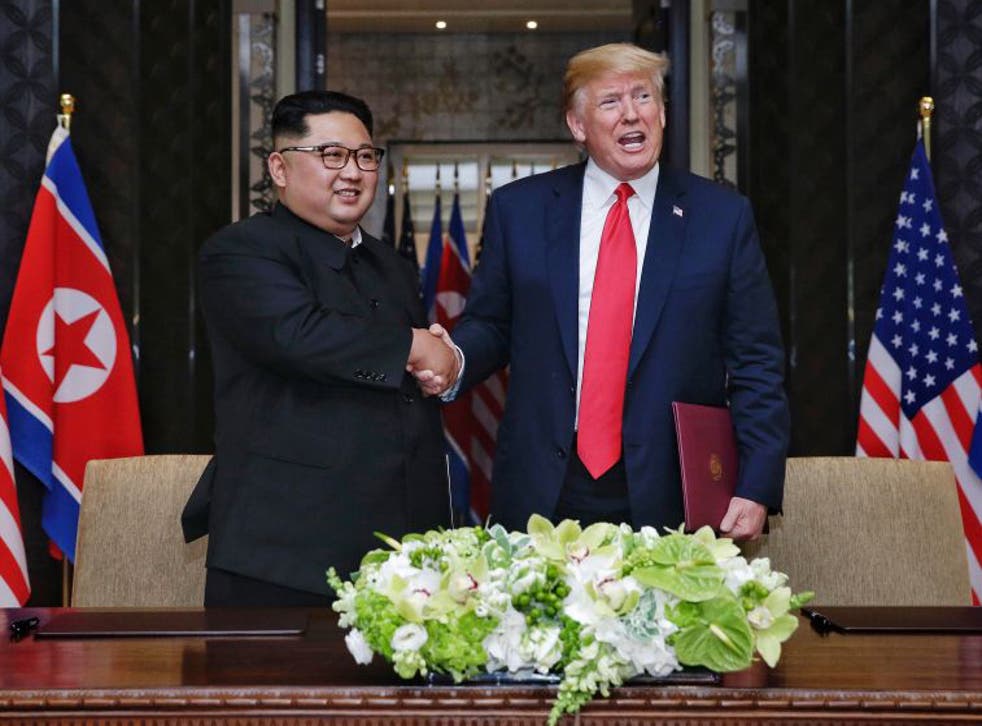 No debate will continue to dominate the strategic spectrum in Asia as much as the issue of North Korean denuclearisation. The meeting in Singapore between Donald Trump and Kim Jong-un may have heightened the prospects of peace in the Korean peninsula, but there will be plenty of tests to come as Asia's military and strategic landscape is redrawn.
Even the issue of the denuclearisation itself has long been contentious in the region. In spite of Trump and Kim's improved relations, the Americans and North Koreans will continue to differ on the process and the definition of "complete". China will back the phased manner preferred by Pyongyang, while Japan is likely to support the US demand for "complete, verifiable and irreversible dismantlement" (CVID).
And after the recent miscommunication over its joint military exercises with the US, South Korea is likely to be subjected to more difficult and tense times ahead – it has to figure out a tactical balance among all these critical actors in northeast Asia.
After Singapore, they will follow the lead of the US, which pivoted so spectacularly from a stance that sought to isolate North Korea and simply hope for regime collapse. The opposite scenario has fast emerged, where world leaders want to engage as quickly as possible with Pyongyang. Kim Jong-un's meetings with the Chinese leader Xi Jinping, South Korean president Moon Jae-in, and Trump – all in the space of a month and a half – demonstrate this.
Vladimir Putin's top diplomat, Sergei Lavrov, has already invited Kim to visit Russia. By hosting the Trump-Kim summit as a third country, Singapore indicated that the world as a whole is more receptive to engaging with North Korea with an open mind. And perhaps sensing new trading opportunities, all its neighbours have appeared open to removing UN sanctions on North Korea if its nuclear sites and stockpiles are fully dismantled.
Such a finely poised dynamic makes it an increasingly important time for non-critical actors like India, which until now has been preoccupied with what it calls North Korea's involvement in "nuclear proliferation" with Pakistan. (The founder of Pakistan's nuclear weapons programme has said he sold secrets to North Korea, as well as to Iran and Libya.)
New Delhi was not a member of the six-party talks meant to solve the nuclear crisis between 2003 and 2009 – indeed, India has not been directly involved in Korean politics since the 1950s and the Korean War, with geographical distance and its lack of UN Security Council permanent membership proving a stumbling block.
But the Indian prime minister Narendra Modi has made "Act East" his central foreign policy tenet, an evolution of the Look East programme of his predecessors that saw India try to forge new ties with both the Koreas. If Modi is truly to convert spectating into action, this will be an opportune moment to get involved – especially as no "complete denuclearisation" would be possible without addressing North Korea's ties to Pakistan.
For while most will not remember, India was not always a passive observer on matters to the far east. It was once a major power in the Korean corridor, and was a key member of the nine-party UN commission established to hold elections in post-independence Korea in 1945. South Korea's independence day, 15 August 1948, coincides with India's independence day. And it was an India-sponsored resolution that both North and South Korea accepted to end the Korean War, declaring a ceasefire on 27 July 1953.
India should read Asia's strategic environment carefully – as always, it must tread a fine line between China and the US, both of which could put up roadblocks to another would-be superpower making its presence felt in the region. A surprise visit to Pyongyang last month by India's foreign minister of state VK Singh, almost unnoticed in the excitement building around the Trump-Kim summit, was an appreciable stride in the right direction. And if North Korea is indeed opened up to the outside world, India will surely seek a bigger role under the UN mandate to address the humanitarian issues at stake, as well as the recuperation of North Korea's economic plight.
Singapore Summit: historic first meeting between Trump and Kim Jong-un

Show all 20
China and the US are likely to remain the biggest players in drawing North Korea out of its isolation, while Russia has shown in Syria its willingness to engage directly on the international scene. Nonetheless, with the Panmunjom Declaration heralding a "new era" of reconciliation between the two Koreas, the moment is right for India to revive its historical role as a peace builder.
Dr Jagannath Panda is research fellow and centre coordinator for East Asia at the Institute for Defence Studies and Analyses (IDSA), New Delhi
Register for free to continue reading
Registration is a free and easy way to support our truly independent journalism
By registering, you will also enjoy limited access to Premium articles, exclusive newsletters, commenting, and virtual events with our leading journalists
Already have an account? sign in
Join our new commenting forum
Join thought-provoking conversations, follow other Independent readers and see their replies