Trump has just made the world less safe by branding North Korea a state sponsor of terrorism
It may not have gone unnoticed in Pyongyang that it's Thanksgiving in the US and Japan on Thursday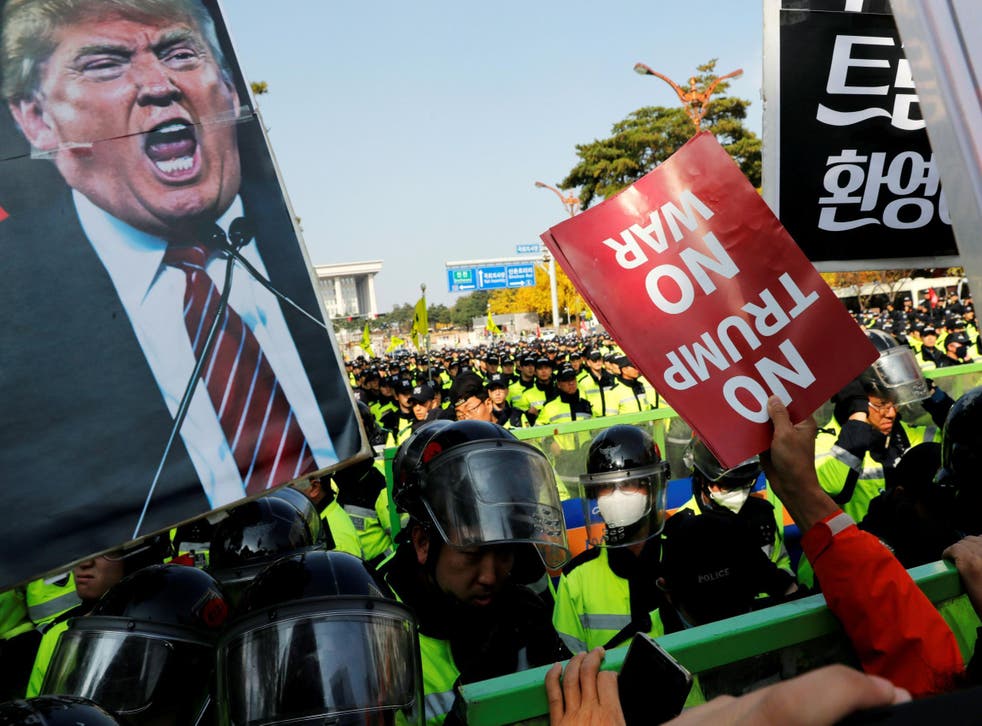 On its own, Donald Trump returning North Korea to the list of states sponsoring terrorism makes sense. One more gentle tightening of the vice on Pyongyang is the sort of move we'd expect from the United States at this perilous point: cautious and incremental. One more, ever-so-calculated move in a chess game where everyone is careful not to knock over any of the pieces.
Some have quibbled over whether it's right to label Pyongyang a purveyor of terror just now. Trump, announcing the move at the start of a cabinet meeting, cited the assassination in Malaysia in February of Kim Jong-un's half brother and the fate of American student Otto Warmbier. He died in June days after returning home from North Korea where he'd spent 17 months in prison.
Sceptics point out: none of that quite amounts to funding terror networks.
But otherwise, why not? North Korea was on the US State Department-administered list for 20 years before 2008 when George W Bush removed it, hoping the gesture would cement a tentative deal which, at the time, was meant to see some fresh aid flow to Pyongyang, in exchange for the regime halting its nuclear arms programme. It didn't. Because Pyongyang didn't.
You might almost call the US action belated. Most happy to see it will be Japan, which told Trump on his recent visit that it wants as strong a line as possible against Kim. The slightly more tremulous South Korea might welcome it too, because re-listing North Korea is also mostly symbolic. Any nation that finds itself on the list – already there are Syria, Sudan and Iran – is automatically slapped with US sanctions. In North Korea's case, they are already in place.
So far, so good. But there is a problem which should be pretty clear to all of us. This is a chess game in which both players, not just one of them, are highly unpredictable and volatile.
Nothing that increases the chances of one of them suddenly snapping seems like a good idea. Knocking over a few bishops and kings in this scenario could translate into obliterating whole nations.
If rhetoric is a forecaster of anything real, we'd surely be in trouble. Trump has publicly indicated a willingness to "totally destroy" the entire north half of the Korean peninsula with "fire and fury" if Kim threatens the US. Kim has been a little more restrained, limiting himself to a fatwa declaring that "hideous criminal" Trump has been "sentenced to death by the Korean people".
Another slight cause for concern: do grown-up, calibrating chess masters normally indulge in the juvenilia favoured by these two? Trump calls Kim "short and fat", and "rocket-man". Kim calls Trump a "gangster", a "frightened dog" and a "dotard". There's more, but you get the tenor.
Trump is not really crazy, of course. Let's cling to that. Yet, you don't have to look too far in the US today for symptoms of deep unease about what he might be capable of. A week ago, the Senate Foreign Relations Committee, controlled by Republicans, held a hearing on whether Congress should consider legislation to curb the ability of a sitting president to launch nuclear missiles.
"We are concerned that the President of the United States is so unstable, is so volatile, has a decision-making process that is so quixotic, that he might order a nuclear strike that is wildly out of step with US interests," warned Senator Chris Murphy, a Democrat.
Pause for a moment and just consider what he was saying. Others on the Hill have also questioned the wisdom of leaving Trump alone at nights with the nuclear codes, among them Republican Senator Bob Corker.
Still more extraordinary was the admission last week from the top US nuclear commander that he would ignore an order to launch nuclear-tipped missiles by Trump if he considered them illegal. Air Force General John Hyten, commander of the Strategic Command (Stratcom), acknowledged it was something he'd been giving thought to.
"I provide advice to the President, he will tell me what to do," he said in remarks at a security conference in Nova Scotia, Canada. "And if it's illegal, guess what's going to happen? I'm going to say, 'Mr. President, that's illegal.'"
We want to trust Trump's ability to get us through this without triggering a nuclear calamity, the likes of which the world has never seen. We have to. But all this makes it more difficult. As do newly surfaced reports of HR McMaster, the National Security Advisor, purportedly telling guests at a dinner party that Trump had the intelligence of a "kindergartner". A spokesman as denied he said such a thing. Didn't Rex Tillerson, the Secretary of State, call him a "moron" in private?
It is because we can be sure of so little – that this situation is so fragile – that anything that risks pushing either side to take military action should be avoided. That includes slapping Pyongyang with the state-sponsored terrorism label. It is, in fact, a bad idea, because the evidence to justify it is thin at best. That makes the US look like its breaking – or at least, bending – the rules of the game to suit its own purposes. That in turn will weaken and delegitimise its arguments when, and if, Kim finally agrees to come to the table to negotiate a settlement.
And in the immediate term, how confident can any of us be that Kim won't respond to the US move by ordering new launches or tests, that would be certain only to make the crisis worse?
Like on this Thursday – which, in case you didn't know, is Thanksgiving in the US and Japan.
Register for free to continue reading
Registration is a free and easy way to support our truly independent journalism
By registering, you will also enjoy limited access to Premium articles, exclusive newsletters, commenting, and virtual events with our leading journalists
Already have an account? sign in
Register for free to continue reading
Registration is a free and easy way to support our truly independent journalism
By registering, you will also enjoy limited access to Premium articles, exclusive newsletters, commenting, and virtual events with our leading journalists
Already have an account? sign in
Join our new commenting forum
Join thought-provoking conversations, follow other Independent readers and see their replies