A dangerous political crisis is looming in Northern Ireland – yet no one has bothered to notice
This weekend, Arlene Foster's arch enemies in Sinn Fein have escalated pressure to oust her. Party leader Gerry Adams has signalled that Martin McGuinness, who is Northern Ireland's Deputy First Minister, could resign in order to pull down the power-sharing structures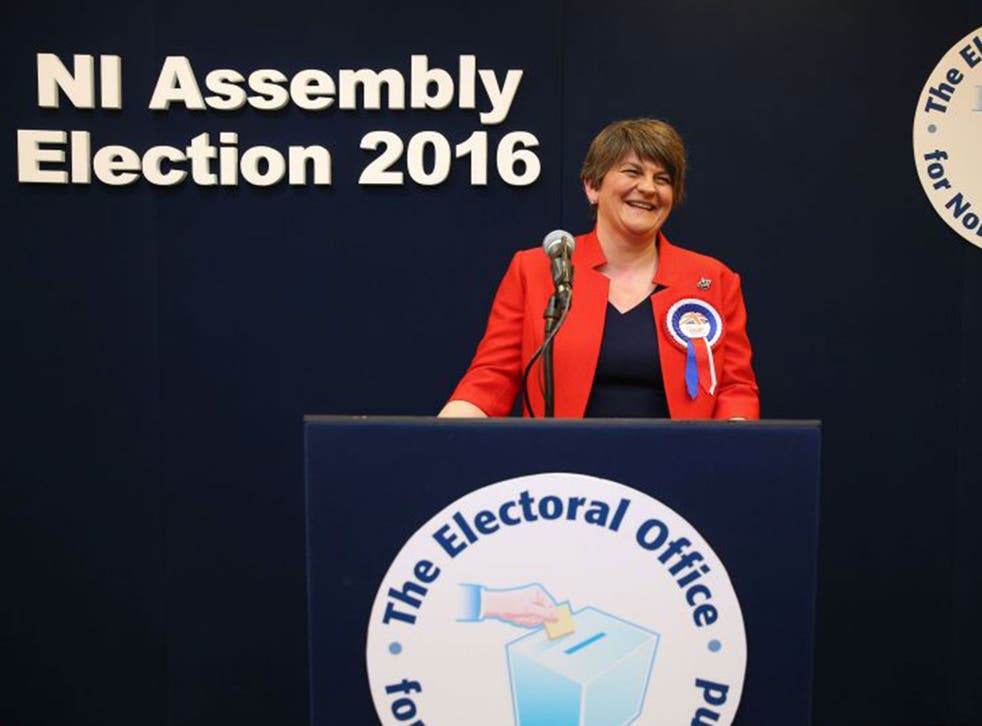 While much of the UK media's attention has been turned on Brexit, Trump and Corbyn-coups, Northern Irish politics has been tiptoeing to the edge of a cliff. Quietly and without much fanfare, the region is now facing one of the biggest political instabilities since the St Andrews Agreement in 2006.
Blink and you could have missed it. Anyone familiar with Northern Irish politics will know that the political terrain there could be euphemistically described as "colourful". Turmoil and tantrums are frequent features of the political cut and thrust there, as the scars of the Troubles continue to affect political discourse and relationships.
However, this current crisis has little to do with violence, religion or the constitutional question. Instead, it has crept upon Northern Ireland subtly and with little commotion. The usual calling cards of a Northern Irish political crisis have not been there to warn us: no religious rallies, pulpit thumping or shows of strengths on the strength on the streets. Instead, we face a crisis which is much more mundane: a straightforward, almost dull financial scandal.
Northern Ireland First Minister Arlene Foster is facing calls from all sides to stand down. She is accused of mishandling a major government scheme while she was an executive minister. Dubbed the "cash for ash" scandal locally, the scheme was designed to encourage businesses to use renewable energy, but a loophole apparently gave them a financial incentive to burn fuel pointlessly. Some £490m is thought to have been misspent due to the flawed scheme, a huge amount of money for a country the size of Northern Ireland, which has just shy of 2 million inhabitants.
UK news in pictures

Show all 50
One of her own Democratic Unionist Party colleagues, Jonathan Bell, has added further fuel to the fire by claiming Foster told civil servants at Stormont to alter documents to cover up her role in the scandal. She strongly denies this and says she has been unfairly represented and attacked in the media. She insists she is going nowhere and refuses to resign.
Meanwhile, public support for the First Minister is plummeting; dropping from 49 per cent approval rating to just 29 per cent according to one Belfast Telegraph poll. This weekend, her arch enemies in Sinn Fein have escalated pressure to oust her. Party leader Gerry Adams has signalled that Martin McGuinness, who is Deputy First Minister, could resign in order to pull down the power-sharing structures. As the peace process requires both the First Minister and Deputy First Minister to jointly power-share as leader of the largest Unionist and Nationalist parties, Sinn Fein's withdrawal could bring the whole institutions down and trigger an election, which would almost certainly see the Northern Irish public oust Foster instead.
For almost a decade, Northern Ireland has never looked quite so close to seeing its own government structures crumble. Yet, what is most striking about this current crisis is how calmly and quietly it has reared its head.
Northern Ireland: Walkout in Stormont over Arlene Foster statement on energy scheme
After so many threats to collapse Stormont that have lasted several years but seldom been acted on, it is surprising to see the most credible threat of that suddenly come. Yet, in many ways the current crisis is bittersweet. It is perhaps one of the most positive signs so far that Northern Ireland is entering normalised politics through the form of a good old-fashioned financial scandal, a far cry from the tense and extraordinary events of the Troubles.
That is not to say, however, that we should be blasé about the current crisis facing Northern Ireland. It offers both a reflection of how much positive change politics in the region has undergone since the peace process, but also offers a stark reminder that peace time politics bring complexities and crises of their own.
Join our new commenting forum
Join thought-provoking conversations, follow other Independent readers and see their replies