Notebook: Luxury block's £135m windows blind the rich to the homeless outside
This mega-home is destined to sit empty for months, like all of the most expensive addresses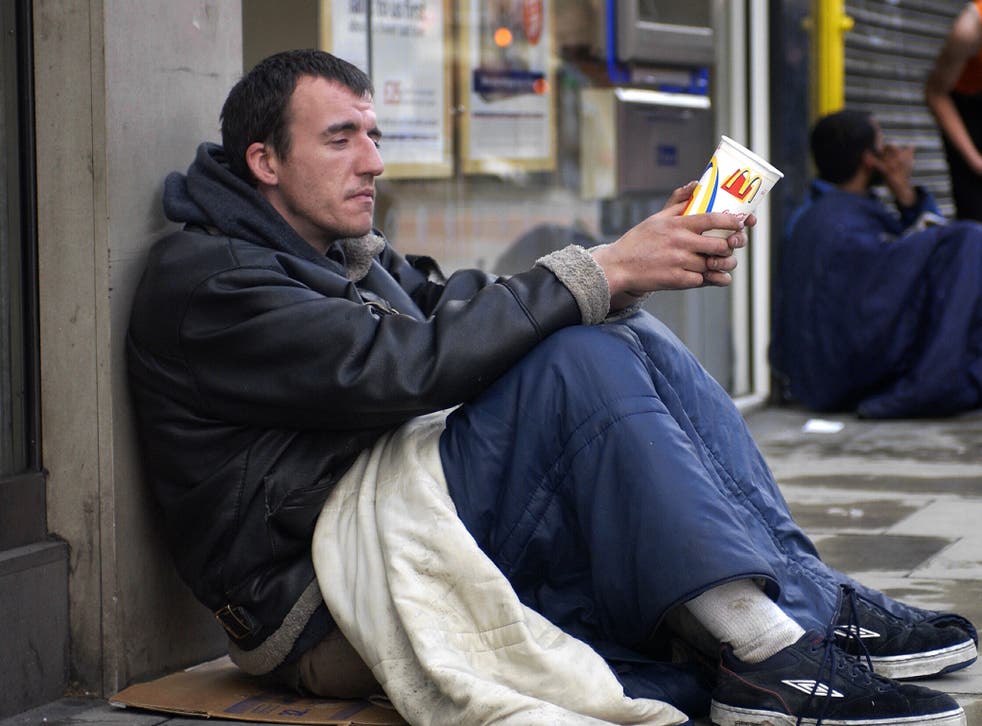 It is cold, it is wet, it is nearly Christmas and in Bournemouth the local council has come up with a new wheeze to torture the homeless. Apparently responding to complaints from commuters who felt "intimidated" by homeless people congregating outside the railway station, the council hit upon all-night bagpipes as a solution. From midnight to 6.30am, the music was piped out of the station to deter anyone who might be thinking of cosying down in its filthy doorways or snuggling beneath its freezing gutters for the night. When 4,000 – presumably less easily intimidated – people signed a petition branding the measure inhumane, the authority listened. And it responded, by changing the record to Alvin and the Chipmunks' uniquely eardrum-needling take on "All I Want For Christmas Is You".
This is not some sub-Orwellian joke. It happened. Just like those anti-homeless spikes that appeared outside a new block of flats in London and Selfridges in Manchester, and many other places besides. It takes a special kind of bureaucratic mind to see a social problem, such as growing numbers of people with nowhere to go but the streets, and then find a way to make matters worse for them. Why go to the trouble of building a shelter when it's so much easier simply to Spotify the homeless away?
Not only are these measures sociopathic, treating vulnerable humans as vermin to be shooed, they are also fatuous. You can play "Scotland the Brave" until the next referendum but it doesn't solve the problem, it just moves it to another doorway.
Meanwhile, in London, where homelessness has soared by 38 per cent since 2011, a luxury flat with the largest rooms in the city went on the market this week for £16m. A former limousine showroom in Mayfair, it covers 3,500 square feet and has an 82ft-long, eight-window frontage. If it had to be converted into anything, 20 affordable flats might have been more useful. Instead, this mega-home is destined to sit empty for months on end, like all of the most expensive addresses in the capital. Like One Hyde Park, for example, where properties cost between £6.5m and £135m, but the owners apparently cannot see out of the windows. So many of the flats remain empty and unheated for long periods that condensation builds up between the layers of expensive triple glazing and mists up the view.
It's just another way of turning a blind eye to the housing crisis, I suppose.
Meet the Founders
MTV has come up with a name for people who were born after 2000, which is weird on several levels: first, that MTV is still going and, second, that it thinks it can speak for the post-millennials. Nevertheless, it has decreed that people who are not old enough to drive, drink, vote or to have ever bought a CD shall be called the Founders.
Ewwww, as Founders like to say (do they? I don't know, I'm the same age as MTV). It sounds like the name of a cult, a folk band or one of those "secret" artisan cocktail bars where the menus are typewritten on brown paper and all the bartenders have handlebar moustaches.
In fact, says middle-aged MTV president Sean Atkins, the name refers to the fact that "they have this self-awareness that systems have been broken. But they can't be the generation that says we'll break it even more". In other words, the Founders have come to save us; and since teenagers are notoriously obedient, I'm sure they'll get on with it right after they've tidied their bedrooms and stopped Snapchatting their trainers. Founders was chosen above other dreadful names such Gen Z, iGen and Plurals – though not, surprisingly, Selfies. We could just stick to calling them teenagers and let them define themselves.
Of course women fucking swear
Linda, an exciting new play about the invisibility of older women in society, opened at London's Royal Court Theatre this week. Its (anti)heroine is a cosmetics brand manager and the action opens with her pitching a new anti-ageing cream. Her point is that beauty ads for the over-50s tend to be one-note, generally featuring Helen Mirren, "the only older woman still allowed to exist".
That line got howls of recognition from the audience. And if it's true of advertising, it is also true of movies. It often feels that Mirren, along with Meryl Streep and Judi Dench, is the only silver-haired woman still allowed on the silver screen. But she hasn't broken down all barriers. This week, accepting yet another award, she gave a sweary speech and was instantly criticised for being vulgar.
Oh FFS. Just as Mirren isn't the only woman over 50 to use face cream, she is also not the only one to swear. And if you don't believe me, try telling the nearest female to you to mind her language, and wait for the reply.
Register for free to continue reading
Registration is a free and easy way to support our truly independent journalism
By registering, you will also enjoy limited access to Premium articles, exclusive newsletters, commenting, and virtual events with our leading journalists
Already have an account? sign in
Join our new commenting forum
Join thought-provoking conversations, follow other Independent readers and see their replies