Why is Westminster Abbey holding a bizarre thanksgiving for Britain's nuclear weapons?
We are told that nuclear weapons and their deterrent effect have kept the peace. What peace?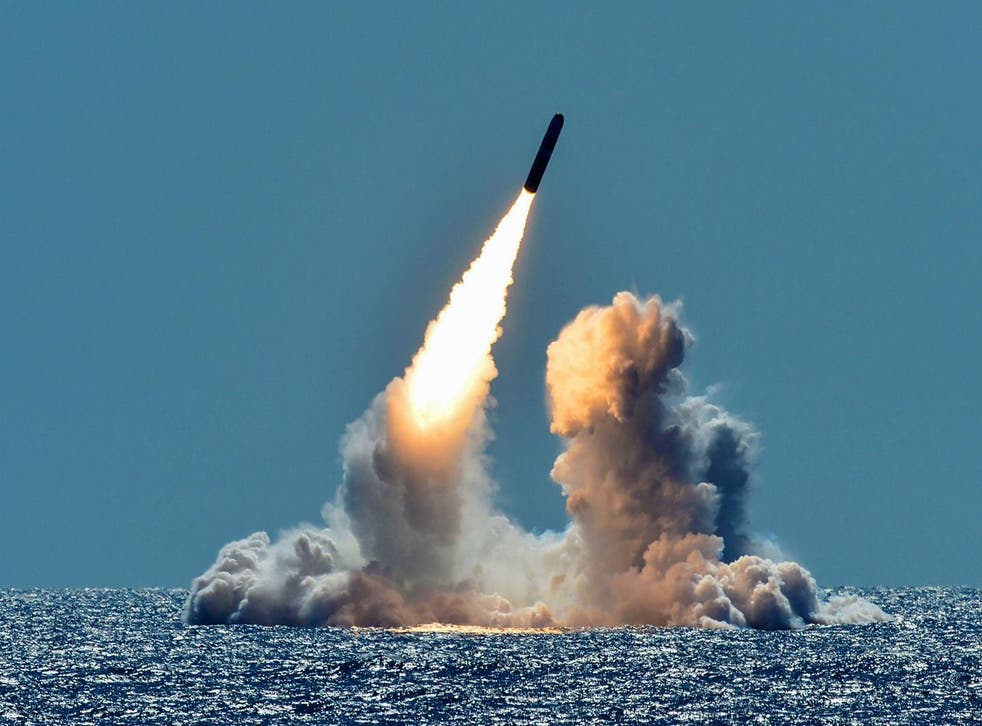 There is to be a ceremony at Westminster Abbey on 3 May in celebration of 50 years of submarine nuclear weaponry. Two hundred Anglican clerics have publicly condemned the service – in their view it should not go ahead because it is at odds with church policy to "work tirelessly" for a world free of nuclear weapons.
I think they're right and the Abbey has got this very wrong. These submarines are nuclear weapon submarines. Their crews, trained to obey orders, are ready to fire missiles whose warheads will bring destruction to faraway places and people far beyond the scale of Hiroshima or Nagasaki.
My opposition to potential war crimes of this magnitude will motivate me to join a vigil outside the Abbey. I do not blame the sailors. The history of nuclear weaponry has been from the beginning one of deceit.
We were, and are, told that the bombs dropped on Hiroshima and Nagasaki were the only way to end the Second World War. Not true. The Japanese leadership, ready to surrender, were looking for one guarantee - that the position of the Emperor would not be challenged in any surrender settlement and that he would not be prosecuted. That was just what was given by General MacArthur but only after the bombs were dropped. Why were they dropped then? As a warning to the Soviets and to see if they "worked"? Probably.
We are never told about the few scientists, like Professor Joseph Rotblat, then in Los Alamos, who refused to continue to work on the bomb once he knew how it was to be used. He was sent back to Britain in 1944 in disgrace.
A Day That Shook The World: First nuclear submarine launched

Show all 5
Not many church voices in this country were raised in opposition at the use of these bombs. One was that of Cuthbert Thickness, the Dean of St Albans Abbey. When he was supposed to have rung the bells in thanksgiving, he said in August 1945 "I cannot honestly give thanks to God for an event brought about by the wrong use of force, by an act of wholesale indiscriminate massacre, different in kind over all other acts of open warfare hitherto, however brutal and hideous."
There were however strong military voices in opposition, to which little attention has been paid. General Eisenhower for instance had this to say: "Japan was at that very moment seeking some way to surrender with minimum loss of face. It was not necessary to hit them with that awful thing."
We are told now that nuclear weapons and deterrence have kept the peace. What peace?
The list of post-1945 wars runs to several pages and the global military budget is nearly $2tn. If this claim means we have not had a nuclear war then I think we should listen to Robert McNamara, erstwhile US secretary of defense, who said, late in life, that we were saved not by our good judgement but by "good luck". He had in mind the many accidents and misunderstandings which have dogged our nuclear weapon world.
In 1968 we signed up to the nuclear Non-Proliferation Treaty and promised in "good faith" to work for the elimination of all nuclear weapons.
Yet almost 50 years later we are now spending over £200bn on yet another nuclear weapons system (also entirely dependent on a regular loan of US missiles) to replace Trident.
Surely it is time to start spending our billions not on weapons of mass murder but on our NHS, pensions, welfare and real peace-making initiatives, here and abroad.
Support free-thinking journalism and attend Independent events
There is now a UN treaty on the prohibition of nuclear weapons just waiting for more signatory states to give it the force of law. Britain should sign it and lead the world towards a nuclear-free future.
In these dangerous times, when the threat of nuclear war is growing rather than receding, a thanksgiving service at Westminster Abbey for the so-called nuclear "deterrent" is the last thing we need.
Register for free to continue reading
Registration is a free and easy way to support our truly independent journalism
By registering, you will also enjoy limited access to Premium articles, exclusive newsletters, commenting, and virtual events with our leading journalists
Already have an account? sign in
Register for free to continue reading
Registration is a free and easy way to support our truly independent journalism
By registering, you will also enjoy limited access to Premium articles, exclusive newsletters, commenting, and virtual events with our leading journalists
Already have an account? sign in
Join our new commenting forum
Join thought-provoking conversations, follow other Independent readers and see their replies