On the Summer Solstice, it's not just neo-pagans like me who should be reconnecting with the natural world
We have a deep and undeniable relationship with nature - from the fact that our bodies naturally wake up when they see sunlight, to our tendency and need to live beside water, to the spooky fact that the menstrual cycle is the same length as the lunar month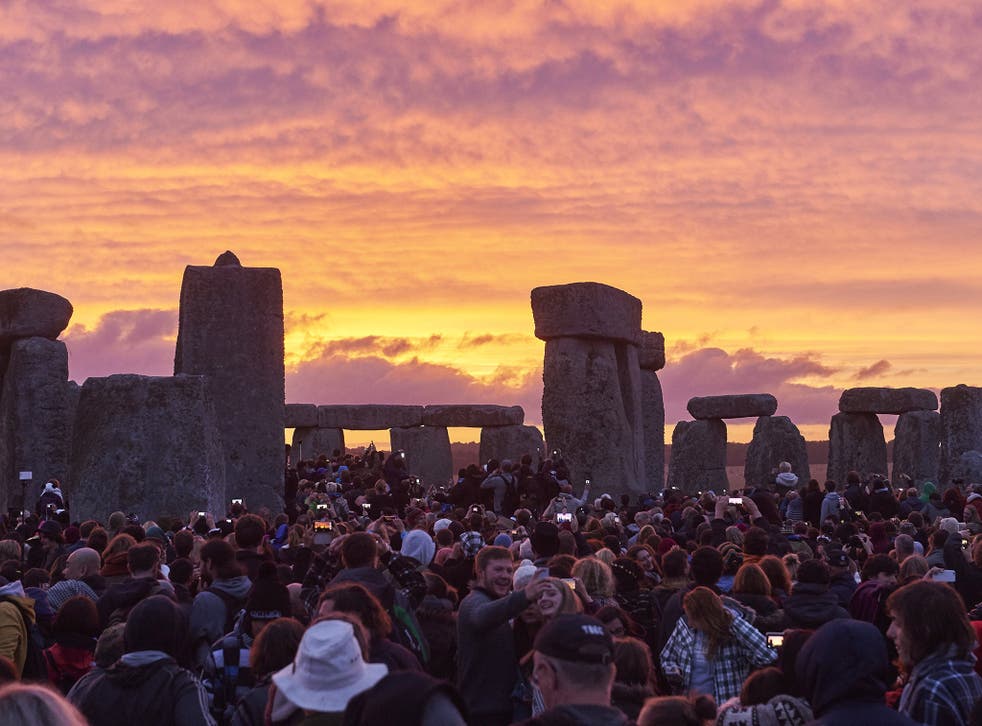 It was only when I was stuck in a traffic jam on the A303 in Wiltshire in mid-June that I really started musing on the nature of pre- and post-Christian Britain, and the pagan past that still has a huge bearing on our lives today.
Niche, I know, but bear with me.
Motorists slow down en masse over the Salisbury Plain's central hump, gawping as they crawl along the single carriageway. Hence, traffic jam. Mercifully, there's neither an accident nor any emergency services - just the 93 stones that make up Stonehenge, Britain's finest neolithic structure, and a gathering place for quirky subsection of modern society: the neopagans.
The stop-and-gawp traffic phenomenon is such that plans are afoot to tunnel the road underground, taking it away from Stonehenge altogether to improve safety and traffic on the road, and pretty things up a bit for those who can actually be bothered to get out of their cars and have a look at the structures properly.
So, why such awe and wonder for a bunch of glorified rocks, many of which have fallen over or sunk into the ground entirely? Why now? At dawn this morning (4:45am, to be precise), thousands gathered around the ancient stones to usher in the Summer Solstice, the longest day of the year, and the point at which the sun is highest in the sky.
Stonehenge is pivotal because it is literally aligned with the sun. The rising sun only reaches the very middle of the circle once a year, on the day of the solstice, shining on the central altar-type stone of the gathering. This makes the neopagans very happy, and they all tootle along to Glastonbury the following weekend for a mad one with J-Corbz, Muse, Adele, and the lads. That's all very well, but what's it to the rest of us?
For one thing, it teaches us how cool humanity can be. We don't really understand how they got Stonehenge to align with the sun for each year's solstice, nor do we particularly understand why. But in an age thousands of years before GPS, or before perfectly-synced Crossrail tunnel-boring machines can plough along for miles and meet each other in the middle to the millimetre, it's pretty impressive that our neolithic ancestors worked out how to build the thing, Especially when you consider how much we rip into them for being ignorant Neanderthal morons.
More importantly, though, it serves as a small reminder of who we really are as humans - and particularly as humans of the North. That's not me getting all Game of Thrones on you - just get a ruler, open Google Maps, line up Edinburgh with the sad-looking bit of Canada, and be amazed. We have a deep and undeniable relationship with nature - from the fact that our bodies naturally wake up when they see sunlight, to our tendency and need to live beside water, to the spooky fact that the menstrual cycle is the same length as the lunar month (seriously, what's that about?)
As we become more intelligent and sensitive about mental health issues, we're beginning to understand that for lots of us, longer, brighter days are a serious necessity, and that Seasonal Affective Disorder shouldn't just be the butt of a nerdy joke, but something we appreciate as a reality for many people.
Our supposedly post-pagan lives have a deep-seated relationship with these natural cycles. Christmas is when it is because of the Winter Solstice - the darkest point of the year, when the fledgling light of the baby Christ is most needed and most visible. The word Easter, meanwhile, comes from Ēostre, the ancient Germanic goddess associated with springtime, new life, and renewal.
As a supposedly Christian country, we pride ourselves on being beyond the realm of superstition, but celebrate according to lunar cycles, the winter solstice, and a strange goddess who may or may not be the source of the word oestrogen. As a supposedly post-Christian country, we pride ourselves on our quasi-supernatural digital-age millennial existences, but we're finally waking up to the vital reality that humans are animals, and as such have an incontrovertible link with the natural world that it would do us good to acknowledge.
So, as the sun sets very slowly in the Western sky (at 9:21pm sharp), enjoy that late-summer-evening feeling for what it truly is; not some smug metropolitan glass-of-rose-on-the-terrace feeling, but something a little more human. A little more animal. A little more natural.
Now if you'll excuse me, I'm off to Glastonbury to hug some trees with my druid friends. Happy Solstice.
Register for free to continue reading
Registration is a free and easy way to support our truly independent journalism
By registering, you will also enjoy limited access to Premium articles, exclusive newsletters, commenting, and virtual events with our leading journalists
Already have an account? sign in
Register for free to continue reading
Registration is a free and easy way to support our truly independent journalism
By registering, you will also enjoy limited access to Premium articles, exclusive newsletters, commenting, and virtual events with our leading journalists
Already have an account? sign in
Join our new commenting forum
Join thought-provoking conversations, follow other Independent readers and see their replies