Yes, Oprah Winfrey really should run for president – here's why
It's about time we had a strong, independent and intelligent woman leading the way and encouraging young women like me to follow suit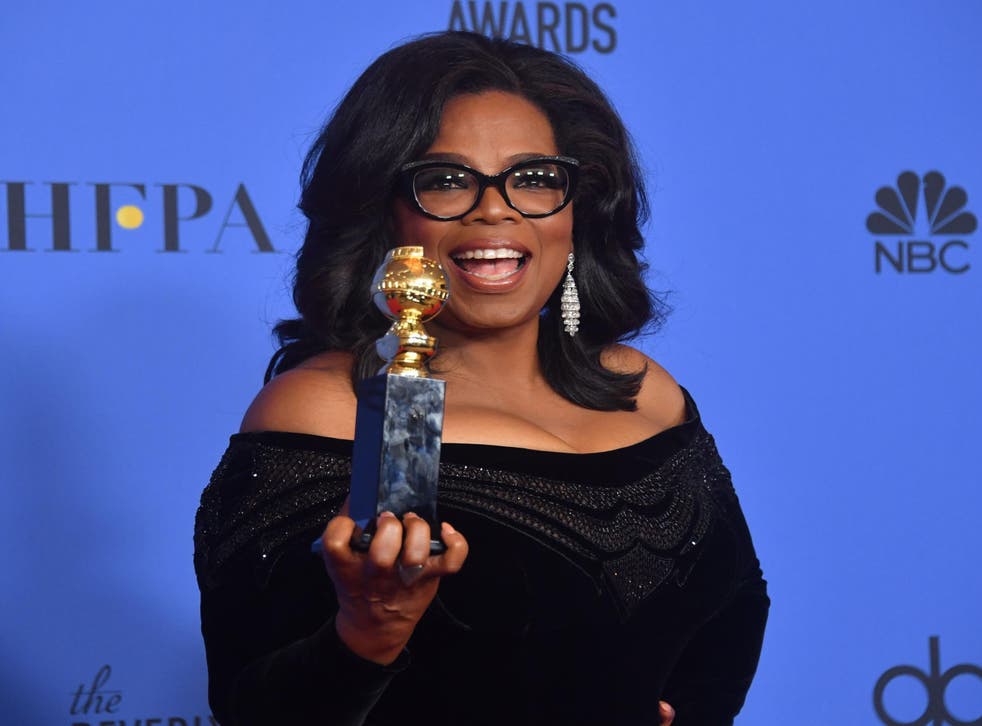 When I awoke this morning, I thought about the world we are currently living in and, for the first time in my life, I was scared. But during my morning commute to work, I was delivered an unlikely flurry of hope.
Oprah Winfrey delivered one of the most powerful and iconic speeches at the Golden Globes Awards last night after she became the first black woman to be awarded the Cecil BDeMille Award.
She addressed racism, sexism and the #MeToo movement, which have been hot topics since the exposure of Harvey Weinstein's alleged heinous crimes last year.
Her monologue, which even honoured Rosa Parks and the late civil rights icon Recy Taylor, paid homage to all the women who have come forward to share their story, share their truths and expose their abusers, and to those who continue to fight for equality.
Wearing black for women – activists and actors at the Golden Globes

Show all 55
"It is not lost on me that, at this moment, there is some little girl watching as I become the first black woman to be given this same award," Winfrey said in her powerful speech. "It is an honour and it is a privilege to share the evening with all of them.
"For too long, women have not been heard or believed if they dare speak the truth to the power of those men. But their time is up. Their time is up. Their time is up.
"So I want all the girls watching here, now, to know that a new day is on the horizon! And when that new day finally dawns, it will be because of a lot of magnificent women, many of whom are right here in this room tonight, and some pretty phenomenal men, fighting hard to make sure that they become the leaders who take us to the time when nobody ever has to say 'me too' again."
As I listened to her speech on my phone, droplets forming round my eyes whilst waiting for the typically delayed circle line, I felt the urge to stand up on the platform and chant along with her: "Their time is up. Their time is up. Their time is up."
It is. And they should be scared.
For years, women have been at the hands of their abusers and have been shunned, ignored and dismissed. But in 2017 we saw the biggest scandals of Hollywood unravel as Harvey Weinstein's victims bravely came forward to share their stories.
Golden Globes 2018 highlights
But more importantly, and disturbingly, the leader of the free world is still allowed to roam free, despite having a number of sexual assault claims to his name. And while the conversation surrounding those claims is still active, he does his best to use Twitter as a filibustering tool to realign the attention of the press.
Rather than using his platform and powers to instil positive change, he abuses it. If celebrities and media moguls like Donald Trump can be voted in as the President of the United States, why can't Oprah Winfrey run for office too?
Instead of supporting a president whom, in a 2005 conversation with a television host, boasted of his stardom by stating that when he meets beautiful women he feels able to "grab them by the pussy", we should be condemning him.
Instead of supporting a president who publicly endorsed embattled Alabama Republican Senate nominee Roy Moore, discounting the sexual assault allegations against him, we should be condemning him.
Instead of supporting a president who uses social media to belittle and bully, we should be condemning him.
This is why we need Oprah.
It's about time we had a strong, independent and intelligent woman leading the way and encouraging young women like me to follow suit. In racist America, she was a black woman who came from a life of abject poverty and abuse, dealt with her own teenage pregnancy, was a single mother and became one of the most powerful household names in the world. Her journey has been an inspiring one – and one we can all look up to.
As a 25-year-old woman who has survived sexual assault and rape, for once in my life, a celebrity-made speech made me feel supported. It made me feel heard. It made me feel like the pain I have endured over the last six years is finally being recognised. The #MeToo and the #TimesUp campaigns have highlighted how, when executed collectively, female solidarity can stand up against sexual harassment.
Changing the colour of your outfit won't change how people think or behave, but using your voice will.
I praise Oprah for using her speech to address such poignant issues. I praise Oprah for continuously using television as a medium to make her voice and the voices of others heard.
We can all learn from Oprah, but what can we learn from Donald Trump other than how to behave like a petulant man-child? I'm getting behind Oprah for president in 2020.
Register for free to continue reading
Registration is a free and easy way to support our truly independent journalism
By registering, you will also enjoy limited access to Premium articles, exclusive newsletters, commenting, and virtual events with our leading journalists
Already have an account? sign in
Join our new commenting forum
Join thought-provoking conversations, follow other Independent readers and see their replies