The windows of my Oregon condo have been sealed for 6 days. My oxygen is going down. I'm heartbroken and scared
Portland now officially has the worst air quality in the world. But there's something you can do for us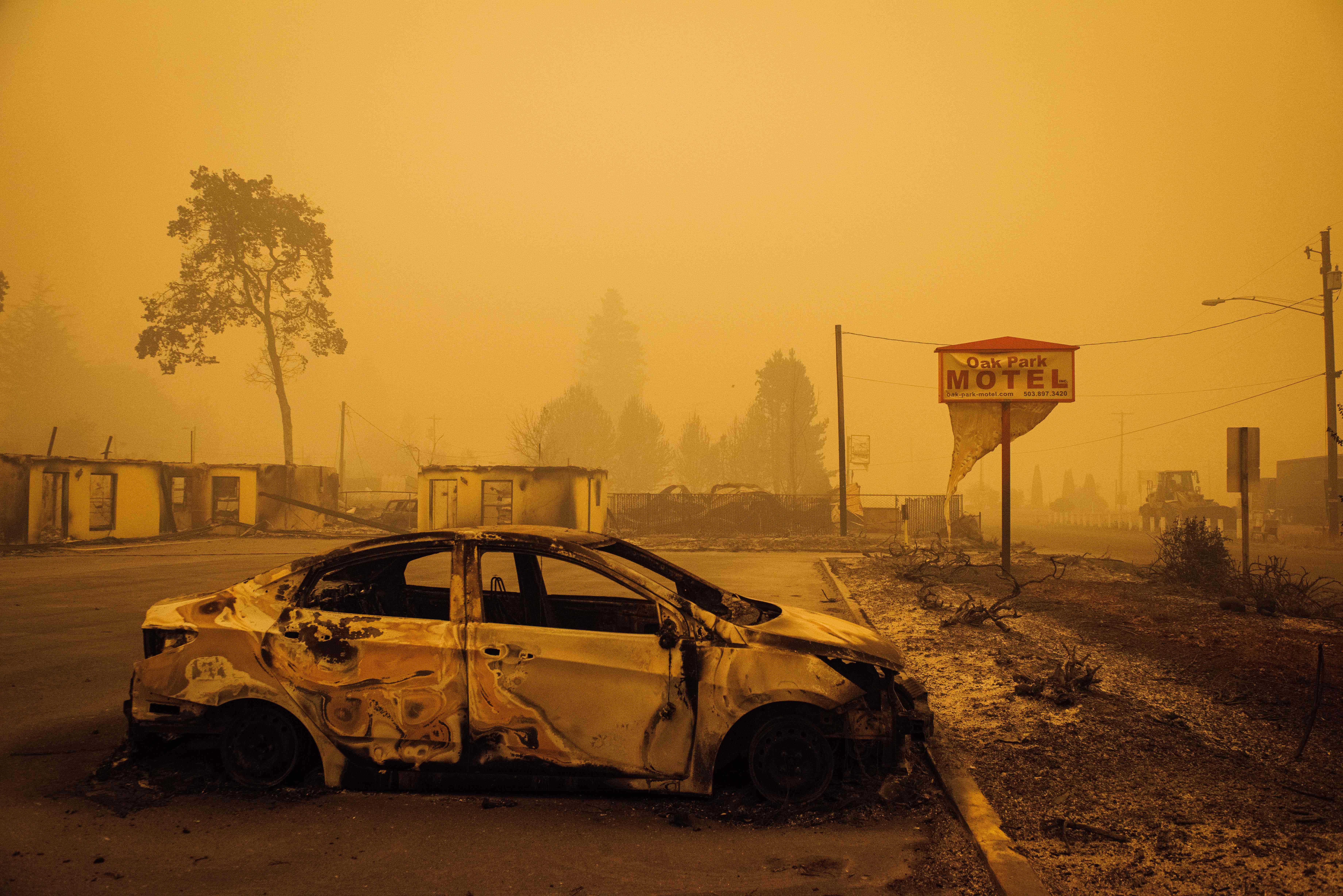 My family and I were just returning from a Labor Day camping trip in beautiful Newport, Oregon, when we first noticed the eerie amber atmosphere shrouding I-5. As we passed the Enchanted Forest — the antiquated but beloved Oregon roadside attraction — the smoke was so thick that I could stare directly at the blood-red sun shining high in the sky. When I came home to Portland, the floor of my condo was covered in a sinister layer of ash.
My windows have now been completely sealed for six days and counting. Outside, Portland is currently the city with the most polluted air in the world, with an air quality index (AQI) of eye-popping 518 as I write this. By comparison, the most polluted city of 2019, Ghaziabad in India, scored an average daily AQI of 110.2. I don't know when it will be safe to open my windows again, and my oxygen is already depleted — it's saying something that the most oxygenated part of my condo is the closet, where I spend the least time. Although I have stopped all unnecessary physical exertion, I feel like breathing through a straw. But my struggle is nothing compared to that of over 40,000 Oregonians who have fled their homes, lost their properties, and in some cases lost their lives. One of them was thirteen-year-old Wyatt Tofte of Lyons, Oregon, who went back to save his 71-year-old grandmother who'd been left behind. His remains were found behind the wheel of the family's car, with his grandmother in the passenger seat and his dog on his lap.
The heartbreak of this and other casualties can't be contained in the phrase "one million acres burned and counting." The majestic Mount Hood is on fire, as is the Silver Falls State Park with its fairytale Trail of the Ten Falls. The Oregon Coast's normally rain-soaked evergreen forests began burning just hours after we left the beach on Labor Day. A diabolical red light has since saturated Newport, Lincoln City, and Depoe Bay, where just two months ago I was overjoyed to spot a couple of resident gray whales spouting above azure waves. From bald eagles and black bears along the coast to elks, coyotes and cougars in Mount Hood and gray wolves in the high desert, Oregon's animal residents have lost their homes and are fleeing the fires like their human counterparts.
If this list of torched places sounds distinctively local, that's because it is: although Oregon is the ninth-largest state in the US and slightly larger than the entire United Kingdom, Oregonians of all political beliefs bond over the shared knowledge and love of the land. Strangers open conversations with favorite hiking trails and camping grounds; friendships are struck over bike rides to the Columbia River Gorge and soaks in natural hot springs. Despite its population growth in recent decades, underlying tensions between newcomers and "natives," and well-televised conflicts between urban liberals and rural conservatives, Oregon retains its village-like interconnectedness through this attachment to the land. Wyatt Tofte was a great-grandson of the founder of the (rural) Enchanted Forest amusement park, a fact that made his death all the more heartrending to all Oregonians who know that landmark on I-5. Whether rural or urban, liberal or conservative, Oregonians are uniting against this calamity.
I keep thinking and praying for Wyatt, a boy so brave, good-hearted, and young that he certainly deserved to escape. I myself fled the climate crisis for the first time when I left New York. When I first moved to the Northeast for college in 2005, the winters were so cold that I had to wear two overcoats and two pairs of pants. By the time I left New York in 2018, I could often go coatless in February and mosquitos were a year-round menace. The summers became increasingly unbearable, and I was falling sick every two or three weeks. I returned to my hometown of Portland thinking it would be far more climate-resilient and temperate — yet my second, more dramatic escape from the climate crisis has debunked that complacency. After decamping on Labor Day, I wanted to take the scenic 101 back up north, but my father overruled me to make a loop toward the south. Had I gotten my way, and perhaps stopped for an afternoon hike as we often do, we could have lost our lives in the coastal fire.
Though I escaped fire zones on Labor Day, Portland is now surrounded by fires to the north, south, east, and west. And this is only the beginning: Oregonians who grew up being constantly rained on lament that "this was not a thing" until just a few years ago, but this still-foreign concept of a fire season will only get worse. I know that running forever isn't an option — nowhere on Earth is truly safe.
Yet, there are many things we can still do to collectively mitigate the most devastating impacts of the climate crisis. By all means, donate to the Red Cross and the firefighters in Oregon and other western states, and vote for politicians at all levels with a track record of protecting the environment. But the most impactful thing you can do today is adopting a vegan diet. According to a landmark 2018 study published in Science, going vegan reduces an individual's carbon footprint by 73 percent. The lead author, Joseph Poore, concluded that "a vegan diet is probably the single biggest way to reduce your impact on planet Earth, not just greenhouse gases, but global acidification, eutrophication, land use and water use. It is far bigger than cutting down on your flights or buying an electric car." Poore, who had originally set out to discover a sustainable model for livestock farming, found that "avoiding consumption of animal products delivers far better environmental benefits than trying to purchase sustainable meat and dairy" and became vegan one year into the five-year research.
This is not an impossible request: Becoming vegan is far less extreme than fleeing fires, sleeping with an N-95 mask on, and watching the young generation perish without inheriting a beautiful or even habitable Earth. But if making the commitment feels overwhelming, eating more plant-based food and complimenting yourself after each vegan meal will also help — meaningfully and immediately. We simply don't have time to sit and do nothing until the right-minded politicians win elections, gather enough political will, pass legislations, and green our infrastructure.
We all have things that we are willing to do anything to protect — today those are besieged in Oregon, but tomorrow or next month it could be anywhere else. Only with all hands on deck do we have a chance of saving our lives, our nature, and the future generations.
Join our commenting forum
Join thought-provoking conversations, follow other Independent readers and see their replies