Yes, there was some diversity at the Oscars. No, this isn't a sign that Hollywood has changed
Frances McDormand pointed to it in her exceptional and moving winning speech: we need to start talking about money and how it is distributed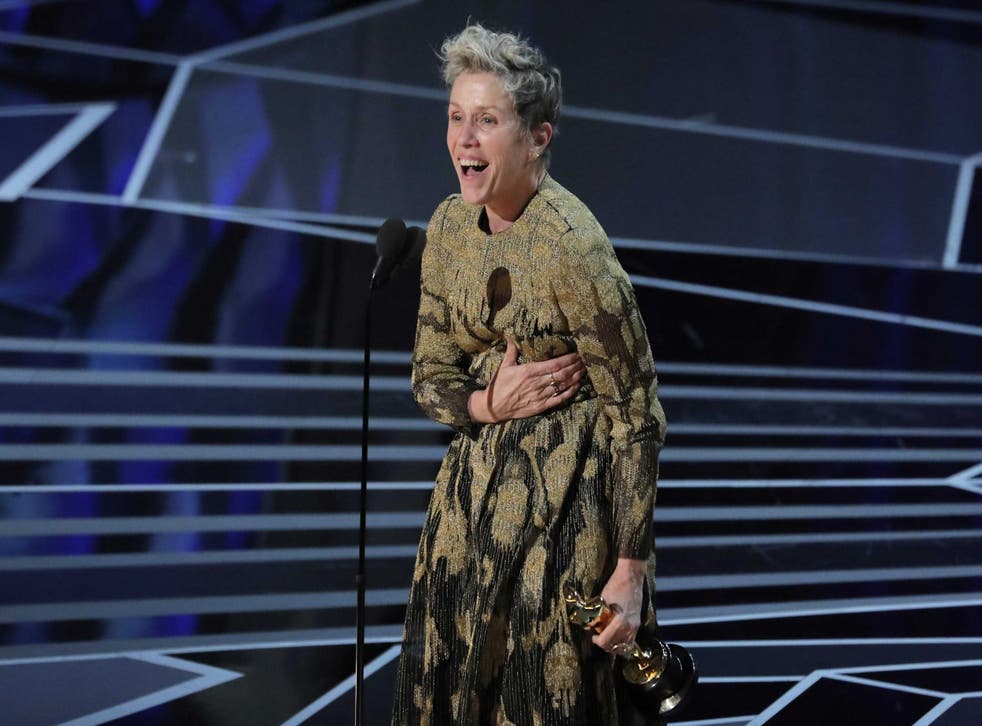 Every year, millions of people around the globe fixate on The Academy Awards, speaking to the social importance of film, a medium that can not only be transported to screens all over the world, but can transport viewers into the lives of others. The political potential of film is impossible to ignore – in the right hands, it can create cultural conversation, shift social perspectives, and bridge divisions. Film is, as remarked at the Oscars last night, an "engine of empathy".
This year's ceremony was of course contextualised by the question of change. In a post-Weinstein Hollywood, we are all being asked to consider how film – the way that it is created, but also received – can really affect social change.
Pockets of hope certainly emerged throughout the night. Ashley Judd called for intersectionality in storytelling, followed by a powerful montage of diverse filmmakers explaining the necessity for minority voices; writer and star of The Big Sick, Kumail Nanjiani, remarked that if he was able to watch and be affected by films narrating straight white men all his life, then white men have no reason to feel out of place with BAME and female-led stories. Certainly, diversity is not only invaluable for the voices it champions, but for the good of all society, who deserve a breadth of stories and ideas. Diversity should not only be a labour taken on by those characterised as "diverse", but must be a shared emotional labour for all people.
Oscars 2018: memorable moments from the 90th Academy Awards

Show all 62
So Jordan Peele's victory for the Get Out screenplay was particularly exciting. Not only did it trump Martin McDonagh's Three Billboards Outside Ebbing, Missouri – a film that is flippant and exploitative in its exploration of race in America – but it relays the constant microaggressions that come with being a person of colour in the West and in a wildly original and entertaining way. Against a backdrop of Trump's America-versus-Mexico divisionism, it was comforting to see Pixar's Coco, an uplifting portrayal of Mexico's traditions towards death, take the Oscar for Best Animation. Elsewhere, the beautiful Chilean film, A Fantastic Woman, conveying the small and daily prejudices that come from living as a trans woman, deservedly took the award for Best Foreign Film.
But these public cries for diversity and moments of triumph should not overshadow the still pitiful situation the creative industries are in. For even after the disclosure of sexual assault in Hollywood by the likes of Weinstein, Kobe Bryant – a man with a past rape allegation that was later dropped – was awarded with an Oscar for his short film Dear Basketball. And though there were efforts taken by the Academy to be more representative, last night's ceremony was dominated by white men. I mean, did they really have to hire Jimmy Kimmel to host the show? Might the commentary and "jokes" on misogyny in Hollywood have been better placed in the hands of a woman? And many of the key categories, like Best Supporting Actor and Best Actress, were comprised of entirely white nominees.
Oscars 2018: Coco wins best Animated Feature Film award
So how can the clear thirst for change actually be mobilised into something long-lasting? Well, Frances McDormand pointed to it in her exceptional and moving winning speech: we need to start talking about money, and how it is distributed. Financiers must be forced into recognising the commercial potential of stories previously seen as unbankable, and to take risks on the artists who have critical things to say. It might make us feel uncomfortable reducing culture to capital, but if that's what's required to make producers cough up for the artists who deserve it most, then so be it.
Get Out, a low-budget "risky" film that places white people as the enemy, is in a Box Office surplus of more than $250m (£180m). Black Panther, an Afrofuturist masterpiece has so far grossed $700m in the very short time it's been released. And Lady Bird, the female directed debut about a complex mother and daughter relationship, has had a net profit of about $40m.
As we saw last night, there is talk of a new era in Hollywood, where we look forward to a landscape of cinema that truly reflects the world around us. But this new era is only possible if every person in the industry – every producer, director, actor, casting director, financier, talent agent, distributor and cinematographer – makes the active effort to support the best work out there. For the best work will always speak to audiences, who crave, above all, authenticity.
Register for free to continue reading
Registration is a free and easy way to support our truly independent journalism
By registering, you will also enjoy limited access to Premium articles, exclusive newsletters, commenting, and virtual events with our leading journalists
Already have an account? sign in
Register for free to continue reading
Registration is a free and easy way to support our truly independent journalism
By registering, you will also enjoy limited access to Premium articles, exclusive newsletters, commenting, and virtual events with our leading journalists
Already have an account? sign in
Join our new commenting forum
Join thought-provoking conversations, follow other Independent readers and see their replies