At last, relief from Covid is here – and it's wearing a beautiful ballgown
The return of the red carpet at the Oscars this weekend proves that, even after a year of lockdown, the show will always go on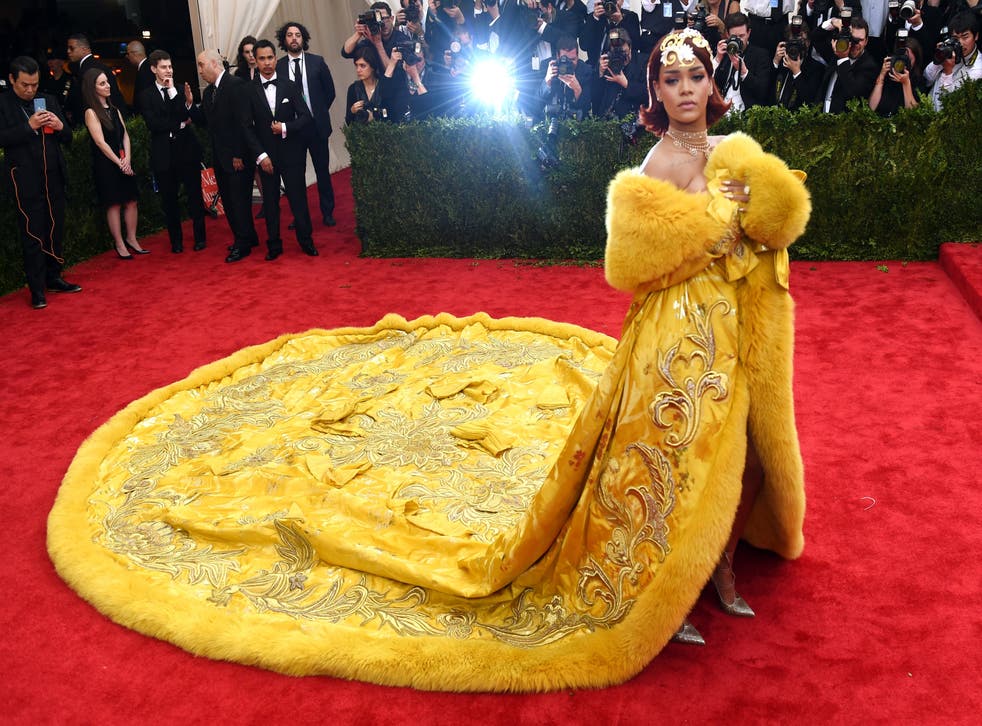 Listen, if you're the type of person who despises fashion and everything it represents, I'm going to give it to you straight: this column is not for you.
This column is an appreciation of fashion in extremis; of the type of clothes that billow down chests as if they've been carved from clean marble, that froth and flounce like they've been torn from between the pages of a Grimms' fairy tale, that glitter like a disco ball in a teenager's bedroom. Yes, it's red carpet dressing I speak of, and it's back, baby.
With last week's miserably boring Bafta awards safely behind us (please don't @ me; I appreciate the struggles of the arts during a pandemic, but you'd think people might check their wifi before appearing on national television, and what was with the canned laughter?) we can now move on to more exciting, glam times: the Oscars.
Thankfully, the producers of the night have realised nothing could be duller for viewers than watching actors self-aggrandise to one another over Zoom (though I do love a sneak peek into a star's home – director Emerald Fennell's house: mother, may I?). As a result, organisers of the Oscars are hoping the show will go on, IRL, with a red carpet and absolutely no tracksuits: nominees were all sent letters saying that virtual appearances or "casual dress" would not be welcome.
Lest you decide that celebrating high fashion (and eschewing elasticated waistbands for a night) is superficial and shallow, there are psychological reasons why we're responding to the return of the red carpet. Fashion psychologist Dr Dawn Karen assures me that "poring over red-carpet fashion can infuse hope and optimism in our lives where there is trepidation and uncertainty. [It] can help us remember our pre-pandemic lives and remind us that troubled times do not last forever."
Karen refers to it as "mood-enhancement dress", and explains that high-fashion events can help to optimise our frame of mind, allowing us to live vicariously through the celebrities donning those enviable clothes.
What luck, then, that the return of another red-carpet event was also announced this week: that of the Met Gala. The ball was the brainchild of fashion publicist Eleanor Lambert in 1948, who was seeking a way to raise money for the Metropolitan Museum of Art's Costume Institute. Some 73 years later, the grand dame of fashion, Anna Wintour herself, hosts the event, alongside Costume Institute curator Andrew Bolton.
Usually linked thematically to the Met's annual blockbuster fashion exhibition, the gala takes place every year on the first Monday of May and it is the hottest ticket in town. Following an 18-month, Covid-prompted interlude, it is back – and we're getting a double bill, with two exhibitions and two balls in the space of a year, both pinned on the theme "America".
The Met Gala is the creme de la creme of sartorial peacockery. It is to the fashion world what the Grammys are to music, what the Super Bowl is to American football, what party conference season is to Dominic Cummings. But it's better than all of those things, because no one is vying for an award, and not a hint of virtue-signalling can be heard, nor a P45 seen waving in the wind. This is an unabashed celebration of clothing: the red carpet is not the teaser; it is the main event. And it's the very least we deserve after all this.
Sociologists have predicted a second Roaring Twenties after the pandemic recedes. The return of the Met Gala and the Oscars red carpet feels like the harbinger of that. Whether or not most of us will be able to afford a Gatsby-esque life of excess remains to be seen – few could ever afford Rihanna's meme-famous imperial yellow custom Guo Pei cape of 2015, or perhaps will have the post-pandemic energy to opt for not one but three outfit changes, as Lady Gaga did in Brandon Maxwell in 2019 – but such announcements can at least gift us a hint of positivity and remind us that the show will, eventually, go on.
Register for free to continue reading
Registration is a free and easy way to support our truly independent journalism
By registering, you will also enjoy limited access to Premium articles, exclusive newsletters, commenting, and virtual events with our leading journalists
Already have an account? sign in
Register for free to continue reading
Registration is a free and easy way to support our truly independent journalism
By registering, you will also enjoy limited access to Premium articles, exclusive newsletters, commenting, and virtual events with our leading journalists
Already have an account? sign in
Join our new commenting forum
Join thought-provoking conversations, follow other Independent readers and see their replies