America needs to do something about Otto Warmbier's death – but military force against North Korea isn't an option
Trump is taking credit for Warmbier's release. 'At least we got him home,' the President said yesterday, promising that 'we'll be able to handle' the North Korean regime, which he rightly called 'brutal'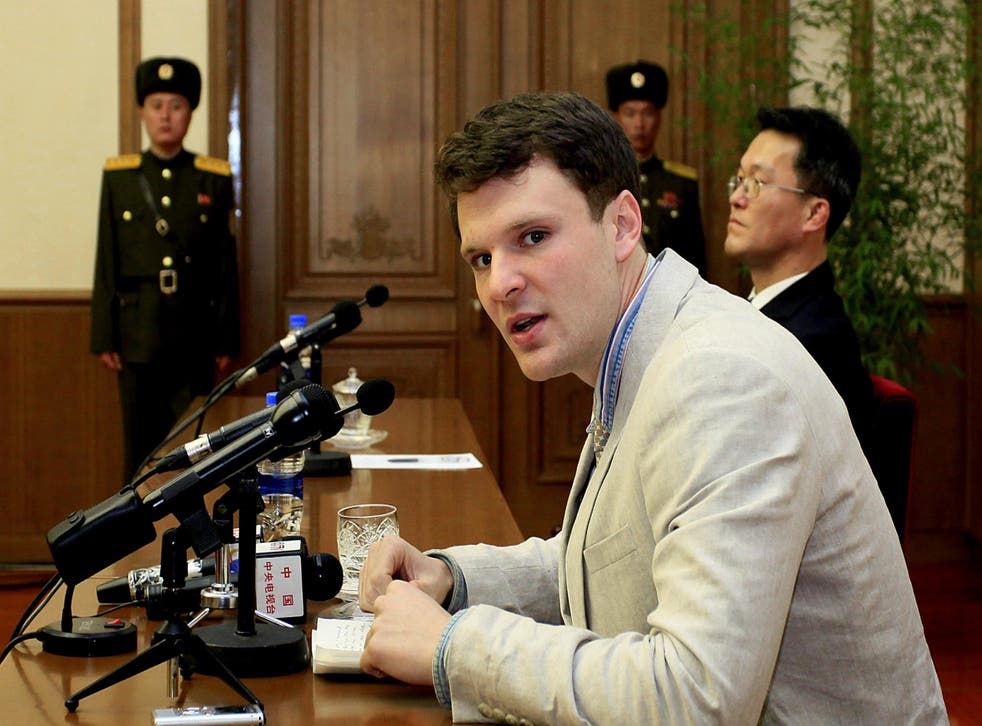 It is said that in antiquity, three words could protect you no matter where you travelled: civis romanus sum – I am a Roman citizen. The Roman Empire would respond swiftly and with a terrible retribution should harm befall any of its citizens, wherever they may be. Lord Palmerston famously invoked the phrase to justify his use of force to protect British subjects around the world. How I wish civis americanus sum had similarly worked for poor Otto Warmbier.
Warmbier was a student at the University of Virginia who, on a study abroad trip to China in 2016, decided to join an excursion to North Korea. He was detained at the airport in Pyongyang as he tried to leave, charged with stealing a propaganda poster from a wall and sentenced to 15 years hard labour. Last week, North Korea released him – comatose – and he was returned home, where he passed away yesterday.
The release of Otto Warmbier has raised a number of issues in American foreign policy, chief amongst them whether President Donald Trump's policies led to his release and whether former president, Barack Obama, did enough to secure it before leaving office in January. Obama had a strategy of "strategic patience", of back-channel negotiations for the release of Warmbier and the other Americans currently held by the North Korean state.
Otto Warmbier death: Trump condemns 'brutal' North Korea
There was some precedent for this. The Obama administration sent Bill Clinton to negotiate with the late dictator Kim Jong-Il the release of two American journalists in 2009. Both Laura Ling and Euna Lee were returned home safely. The thought was that a similar approach could have secured Warmbier's release without jeopardising the lives of the other Americans held by North Korea or the delicate geopolitical balance of the peninsula.
It didn't work, though, and like many Americans, Otto Warmbier's father is blaming Obama for his son's death. When asked whether the previous administration could've done more, Fred Warmbier said "I think the results speak for themselves" and praised Trump as "kind."
Indeed, Trump is taking credit for Warmbier's release. "At least we got him home," the President said yesterday, promising that "we'll be able to handle" the North Korean regime, which he rightly called "brutal". The President has grown increasingly militaristic in his rhetoric lately, suggesting there could even be a "major, major" conflict between the US and North Korea, but it's hard to take him seriously when he gushes over Kim so frequently. He has praised Kim Jong-un for seizing power at such a young age, calling him a "smart cookie."
Yet State Department officials are not crediting the President or a change in policy for Warmbier's release, but instead saying that months of "quiet diplomacy" brought the student – who had been comatose for at least a year – home. As the New York Times reported, it's tough for any single administration to sway the authoritarian regime.
In pictures: North Korea military drill

Show all 8
This is why, for years, the State Department has advised American citizens against travelling to North Korea. There is no way they can guarantee our safety there. With missiles aimed at our allies and homeland, and with a million-man army 20 miles away from South Korean civilians in Seoul and tens of thousands of American military personnel in or near the DMZ, negotiating the release of American hostages is exponentially more complicated than many give credit.
I mourn for Otto Warmbier, and my heart and prayers are with his family. I'm grateful that we were able to get him home, even if the result was unbearable. An innocent young man was murdered by a brutal, repressive regime and used as a bargaining chip by its cruel, authoritarian dictator. There is a thirst for vengeance in many American hearts. This boy was one of ours.
But we've learned a lot since ancient times. Otto Warmbier's death is a tragedy, but rash actions on the part of the administration could lead to a catastrophe. Going in, guns-a-blazing, simply isn't a realistic option, no matter how tempting it is.
Register for free to continue reading
Registration is a free and easy way to support our truly independent journalism
By registering, you will also enjoy limited access to Premium articles, exclusive newsletters, commenting, and virtual events with our leading journalists
Already have an account? sign in
Join our new commenting forum
Join thought-provoking conversations, follow other Independent readers and see their replies