Delhi Police fire tear gas and fire water cannon at peaceful protestors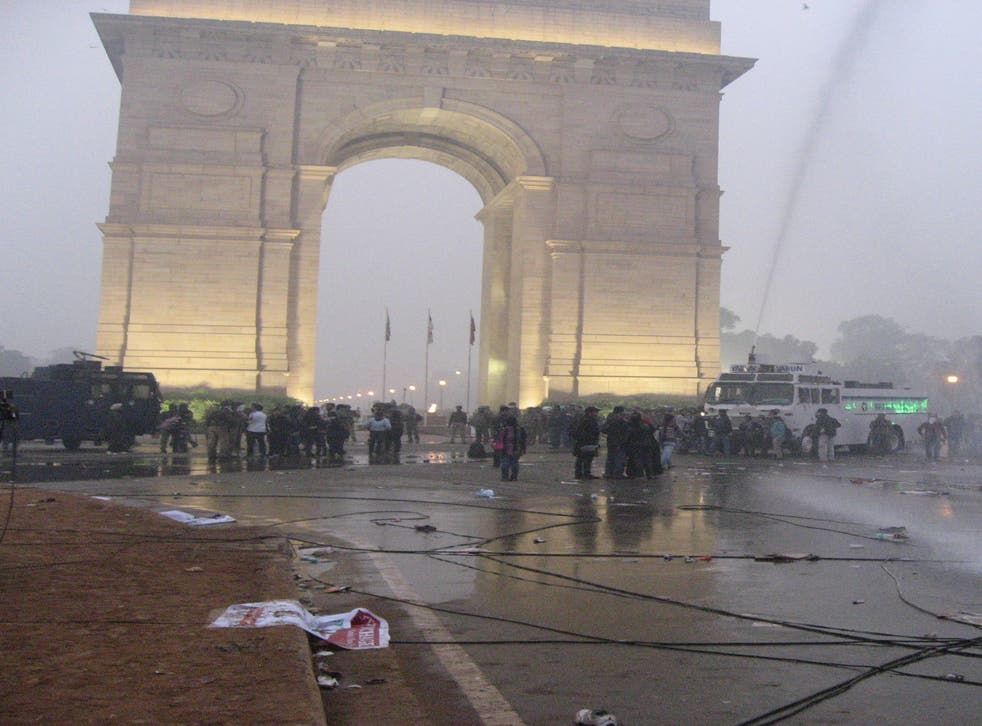 I have just returned from India Gate in central Delhi where police and paramilitary forces fired tear gas and water cannon at peaceful demonstrators, spectators including families, and mobile television studios at around 5pm at the end of six days of country-wide mass protests sparked by the gang rape of a young woman last Sunday night and subsequent government and police indifference.
This irrational vicious action undermined work that had been done during the day by Sonia Gandhi and her son Rahul, as leaders of the Congress Party, to push the government into positive action and dialogue with representatives of the protestors.
I was standing about 50 yards east of the India Gate monumental arch, chatting to a television crew, when two massive water cannon vehicles moved round the side of the gate and advanced on us, followed by lathi (long stick) charging police and security forces.
All around us hundreds of people – many of them young women - were clustered in smallish groups, some singing and some listening to speeches on the theme of "Give us Justice", while others watched television anchors and interviewers at work. Sellers of chai, sweet potato and other snacks were doing a brisk business.
No one expected that the security personnel, who were attempting to clear troublemakers a few hundred yards to the west, would come round the monument towards us. "Stay by our tv installation and you'll be ok," joked Jehangir Pocha of NewsX. When it was clear he was wrong and that his television station's trestle-table and equipment would not provide protection, I turned and ran with the crowds till lathi charging police and paramilitary caught up with us swinging at anyone they could reach.
It was then safer to walk towards the enraged officials rather than appear to be running away, which is what I did with my hands half-raised saying "press, press". The men swerved round me, lashing their lathis at whoever else was nearest. Later, they continued irrationally to beat people, mostly those walking or running on their own, when a verbal instruction to leave the area would have been enough. The sound of tear gas shells going off nearby to deal with other demonstrators, including those fleeing from India Gate, could be heard for some time.
I have often watched police and paramilitary brutality in India (and other nearby countries), but I have never before been literally in the middle of it. If US drones on the Pakistan border fuel anti-American feeling, the police and paramilitary Rapid Action Force (RAF) did a good job this evening of turning ordinary people against them. Like the drones, the police and RAF personnel did not care how many innocent peaceful people they injured in their attempt to clear some violent demonstrators.
Some action was certainly justified. There had been trouble throughout the day west of India Gate on Rajpath, which had been taken over yesterday by thousands of protestors in astonishing and unprecedented day-long demonstrations.
Today's confrontation was west of India Gate where the water cannon vehicles and several lines of security forces formed a barrier against rabble-rousers, almost all men, who provoked them for several hours.
Today's confrontation was west of India Gate where the water cannon vehicles and several lines of security forces formed a barrier against rabble-rousers, almost all men, who provoked them for several hours. Some tear gas shells were fired around 3pm, but an hour or so later the trouble-makers had advanced along Raj Path, smashing police barricades, starting fires with wooden media observation towers and fencing. This enlarged the area engulfed with violence, but they were isolated incidents involving just a few dozen of the several thousand people there who basically peaceful protestors or spectators out for a Sunday afternoon.
As dusk fell, it was understandable that the police would want stop these violent destructive demonstrations and deal with the offenders. That could however have been contained and there was no need for the water cannon and lathi-charging that engulfed the crowd around me and many others further away.
Sonia Gandhi first met the protestors outside her central-Delhi home just after midnight last night and then had a long meeting with a delegation this afternoon, along with Rahul and a government minister. She promised a speedy trial of six people arrested for last Sunday's gang rape which took place in a Delhi bus, and also a review of laws affecting women and rape.
But along with other government measures, it was too little too late and the delegation refused to end the protests which, though sparked by the rape, are also directed at government inaction and indifference and – significantly given this evening's official brutality – the country's violent police and security forces who mostly see it as their job to beat and hurt the weak and defenceless, including women, instead of protecting them.
For more articles by John Elliott go to his blog - http://ridingtheelephant.wordpress.com
Register for free to continue reading
Registration is a free and easy way to support our truly independent journalism
By registering, you will also enjoy limited access to Premium articles, exclusive newsletters, commenting, and virtual events with our leading journalists
Already have an account? sign in
Join our new commenting forum
Join thought-provoking conversations, follow other Independent readers and see their replies