Yes, it's cheeky to sue Oxford University for not giving you a first – but with skyrocketing student fees, it also makes sense
If Faiz Siddiqui had pocketed the million quid he reckoned he was owed in career compensation, just think how many of us would be lining up outside the Old Bailey with our shattered dreams. I'd sue Manchester Polytechnic and Rada myself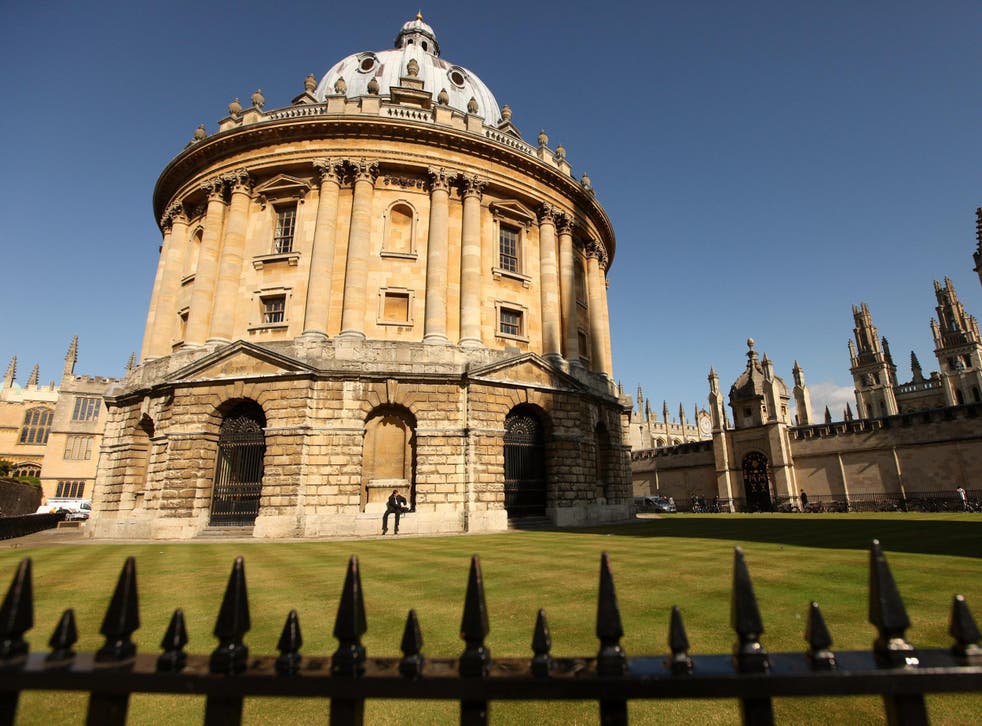 There's something to be said for bare-faced cheek; I kind of like it. There's a kid round my way who keeps ringing my doorbell and then scarpering, disappearing behind the bins round the corner. Obviously I want to catch the little brat and wring his neck but I'm too fat to chase him – and anyway, there's something about his sheer 'ring and run' audacity that secretly makes me laugh.
Let's face it: God loves a chancer, and taking the biscuit for sheer brass-neck impudence so far this year is chubby wannabe academic highflyer, 39-year-old Faiz Siddiqui.
Last week Siddiqui attempted to take Oxford University to the High Court for failing to award him a first class honours degree, and therefore ruining his chances of automatically being jettisoned into the top job stratosphere.
Basically, he wanted to be an international commercial barrister and he isn't.
Siddiqui graduated 18 years ago and seems to have been sulking ever since – gosh, and there was me thinking it was only comics and actors who were bitter and twisted.
Obviously the judge, not being mad, threw the case out, leaving the unemployed Siddiqui licking his measly 2:1 wounds and seething over the career that never was.
Shirley-Anne Somerville announces free university tuition for EU students after Brexit date in Scotland
At this point I would like to remind Siddiqui that it's quite possible to carve out a pretty decent legal career with an upper second – after all, my barrister brother has managed, and his is from Aberystwyth!
Personally, I haven't even got a degree. I think I've got a diploma in performing arts, but considering I was too anorexic to finish my course I'm not really sure.
However, I have got an honorary doctorate from Middlesex University. Sadly, this turns out to be more or less useless as it seems I'm not allowed to write myself a prescription for a load of drugs I've been wanting for years – and I'm not allowed to give enemas to young men on the street who have forgotten to pull their jeans up above their bum lines.
Back in the day I went to drama school. Now just imagine for a moment if sulky Siddiqui had actually successfully sued his old alma mater – my old gaff Manchester Polytechnic School of Theatre would be quaking in its boots right now. Not that it's a poly anymore (bring back the poly!), but you see where I'm coming from: if Siddiqui had pocketed the million quid he reckoned he was owed in career compensation, just think how many of us, particularly in the arts, would be lining up outside the Old Bailey with our shattered dreams and smashed ambitions.
Come to think of it, even before I sued Manchester I'd sue Rada for turning me down when I was 17. The bastards – surely if I had got into the most prestigious drama school in the country, things would have been very different.
So what if I forgot my lines in the audition? It's not my fault that I started hiccupping halfway though my Shakespeare monologue and farted with nerves during my song. That's not the point – they should have spotted my potential, so that will be a million quid from them, thank you very much.
Next, Manchester Poly/Uni/whatever you call yourself these days: I know I didn't pay a penny in fees because I got a grant but even so, you failed me. Surely if you had taught me better I would have been more famous by now. In fact, Your Honour, I've decided I want a quid for every time someone passes me in the street and doesn't know who the hell I am. Come to think of it, I want a tenner every time someone does recognise me, but thinks I'm Su Pollard.
Call yourself an acting school? Where is my film resume; why aren't I the face of something or other; how come I have never been in Coronation Street? That'll be another million quid in disappointing career compensation, cheers.
UK news in pictures

Show all 50
But before we write this whole incident off as being a complete nonsense, Oxford did at least admit to several tutors being absent during the Michaelmas (AKA Christmas term) before Faiz Siddiqui sat his exams, which must have been annoying. As it turns out, however, it's not legally a million quid's worth of annoying.
Since Faiz and I finished our studies, students are paying a hell of a lot more for their courses, which is OK, I suppose, if you're getting proper tuition, a bit of pastoral care and some one-on-one attention – and, as far as I can gather, this isn't always the case.
So before we write off Siddiqui v Oxford University completely, I think in the future some universities should be held accountable for failing to supply what they promise in the brochure. Suing might not be the answer but if I was a student paying more than £10,000 a year to be crammed into an anonymous lecture hall with several other hundred people and never once met a tutor who knew my name, then, yes, I might want some of my money back.
Register for free to continue reading
Registration is a free and easy way to support our truly independent journalism
By registering, you will also enjoy limited access to Premium articles, exclusive newsletters, commenting, and virtual events with our leading journalists
Already have an account? sign in
Join our new commenting forum
Join thought-provoking conversations, follow other Independent readers and see their replies