Stop romanticising that viral image of a Palestinian protester – it's not a poetic moment
Behind the now famous photograph's palpable kinetic energy and visual dynamism lies one of the most desperate human rights situations in the world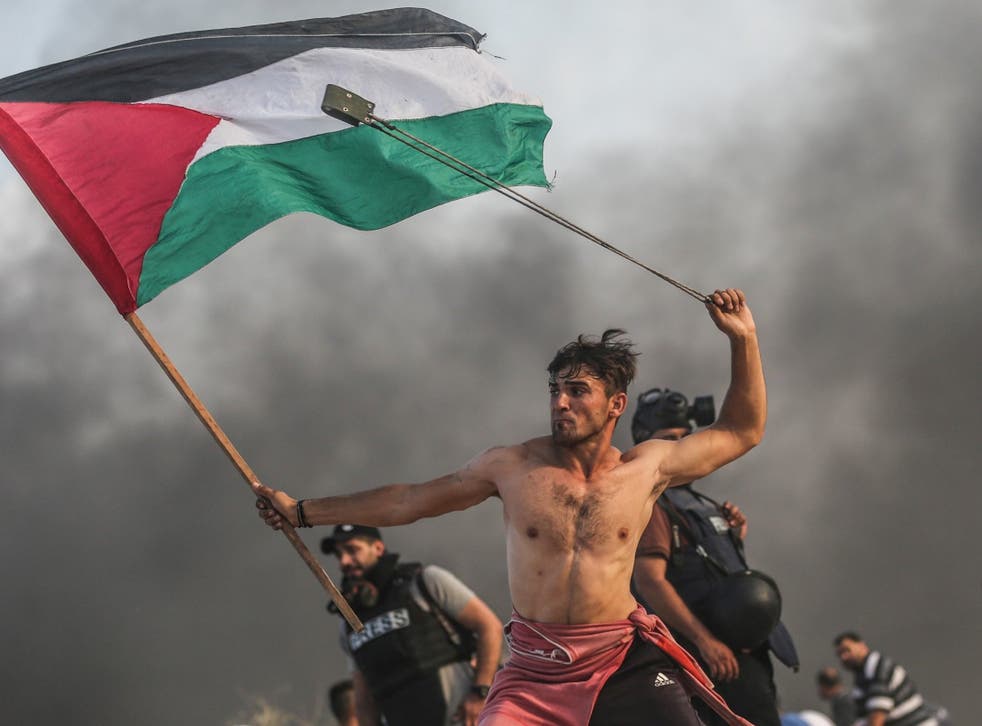 A picture can say a thousand words, but in today's ever-connected world, the good ones can generate even more retweets. A viral image taken in Gaza by photojournalist Mustafa Hassona, which depicts a bare-chested Palestinian protester holding a large flag and wielding a sling, has achieved both of these feats.
The photograph was taken as protests continue on the border of Israel. Gaza's health ministry said 32 Palestinians were wounded as demonstrators threw stones at Israeli forces, who responded with tear gas and live fire. The image has provoked a huge reaction online, with social media users likening it to Liberty Leading the People, the iconic Eugene Delacroix painting of the French Revolution.
From the moment we sleepily check our phones in the morning, most of us are bombarded with information and imagery, some of which can be disturbing. This photograph is undeniably striking, but the online reaction displays a worrying tone of detachment in the face of human suffering that is becoming all too common.
Ahed Tamimi: Teenage Palestinian protester released from Israeli prison
Paintings such as Delacroix's have decorated gallery walls for centuries. Encased within ornate gold frames and protected by glass, their figures are distant, providing us with the romantic fantasy of a world gone by. They might be based on historical events, but our minds can easily decipher that there's nothing real behind the flat oily surface of the canvas.
But Hassona's photograph couldn't be more real. Behind its palpable kinetic energy and visual dynamism lies one of the most desperate human rights situations in the world.
The flag bearer, identified by Al Jazeera as 20 year-old Aed Abu Amro, is one of almost two million people that are trapped on the tiny Gaza strip, unable to leave. This year has seen hundreds of deaths at the hands of Israeli forces, who have been condemned by the United Nations for using "excessive force" against protestors. Unarmed medics, such as 21 year-old Razan al-Najjar, are among the fatalities. A 12 year-old boy was shot dead earlier this month. A UN report has warned that Israel's blockade will make Gaza, the world's third most densely populated area, "uninhabitable" by 2020. 97 per cent of the territory's drinking water is undrinkable and there are only four hours of electricity a day.
These facts are distressing to read. But this hopeless situation has been facilitated by governments across the world enabling what will one day be universally accepted as crimes against humanity.
Romanticising the image of a desperate man taking on an army allows us to justify its circumstances and distract ourselves from the grim truth that, in the real world, David rarely defeats Goliath. Aed could die today, tomorrow, or the week after that. If he keeps protesting, it is almost an inevitability.
Protesting is, of course, a choice. But it is also a choice for Israel to continue flouting international law by building on Palestinian land and planning to demolish Palestinian villages – a potential war crime. It was a choice for the US to deliberately inflame the situation by moving its embassy to Jerusalem, causing unnecessary bloodshed and anguish. Left to swelter without a trace of hope in what is essentially an open air prison where 50 per cent of children express no will to live, as the world looks the other way, is there not a chance we would all do the same?
Support free-thinking journalism and attend Independent events
In the most tasteless responses, social media users have remarked on Aed's chiselled jaw and physique. This overt fetishisation of his suffering is obscene, but the idea that the pain and anguish of marginalised groups is a price worth paying for beautiful art is a notion far older than even the paintings of Delacroix.
From Asad's chemical weapon attacks in Syria, to the bodies of refugee children washed up on the beaches of Europe, images have a radical, empathy-spreading power that can change the world. But the flippant reaction this particular shot, of someone literally risking being shot, represents our growing detachment from pain and lack of collective responsibility for it.
Don't let this photograph fool you: there is nothing beautiful or poetic about the oppression of Palestinians. Beyond the lens, the constant misery of wasted life and unnecessary death in Gaza continues - we must not let that drift out of focus.
Register for free to continue reading
Registration is a free and easy way to support our truly independent journalism
By registering, you will also enjoy limited access to Premium articles, exclusive newsletters, commenting, and virtual events with our leading journalists
Already have an account? sign in
Join our new commenting forum
Join thought-provoking conversations, follow other Independent readers and see their replies