I spoke to Palestinians who still hold the keys to homes they fled decades ago – many are still determined to return
Most of them were convinced – or thought they knew – that they would come back after a week or two and re-open those front doors, and walk back into the houses many had owned for generations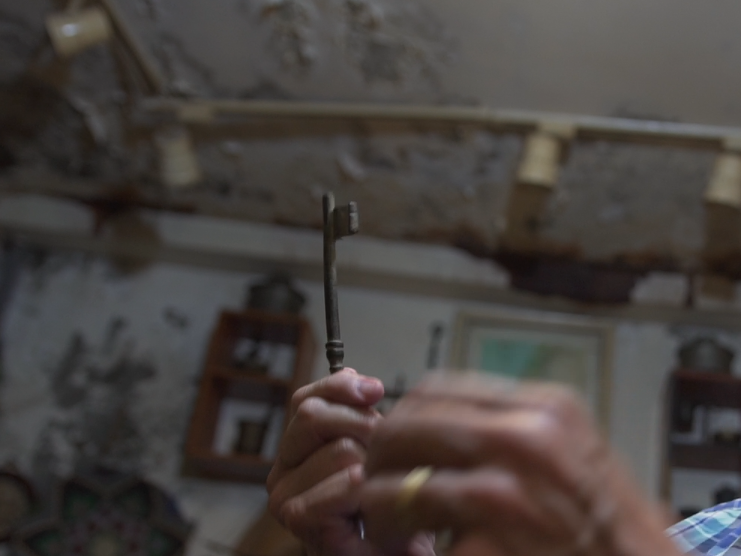 Keys must always be the symbol of the Palestinian "Nakba" – the "disaster" – the final, fateful, terrible last turning in the lock of those front doors as 750,000 Arab men, women and children fled or were thrown out of their homes in what was to become the state of Israel in 1947 and 1948.
Just for a few days, mind you, for most of them were convinced – or thought they knew – that they would return after a week or two and re-open those front doors and walk back into the houses many had owned for generations. I always feel a sense of "shock and awe" when I see those keys – and I held one in my hand again a few days ago.
It was a heavy key, rather like the big iron keys for big iron locks that Britons and Americans used more than a hundred years ago, with a long wide shaft, a single bit and a bow – where you hold the key – with a slight double-curve at the bottom so that you can grip it firmly between two fingers and thumb.
The farmer who owned this key lived in the Palestine border village of Al-Khalisa and locked up his home – built of black basalt stones – for the last time on 11 May 1948, when the Jewish Haganah militia refused the villagers' request to stay on their land.
Israeli and Palestinian historians have agreed on the history of the village. Today, al-Khalisa is the Israeli frontier town of Kiryat Shmona, and the few refugees who remain alive in the squalid camps of Lebanon can still see their lands if they travel to the far south of the country and look across the border fence.
Few camps could be more vile than the slums of Chatila, where Mohamed Issi Khatib runs his equally shabby "Museum of Memory" in a hovel adorned with ancient Palestinian farm scythes, photocopies of British and Ottoman land deeds, old 1940s radio sets and brass coffee pots – and keys. Just three of them. One, without even a proper bit, was probably used for an animal shed.
The Khatib family lost their own key (the one I held belonged to the grandfather of a refugee called Kamel Hassan). Mohamed was born in Lebanon, just after his parents fled al-Khalisa, and a few days before the independence of the new state of Israel was declared.
The UN General Assembly Resolution 194 of 1948 says the Arabs should return to their homes; hence the continued Palestinian demand – justified but hopeless – for a "right of return" to their own lands, which are now part of Israel.
Israel's Absentee Property Law of 1950 denies the return of any Arabs who fled their property during the Israeli independence war. Many Israelis agree that the Arab dispossession was unjust. But as the fine and liberal Israeli scholar Avi Schlaim once told me, Israel was admitted to membership of the UN in 1949. "What is legal is not necessarily just," he said.
This is not an argument you can put to Mohamed Khatib, who worked until his retirement 10 years ago as a doctor for the United Nations Relief and Works Agency, set up in 1949 to look after Palestinian refugees from the "Nakba", and later for those who fled or were driven from their homes in the 1967 Middle East war.
It cares for around 5 million Palestinians – many of them children and grandchildren of the 1947-8 refugees, born in exile, almost half a million of them in Lebanon
Khatib's museum of wretchedness smells of cigarette smoke – not everyone there was abiding by the Ramadan fast before I arrived (which they cheerfully admitted), and there is a faint odour of rust and old paper.
The documents and brown passports are familiar to me. Over the years, I've read through similar papers, land deeds and passports, usually surmounted by the crest of Mandate Palestine's British "protectors", that familiar crown, lion and unicorn, and the imprecation honi soit qui mal y pense – "may he be shamed who thinks badly of it".
But shamed we Brits were by all this nonsense. Khatib blames us for the Palestinian disaster, and points to the keys. "You did this," he says, smiling in complicity because we all know the history of the 101-year old Balfour Declaration, which declared Britain's support for a Jewish homeland in Palestine, but referred to the majority Arab population as "existing non-Jewish communities".
But when I ask Khatib if he will ever return to his "Palestine" – a consummation which many Palestinians have in reality abandoned – he insists that he will, and explains his belief with a long and disturbing and quite chilling argument: that Israel is a "foreign body" in the region which cannot survive, which was implanted from outside.
He sounds, I tell him, like the former Iranian president Mahmoud Ahmedinejad – a crackpot of Trump-like proportions in my view – and I conclude it must be goodbye to the two-state solution if this is how Arabs plan to regard their future neighbours. But Khatib says – rightly, I fear – that the early Palestinian desire for such a solution has long ago been abandoned in the face of Israeli violence.
So what, I ask, did the Palestinians do wrong in all these years? Didn't they make any mistakes? "They did," he says. "Their mistake was to leave, to go out of Palestine. They should have stayed [in 1947 and 1948]. Our fathers and grandfathers should have stayed, even if they felt themselves in danger, they should have stayed on their land even if they died. My mother said to me once: "Why did we leave? I should have kept you with me and stayed with you there."
World news in pictures
Show all 50
What a bitter conclusion. Many Palestinians did stay. But many others stayed and died – think Deir Yassin – at a time, just after the Second World War, when the West's sensitivities were blunted by conflict and did not care if a few hundred thousand more refugees were put out of their homes. I understand Mohamed because parents do not always make wise decisions but, if I was in their shoes – holding my front door key – I'm not sure I would have stayed. Anyway, I would have thought I was only going away for a few days…
I've gone back to his parents' "Palestine" many times, taken some old keys with me to Israel – the locks had been changed, of course – and knocked on the front doors of those Arab houses that remain, and talked to the Israeli Jews who now live in them. One expressed his sorrow for the former Palestinian owner and asked me to pass on his feelings to him, which I did.
Another, an old Jewish man originally from a city in southern Poland, a Holocaust survivor who had been driven from his home by the Nazis, his mother murdered in Auschwitz, drew me a map of where he and his parents once lived. I even travelled to Poland and found his old house and knocked on the front door, and a Polish woman answered and asked – as Israelis might ask if they thought the Arabs were going to reclaim their property: "Are they coming back?" Polish law gives former Jewish citizens the right to seek restitution for Nazi-confiscated property.
I acknowledge Mohamed Khatib's need to remind the world what actually happened to the Palestinians. He asks me why I am "pro-Palestinian" and I reply that I am "pro-truth – but I am not pro-Palestinian". I'm not sure if he understood the point. His parents' house had three rooms with a stream beside it, he says. His father was a policeman for the British mandate. I Ieave him, though, with the feeling that history stretches out into the future as well as the past, that he will never return and that his little museum and its keys are a symbol of regret rather than hope.