Paris attack: After the massacre, all that's left is the right in France
We are at war but it is, in part, a propaganda war - Isis appears to be winning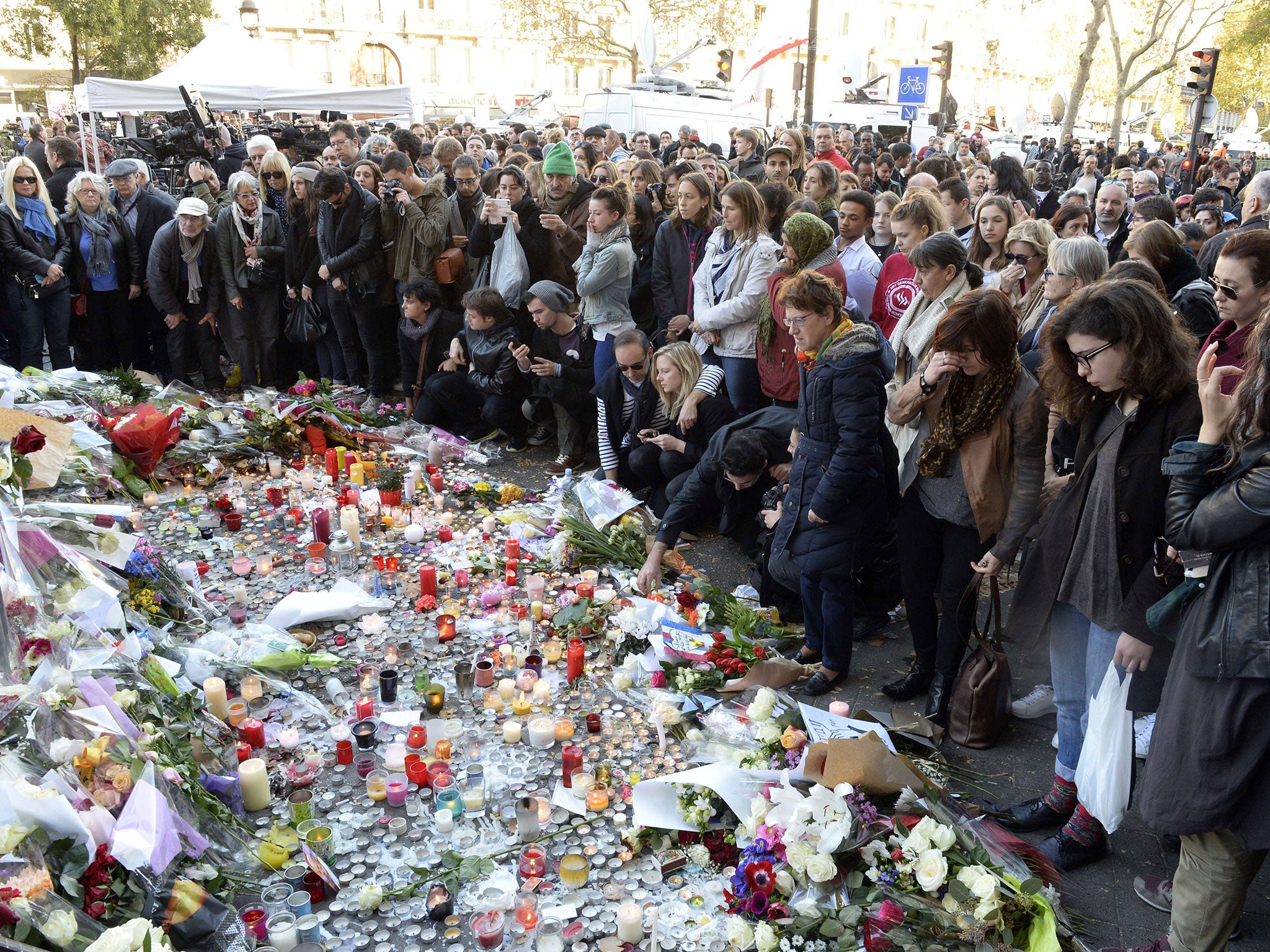 Everyone – left, right, far right – agrees. France is at war. There the agreement ends. Unlike the aftermath of the Charlie Hebdo and other jihadist murders in Paris in January, there is no mood of political unity in France. Right and far right have accused the centre-left government of being soft on Islamist radicals and too politically correct to take a tough line with France's three million Muslims.
The former President Nicolas Sarkozy wants France to join forces with Russia and the Syrian President, Bashar al-Assad.
The far-right leader Marine le Pen wants France to shut itself up like a clam and barricade its borders. Various barons of the hard right and far right have called for the mass arrest and "internment" of everyone vaguely suspected of sympathy with extremist Islam. On 16 November, President François Hollande will address a rare joint meeting of both houses of parliament in the Palace of Versailles. He will promise an unpitying campaign against Isis and its minions in France – and in Syria and Iraq. He will also insist that the democratic world must win the long war with Isis by remaining true to our values of openness and tolerance (even if we are not always quite as open and tolerant as we claim).
That same message was well received after the murders in January. More than four million marched in Paris and other French cities to defend the proposition that muddled, democratic good would eventually triumph over absolutist evil.
Judging by editorials in the right-wing press, by comments from many (not all) right-wing politicians and by outpourings of bile in some French social media, the message will not easily triumph a second time. A front-page editorial by Alexis Brézet, editor of the centre-right daily Le Figaro, published on 15 November, encapsulated the mood on the French right.
Mr Brézet said France had listened for too long to the "virgins' choir of lets-all-get-on-with-one-another". National unity was important, he said, but it must be built on "authoritarianism", not on "angelic good intentions". It was time to abandon "legal quibbles and precious moralising" because "brutality can only be answered by force".
In other words, France had tried to be nice; now the only answer to intolerance was intolerance. The implication is that France should declare war not on Isis, but on its own Muslim population. Similar views were expressed by figures in Mr Sarkozy's centre-right party on 15 November. Radical mosques should be closed; an estimated 4,000 Isis sympathisers should be locked up indefinitely without charge in some kind of "French Guantanamo".
Given the enormity of the atrocities, the breakdown of the political consensus in France is understandable. Tongues have been further loosened by the proximity of regional elections next month and of the presidential election in 2017. Such talk is disturbing all the same. The Black Friday attacks were designed precisely to foment religious and racial war: Muslims vs the rest. We are at war but it is, in part, a propaganda war. The "Islamic State" appears to be winning.
Join our commenting forum
Join thought-provoking conversations, follow other Independent readers and see their replies