Philip Hammond's survival depends on the success of his Autumn Budget
Spooked by Jeremy Corbyn's appeal, the Tories are desperate to woo under-45s. So Hammond will use his Budget to play the generation game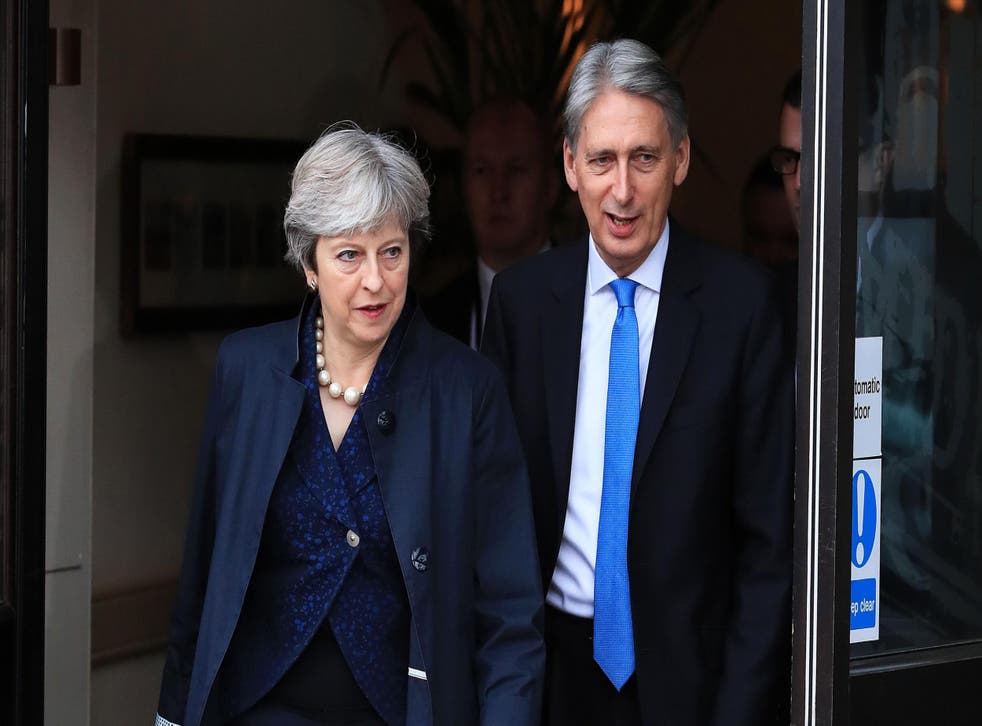 When Philip Hammond presented his Budget in March, he recalled that Norman Lamont was sacked as Chancellor 10 weeks after he too announced that the annual fiscal event would take place in the autumn rather than spring.
The joke could soon be on Hammond, who needs a successful Budget next month to avoid the same fate as Lamont. Hardline Brexiteers are out to get him – not because of his stewardship of the economy, but because he is a realist pursuing a soft Brexit to cushion its impact. "He is trying to stop the economy going belly up next year," one Cabinet ally told me.
Theresa May agrees – in theory. But the practice may prove different. She is being urged by allies to carry out a Cabinet reshuffle, and would probably like to prise Boris Johnson out of the Foreign Office. But Hammond has antagonised the Brexiteers, and so if his Budget flops – like his first one in March – May will be under pressure to oust him as well to placate her Europhobic backbenchers.
Theresa May 'slaps down' Philip Hammond over no deal
Spooked by Jeremy Corbyn's appeal, the Tories are desperate to woo under-45s. So Hammond will use his Budget to play the generation game. Analysing the problem of inter-generational unfairness is the easy bit. Coming up with solutions is much harder; Hammond has little money to play with, while the Government's lack of a Commons majority makes controversial measures hard to push through and best avoided.
A proposed "tax on age", with a lower tax rate for twenty and thirtysomethings funded by higher taxes on older workers, might sound attractive but would be politically dangerous and I doubt it will happen. Rule one of politics is that voters who benefit from a policy change don't necessarily thank you, while those who take a hit will hate you. Younger adults who don't vote Tory might shrug their shoulders, while older ones who do might be alienated.
Rather that pit one generation against another, the Chancellor would be better advised to announce measures seen as fair by all age groups. An end or cut in stamp duty for first-time buyers is a strong Budget runner. Hammond should go much further, with a bold package to really boost housebuilding rather than just talk about it. That will require a shake-up of planning and Green Belt rules, more building on government-owned land and many more council houses than the paltry 5,000 a year announced at the Tory conference, given that 1.2 million are on the waiting list.
Lack of a decent pension is a time bomb for younger workers. Hammond could be radical by reforming tax relief on pension contributions, which is heavily skewed towards high earners, by making it worth 30 per cent for all, replacing the current 20, 40 and 45 per cent based on the saver's highest income tax rate.
The Chancellor will no doubt trumpet the lifting of the public sector pay cap, though he should not expect any plaudits from those affected. The squeeze on workers and benefit claimants was highlighted by Tuesday's news that inflation has risen to 3 per cent. This will widen the generation gap, as the state pension will increase by that amount in April. The Tory manifesto pledge to scrap the "triple lock" – under which pensions rise in line with prices, wages or 2.5 per cent, whichever is highest – was abandoned under pressure from the Democratic Unionist Party, whose votes May needs.
Hammond should tackle this unfairness by ending the four-year freeze on working age benefits, if necessary by using some of the reserve kitty he earmarked for the Brexit effect.
Torsten Bell, director of the Resolution Foundation and a former Treasury special adviser, said doing something about the lack of generational progress would not be easy, but right. "That should start with a clear focus on housing – building some rather than inflating existing prices through Help to Buy," he said. "On tax and benefits, it means ending the idea that the working age population should bear the burden of tough times at the same time as their incomes are being squeezed. Reversing major benefit cuts set to be rolled out over the next few years is the first priority there. All state support, not just the state pension, should rise in line with much higher than expected inflation."
Hammond should also pump some real money into technical education for those who don't go to university. The Tories could outflank Labour on this, but will never be able to compete with Corbyn's pledge to abolish university tuition fees. The freeze in fees at £9,250 a year, rushed out at the Tory conference, cut little ice and has now split the Cabinet.
To win back their lost voters under 45, the Tories will need to learn that they should not just appeal to their wallets, but also to their values.
Register for free to continue reading
Registration is a free and easy way to support our truly independent journalism
By registering, you will also enjoy limited access to Premium articles, exclusive newsletters, commenting, and virtual events with our leading journalists
Already have an account? sign in
Join our new commenting forum
Join thought-provoking conversations, follow other Independent readers and see their replies