Pippa Middleton's £250,000 engagement ring is nothing more than vulgar one-upmanship
A ring can't buy you faithfulness. I write this as someone who got engaged three times 45 years ago – and a fat lot of difference those rings made to the longevity of my relationships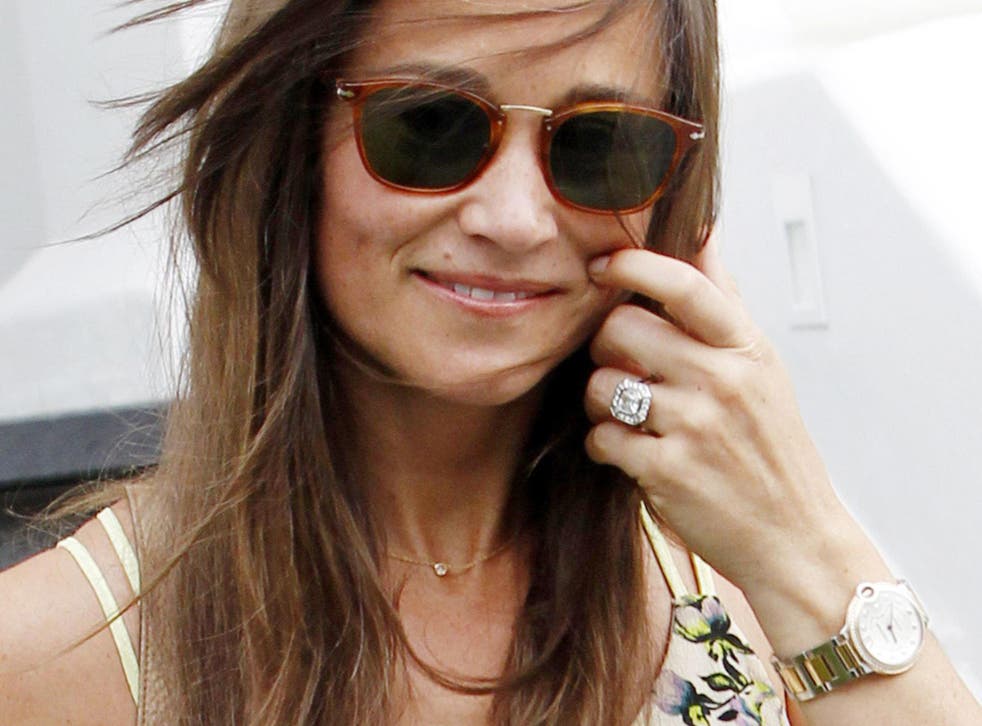 Well done, Pippa Middleton – you're getting married and your future husband is rich and handsome. James Matthews lives in a house in Chelsea worth £17m and seems very adept at earning huge sums of money while (legally) exploiting every opportunity to minimise his tax liabilities. In 2014, his hedge fund, Eden Rock Management LLP, made a profit of over £1.5m but paid just £3,143 in tax – 0.2 per cent. That's far less tax than I have paid in one year in the last four decades, and I'm not living in a mansion and I don't invest in any hedge funds.
Matthews obviously has money to spare, having bought Pippa a beautiful diamond engagement ring which has been valued at £250,000 – far higher than the ring worn by her sister, the Duchess of Cambridge. To spend a quarter of a million pounds on an engagement ring in 2016 seems grotesque.
Since she was thrust into the public eye by her sister's marriage, Pippa has completed a laudable number of sporting challenges to raise money for charity, so she obviously has a social conscience. If that's the case, why did she feel the need to accept a ring which would pay for a couple of terraced houses in many of our cities? Would it not have been a grand gesture to have donated the money to one of her favourite causes?
New pictures of Prince George
What does an engagement ring mean anyway? Men don't get them in return when they propose. Getting engaged seems like an antediluvian concept in 2016, especially when most people can't even afford to buy a flat, let alone a bauble. Men feel pressurised to buy engagement rings – the average spend is three months' wages – but what does the gesture grant them? Does a ring buy faithfulness?
On your wedding day you will exchange rings, a highly symbolic gesture, and surely the only one that matters. I write this as someone who got engaged three times 45 years ago – and a fat lot of difference those rings made to the longevity of my relationships! I thought getting engaged had gone out of fashion as marriage itself was modernised after we welcomed civil partnerships and then legalised same sex marriages. Most engagement rings have little resale value, so why bother?
Perhaps they are a sign that deep down, women are insecure and need the phoney reassurance of a bit of bling on their finger. It's a form of one-upmanship at the end of the day, and that's why Pippa's ring is more expensive than her sister's.
Register for free to continue reading
Registration is a free and easy way to support our truly independent journalism
By registering, you will also enjoy limited access to Premium articles, exclusive newsletters, commenting, and virtual events with our leading journalists
Already have an account? sign in
Register for free to continue reading
Registration is a free and easy way to support our truly independent journalism
By registering, you will also enjoy limited access to Premium articles, exclusive newsletters, commenting, and virtual events with our leading journalists
Already have an account? sign in
Join our new commenting forum
Join thought-provoking conversations, follow other Independent readers and see their replies