Meet the Connecticut schoolgirl facing expulsion for having a Planned Parenthood sticker on her laptop
Kate Murray, from Greenwich, is coming under a national spotlight, not just as undeserving roadkill in the national political fight over reproductive rights but also as a new and unlikely hero of the under-siege pro-choice movement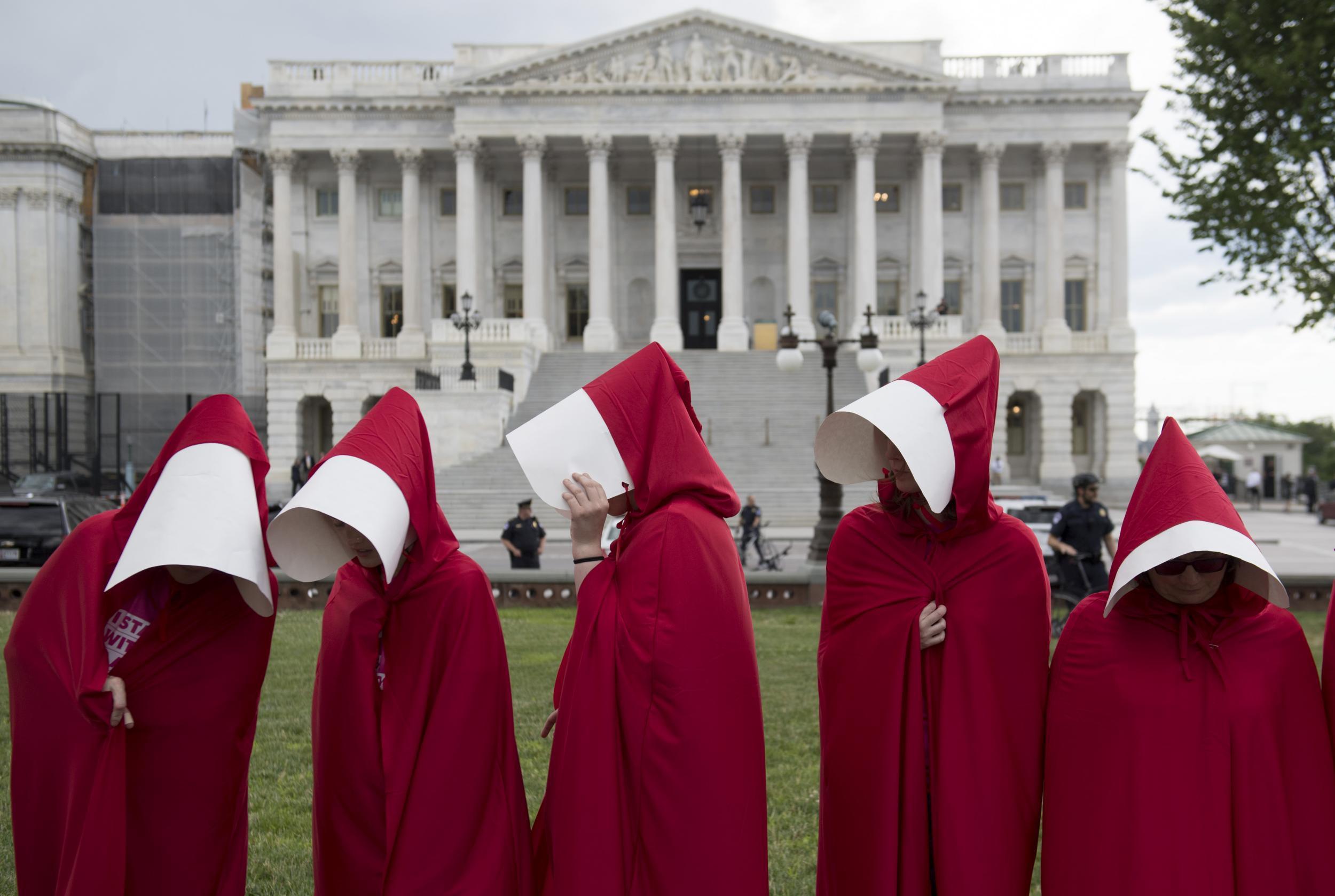 You'd think there wouldn't be much to fight about if you live in Greenwich, a Connecticut town that is just 20 minutes from the gritty streets of the Bronx yet might as well be on a different continent. Grittiness, in fact, is not a characteristic common to its residents, except when duelling for parking space outside Saks Fifth Avenue on its swanky main avenue.
Its stale privilege was punctured last November when a wave of local women, enraged by the election of Trump, ran for the town's 230-member governing assembly, many successfully, upending decades of white male domination. It was a sort of pink revolution powered by two women-led, anti-Trump groups, March On Greenwich and Indivisible Greenwich.
That that happened wasn't so shocking. Greenwich has its conservatives, but thanks to its high-prosperity, high-education quotients, it is a place more or less of social enlightenment too. And after all, the town and the surrounding district voted 57 to 40 per cent for Clinton in 2016.
But that it would be embroiled this weekend in a fierce local fracas about abortion rights, involving a local second-year high school student who is facing expulsion because she dared to show up for classes with a Planned Parenthood sticker on her laptop, seems a bit unexpected.
But perhaps it shouldn't be. Why should Greenwich be immune to the emotionally-charged tug-of-war that rages perpetually in America over a woman's ability to control her own reproductive destiny and which has only intensified since Trump's election?
On his first day in office, Trump barred US funding for foreign charities offering abortions or education about them, the so-called Global Gag Rule. Meanwhile Republican-majority states are racing to impose new restrictions on abortion, finding ways to close down clinics that offer the procedure or lowering the limit, in terms of weeks of pregnancy, when terminations are legal.
The Mississippi House passed a bill one week ago that would make the state the only one to ban all abortions after 15 weeks of pregnancy. In Ohio, lawmakers are expected shortly to consider a law that would allow the most common type of terminations only up to the 13-week mark and oblige women who undergo them to bury or cremate all fetal remains. At 13 weeks some women don't even know that they are pregnant.
It is a drive back into the dark ages that may soon compel the US Supreme Court to revisit the landmark Roe vs Wade ruling of 1973 that protected women and doctors practising terminations so long as they occur before the third trimester, about 27 weeks. Pressures are also growing in Congress. A House bill passed last October that would make almost all terminations beyond 20 weeks illegal, with only limited exceptions to protect the life of the mother, and provisions to fine and imprison doctors who perform them. It is, for now anyway, stalled in the Senate.
It is in that grisly context that the teenager in Greenwich, Kate Murray, is coming under a national spotlight not just as undeserving roadkill in the national political fight over reproductive rights but also as a new and unlikely hero of the under-siege pro-choice movement. She and her parents were informed by the school last Wednesday that either she remove the sticker or expulsion was nigh. She could leave straight away or at the end of this academic year.
She has been hailed by Cecile Richards, the lightning-rod president of Planned Parenthood, which runs women's clinics countrywide offering an array of health services that include, but are certainly not restricted to, abortions. It has been in the cross hairs of conservative Republicans for years who want it deprived of future federal funding. "Kate, Planned Parenthood is so proud to count you as a supporter," she wrote in a statement, echoing the words on the offending sticker: 'I stand with Planned Parenthood'. "Keep fighting for what you believe in. #IstandwithKateMurray." The hashtag was quickly populating the Twittersphere by week's end. Meanwhile an online petition demanding that anyone giving funds to Sacred Heart should redirect them to Planned Parenthood had attracted over two thousand signatures.
Located in the Greenwich back country, a bucolic swathe of picturesque stone walls, ancient trees and sprawling private estates, Sacred Heart is a Catholic institution, although students of all religions are enrolled there and is not run by the Church itself. It sells itself as a place, "where young women become global leaders". That does not, apparently, extend to allowing them freedom of speech on an issue that is at the heart of the country's cultural wars.
"It seemed an extreme reaction to a very small sticker, which puts forth a political point of view about a government funding matter and does not, at least the way I read the sticker, violate church doctrine or specifically advocate the murder of innocent babies," Brian Murray, the girl's father, told Greenwich Time, the town's paper.
At the time of writing, the school was holding its ground and had received backing from the Catholic dioceses of nearby Bridgeport. "The Catholic Church's opposition to abortion is almost universally understood, as is its consistent pro-life ethic, which defends the right to life of all those among us, particularly the most vulnerable in our society," it said in a statement.
Murray, who unpeeled the sticker in midweek so she could still attend classes, hadn't decided whether to bow to the edict or opt to find another school to attend. Her future in politics may be assured though. Last week turned out to be the kind of initiation you'd want to shield most young teenagers from. Especially teenagers in a town as genteel – normally – as Greenwich.
Join our commenting forum
Join thought-provoking conversations, follow other Independent readers and see their replies