The problem isn't that police officers sexually exploit people – it's that men in the police sexually exploit women
In a society where men hold power over women anyway, the police are a group of (mostly) men given even more powers by the state. Looked at like this, it's hardly a surprise that sexual exploitation finds a warm niche to thrive inside the law and order system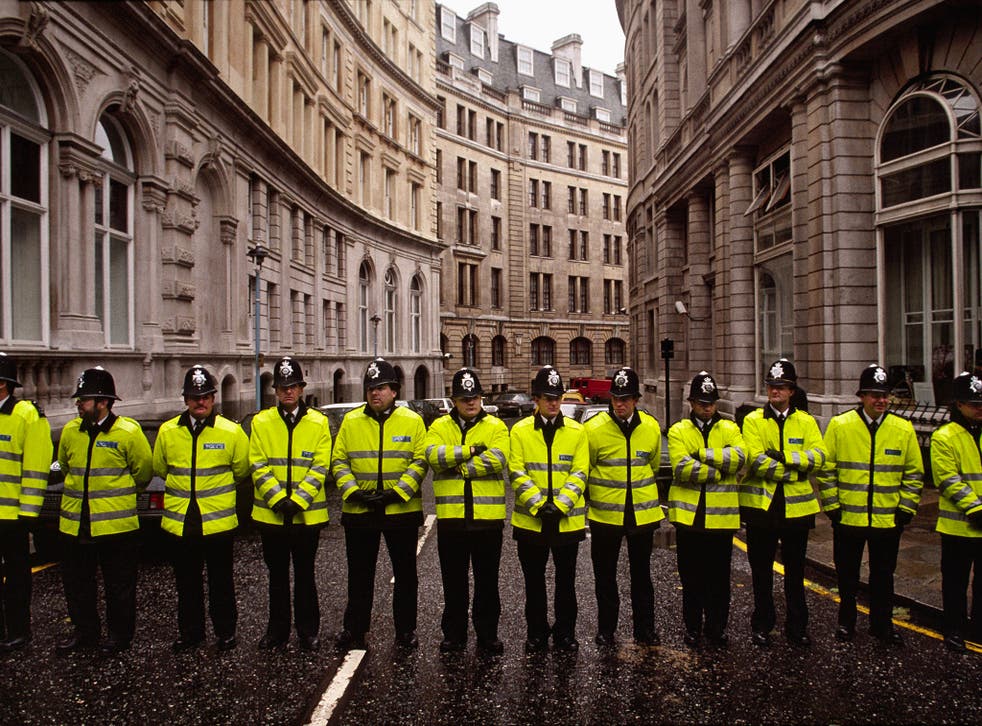 "People". That was the word that blew my mind while I was drinking my cup of tea and listening to the news bulletin this morning. A national review of police forces, released today, reports that 334 police personnel have (in the words of the Radio 4 announcer) "been accused over a two-year period of using their position to sexually exploit people". Who are these mysterious "people", and could they have anything in common apart from being sexually exploited by police personnel?
To be fair, the report itself is not much more informative. Read it from beginning to end and you will learn that a third of these allegations involve victims of domestic violence, but not much more. But we can guess. Victims of domestic violence are mostly female. Victims of sexual exploitation are also mostly female. "People" in this case must mean, specifically, "women". And the people doing the exploiting? Well, the police force is over 70 per cent male, and 80 per cent in senior roles. It's a fair bet that it's not the minority of female staff who are perpetrating this.
And though the report rightly highlights the terrible inaction of police forces when it comes to this particular form of corruption – only 48 of 436 reported allegations were referred to the Independent Police Complaints Commission – there are a few cases in the public domain that tell us, yes, police exploitation of vulnerable "people" for sexual gain is indeed male exploitation of women.
In 2010, PC Stephen Mitchell was convicted of raping and indecently assaulting drug-addicted women after he arrested them, using his powers to detain them, abuse them and then intimidate them. Steven Walters sexually assaulted women while he was on duty, and was convicted earlier this year. In 2013, Detective Constable Clifford Earl was found guilty of molesting a woman after her partner was arrested and sexually assaulting a woman who had reported the violent theft of her son's bike. All male police officers, all female victims.
UK news in pictures

Show all 50
So why isn't this part of the report? Why is it able to acknowledge that this is a serious, corrosive form of corruption – but not that it's a form of male violence against women?
Even in the breakdown of police force demographics that comes under the heading "legitimacy" – the theory is that police should be representative of the society that they are given special powers over – there's no mention of sex. Surely the gender breakdown of the police force is critical here: in a society where men hold power over women anyway, the police are a group of (mostly) men given even more powers by the state. Looked at like this, it's hardly a surprise that such sexual exploitation finds a warm niche to thrive inside the law and order system.
But instead of suggesting, say, the mandatory presence of specialist female officers when the police deal with women (whether as victims or suspects, because both are equally endangered by male sexual entitlement), the report focuses on procedural or technical solutions. These are important for sure, but they're not enough. Women are entitled to a police force that we can trust. A police force that works to keep us safe, rather than one that is only interested in using us in the moment of our greatest vulnerability.
That police force would be one with a 50/50 male-female staff ratio, retrained from first principles to understand male violence and how it endangers women. Until that happens, corrupt officers like Stephen Mitchell will continue to be part of the problem, rather than offering protection. Law and order has historically, shamefully, served men's interests in controlling women. The police force will not have left that legacy behind until it can say, clearly and without equivocation, that gender is the issue, in society and in its own ranks.
Register for free to continue reading
Registration is a free and easy way to support our truly independent journalism
By registering, you will also enjoy limited access to Premium articles, exclusive newsletters, commenting, and virtual events with our leading journalists
Already have an account? sign in
Join our new commenting forum
Join thought-provoking conversations, follow other Independent readers and see their replies