A toddler was separated from her parents and trapped in a warzone, all because of our government's mindless bureaucracy
The atmosphere is hostile towards immigrants, even those who are now legitimate British citizens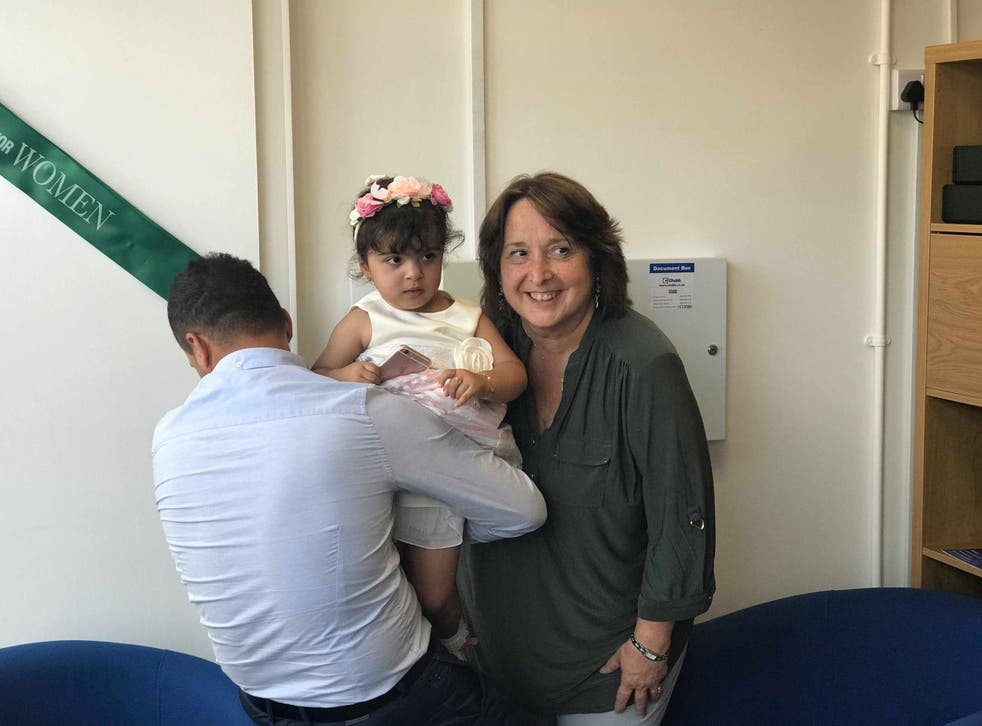 The next time someone asks me why I got into politics I have a photograph to show them. It is of me trying to tease a smile out of a very beautiful but very tired toddler who is adapting to life in Edinburgh instead of an Iraqi war zone.
The toddler is Lia Kasim. She was trapped in Erbil, separated from her often distraught but never defeated dad, Jasem. Her plight has been central to my and my office's work for my first year as an MP.
The atmosphere is hostile towards immigrants, even those who are now legitimate British citizens. The Windrush scandal, among others, exposed that some people in power often lack a basic human understanding of what people have been through. Lia was just one victim of an astonishing bureaucratic nightmare.
Her father is a British citizen. She should have automatically been entitled to a passport. But because she was born abroad – not something her parents had planned – the UK authorities not only refused to recognise her as a citizen but they also put every conceivable obstacle in the way of her passport.
Jasem willingly jumped through every hoop and fulfilled every demand from the Home Office. But for over a year, there was no progress.
When Jasem came to me after his original application was denied, we appealed. There were countless letters and phone calls to the Home Office and questions about his paperwork. All of them unanswered.
I raised his dilemma in the Commons. I argued that his baby was trapped in the war zone that he, an Iraqi-born Kurd, had come to this country to escape.
At the first meeting I secured with the government, the Conservative immigration minister at the time metaphorically patted me on the head and told me it wasn't as simple as I thought.
Apparently, the choice of whether or not to rescue a baby from a war zone is not an easy one.
But he did offer to reconsider if Jasem and the baby both had DNA tests. They did. It took several difficult trips into Erbil from a nearby Kurdish community for Lia to see the necessary doctor.
Not surprisingly, medical staff are often in high demand in Iraq, dealing with emergencies, and are often unavailable at the last minute.
But the family persevered and the test proved that Lia was Jasem's child.
Still not satisfied, the paperwork was questioned again and Jasem was told he would have to make a fresh application.
Again, he complied.
Again, the Home Office stalled. This time I told them I was taking it directly to the prime minister and the new immigration minister offered an immediate appointment.
And this time she listened.
This time, in the immediate aftermath of the Windrush scandal, with searching questions being asked about this government's attitude to legitimate British citizens, the new immigration minister listened and passed what I said on to her officials.
Windrush generation: threat of deportation from UK

Show all 15
A couple of weeks later came the phone call we had waited a year for. If Jasem filled in a fresh form, Lia could have her passport.
At one of our many meetings I had promised an emotional Jasem that I would not give in until we had Lia safe in this country with both of her parents. Yes, there were times when I thought that the mindless bureaucracy might beat us. I was warned by other immigrants that the Home Office's lack of trust in what is left of Iraq's political and administrative structure might come between this innocent child and a secure future. I often wondered if I would ever be able to fulfil that promise.
So, when Jasem walked through my office door with his wife and little girl I thought my heart would burst. There were, of course, tears in the office as well as broad smiles and hugs for the staff who had worked so hard to make the dream become a reality.
But there was also the realisation that it will not be the same for every family. Not everyone will have a happy ending. I have seen the joy of bringing a family together, one that had been kept apart purely due to mindless bureaucracy. This government's hostile immigration environment has to change.
Christine Jardine is a Liberal Democrat MP for Edinburgh West
Join our new commenting forum
Join thought-provoking conversations, follow other Independent readers and see their replies