The European free press is right to expose Erdogan – but western tourists are now at risk in Turkey
The Dutch Foreign Minister, Bert Koenders, has warned those planning travel to Turkey on holiday that he could give no guarantees of their safety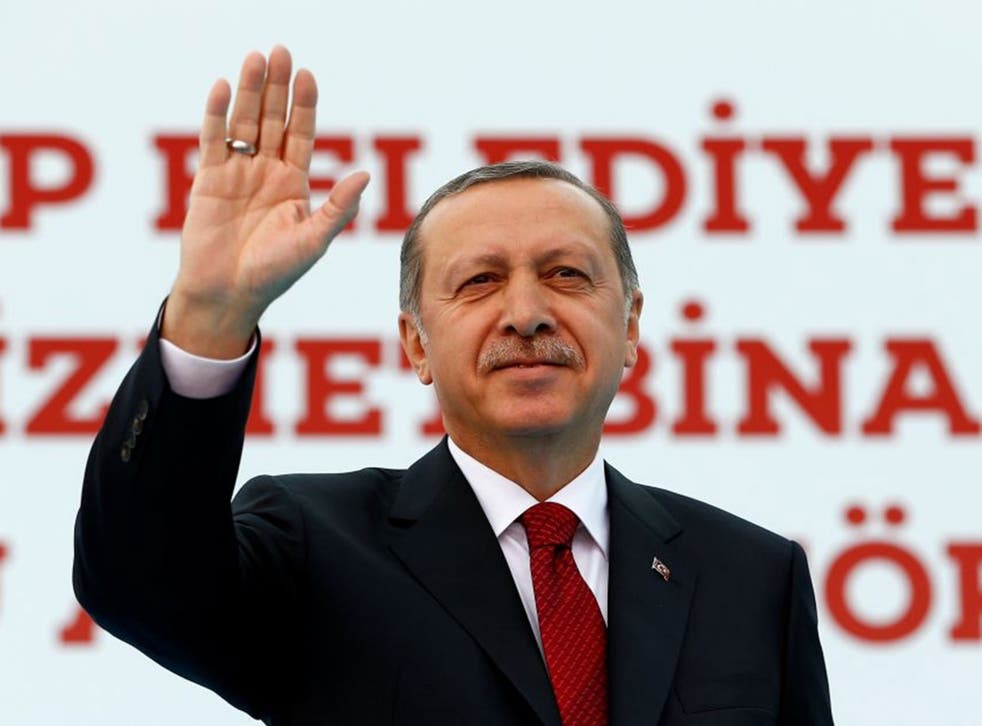 The Dutch daily De Telegraaf clearly overstepped the mark, by Recep Tayyip Erdogan's standards, when it published a cartoon on its front page under the caption "Erdogan's long arm", which showed the Turkish President as an oversize ape with its arms resting on a crushed European journalist.
This was a reference to a Dutch journalist detained in Turkey after sending tweets deemed critical of Erdogan. She has since been freed, and has now been allowed to leave the country.
Turks have a great sense of humour and for a number of years have made fun of Erdogan in cartoons pointing to the power he has acquired for himself.
In 2005, a cartoonist was fined for depicting Erdogan as a cat entangled in a ball of wool. But in another trial that followed, a satirical magazine was acquitted after a cover depicting a menagerie with Erdogan's face on each animal. As the court admonished, "The owners of political power should be open and tolerant to all kinds of criticisms."
But little has that helped. Since Erdogan was elected president in 2014, almost 2,000 cases have been brought against people for insulting the president. Last September, the Turkish weekly Nokta had on its cover a grinning Erdogan taking a selfie while a soldier's coffin was carried by in the background – a clear reference to Erdogan's war on the PKK. The issue was banned and the editors face a sentence of up to 12 years imprisonment for insulting the president and making terrorist propaganda.
Turkey protests: Erdoğan is Turkey's Mrs Thatcher - and he's not for turning either

Show all 3
Last week, in a new blow to the freedom of the press in Turkey, the editor-in-chief of the secular daily newspaper Cumhuriyet, Can Dündar, and his Ankara bureau chief, Erdem Gül, were sentenced to five years in prison for reporting the Turkish state's transport of arms to jihadists in Syria.
Outside the courthouse, after sentence was passed, Dündar narrowly escaped assassination by a man who shouted "traitor" while firing the shots.
Thanks to German chancellor Angela Merkel's appeasement policy President Erdogan's long arm now also extends to Europe. After the comedian Jan Böhmermann read his anti-Erdogan poem on German TV, Erdogan's German lawyer applied for – and was granted – a court injunction against an online video in support of the comedian.
His lawyer also applied for an injunction against Mathias Döpfner, the CEO of the Axel Springer media group, who had, in a letter, also supported Böhmermann. However, in refusing that injunction, the Cologne court ruled that Döpfner had a constitutionally-guaranteed right to the freedom of expression. Erdogan's attorney, on the other hand, compared these repeated insults to "gang rape". "Mr Erdogan," he stated, "is a human being and human dignity is inviolable."
Nevertheless, everybody seems to want to join in – including The Spectator magazine in the UK, which has launched a "President Erdogan Offensive Poetry Competition", offering a prize of £1,000 for the most filthy poem about the Turkish president.
In a counter-offensive, the Turkish consulate in Holland has sent an email to Turkish organisations, asking them "urgently for the names and written comments of people who have given derogatory, disparaging, hateful and defamatory statements against the Turkish president, Turkey and Turkish society in general" in emails or social media such as Twitter or Facebook.
Furthermore, the Dutch Foreign Minister Bert Koenders has warned Dutch citizens planning to travel to Turkey on holiday that he could give no guarantees of their safety if they have been critical of the Turkish president. The German Foreign Ministry has also strongly advised German visitors not to make public critical statements against the Turkish state and not to express sympathy for terrorist organisations.
So now there is an added risk for holiday-makers in Turkey – not only from bomb-happy terrorists, but also a vengeful president.
Register for free to continue reading
Registration is a free and easy way to support our truly independent journalism
By registering, you will also enjoy limited access to Premium articles, exclusive newsletters, commenting, and virtual events with our leading journalists
Already have an account? sign in
Register for free to continue reading
Registration is a free and easy way to support our truly independent journalism
By registering, you will also enjoy limited access to Premium articles, exclusive newsletters, commenting, and virtual events with our leading journalists
Already have an account? sign in
Join our new commenting forum
Join thought-provoking conversations, follow other Independent readers and see their replies