Donald Trump and Hillary Clinton delivered the most dispiriting moment in modern US politics – was it worth it?
The two candidates unleashed a barrage of indictments at each other, each one worse than the last; and yet they likely managed to change zero minds in the process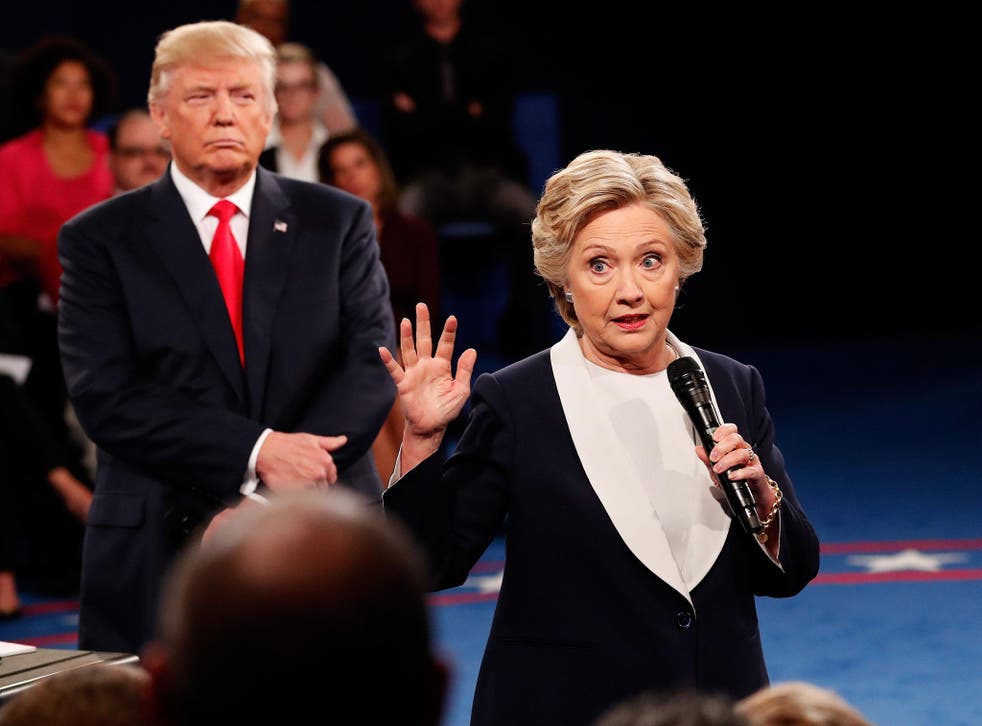 Town hall presidential debates are supposed to be the pleasant, touchy-feely ones, where candidates make nice to a studio audience who ask worthy questions about matters of concern to ordinary, undecided voters.
What we got on Sunday night in St Louis was instead unrelenting nastiness. Forget about the studio audience and undecided voters, generally, Donald Trump (primarily) and Hillary Clinton (to a lesser extent) combined to deliver the most demeaning, dispiriting moment in the history of modern American politics.
Yes, the event had an R-rated voyeuristic fascination. This was politics reduced to the reality-TV where Trump achieved national fame. As his White House campaign faced potential meltdown, just how low would he go? To the bottom, it was apparent even beforehand as he appeared with women who had been sexually victimised by Bill Clinton.
And the debate proper sunk to expectations. What candidate describes his opponent as "the devil", accusing her of "tremendous hate in her heart". If he did win, Trump added for good measure, he'd appoint a special prosecutor to send her to jail, where she belonged. Maybe direct abuse like this was traded in the pamphleteering, no-insults-barred days of the early American Republic, but not since.
Why was Trump creeping behind Clinton at the debate?

Show all 13
In such an unprecedented setting, standard notions of winners and losers disappear. Trump might have 'won' in the sense that he was in full Alpha-male mode, keeping the pressure on Clinton while avoiding self-immolation. He performed well enough to end talk of an eleventh-hour replacement, if only by rallying true believers behind him.
These latter aren't enough to win an election. But they're enough to ensure that Republicans don't break with Trump entirely. Running mate Mike Pence, whose relations with Trump are tepid at best, made clear he wasn't jumping ship.
And even in Speaker Paul Ryan's morning-after conference call with House Republicans, in which he told them to campaign as they saw fit to preserve the party's majority – tantamount to a concession of victory to Clinton – the highest elected Republican in the land didn't un-endorse the candidate. Whether they like it or not, Congress members and Senators in close races need those Trump supporters to win.
So in that sense, Trump had a good night. At the minimum (which was probably the maximum too) he broke out of the death spiral in which he was seemingly locked after the emergence of the devastating Access Hollywood tape on Friday – which had senior Republicans abandoning him in droves.
But it's hard to believe a single voter's mind was changed, converted to the cause of either Trump or Clinton. He was the coarse mendacious bully of always; she was the legalistic policy-wonk of always, wrapped in that carapace of wariness that permits no warmth or spontaneity.
Second Presidential Debate in 90 Seconds
If anything, the spectacle will have augmented the ordinary American's disgust with politics. The beneficiaries could be the third party candidates, Libertarian Gary Johnson and Jill Stein of the Greens. Equally likely, more people than ever may skip the presidential part of the ballot on November 8, driving turnout – never impressive in the US at the best of times – to historic new lows.
A collective national yearning is almost audible: hold the election tomorrow, get this miserable business over and done with. What will come out in the four weeks remaining may be guessed at – more scandal (though most people are now numbed by scandal); more Trump tapes and women coming forward to say they have been sexually harrassed by him, more anti-Clinton material from Wikileaks and elsewhere. Or some other October surprise?
For all the debate's lows, the evening showed how winnable this election would have been for a Republican not named Donald Trump – one who didn't scowl and glower but instead managed the odd smile, who didn't seem permanently angry, and who wasn't beset by tapes in which he talked of grasping women by the genitals.
In his moments of relative calm, Trump marshalled potent general arguments against Clinton, as the candidate of the status quo and the party in power at a time when voters demanded change. He highlighted how, for all her foreign policy expertise, the Middle East has truly turned into a disaster. The leaked $250,000-plus speeches to private Wall Street audiences gave the lie to her woman-of-the-people pretensions. The email affair, to which she again was forced to respond, showed her penchant for secrecy and slippery legalising. Against a John Kasich or a Marco Rubio, Hillary Clinton would surely now be floundering.
A pair of delicious ironies have marked these potentially pivotal last few days. Trump's partner in lechery in the infamous 'p***y' tape was Billy Bush, a member of the Bush family – pillar of the Republican establishment – that Trump has spent so much time attacking. And how fitting that, after a lifetime of disparaging and trashing women, a woman now seems likely to hand him the greatest defeat of his life on Election Day.
Register for free to continue reading
Registration is a free and easy way to support our truly independent journalism
By registering, you will also enjoy limited access to Premium articles, exclusive newsletters, commenting, and virtual events with our leading journalists
Already have an account? sign in
Join our new commenting forum
Join thought-provoking conversations, follow other Independent readers and see their replies