Prince George and the paparazzi: Deferring to the long arm of Buckingham Palace
The former boss of Hacked Off, a critic of press intrusion, says this time the royals are expecting too much protection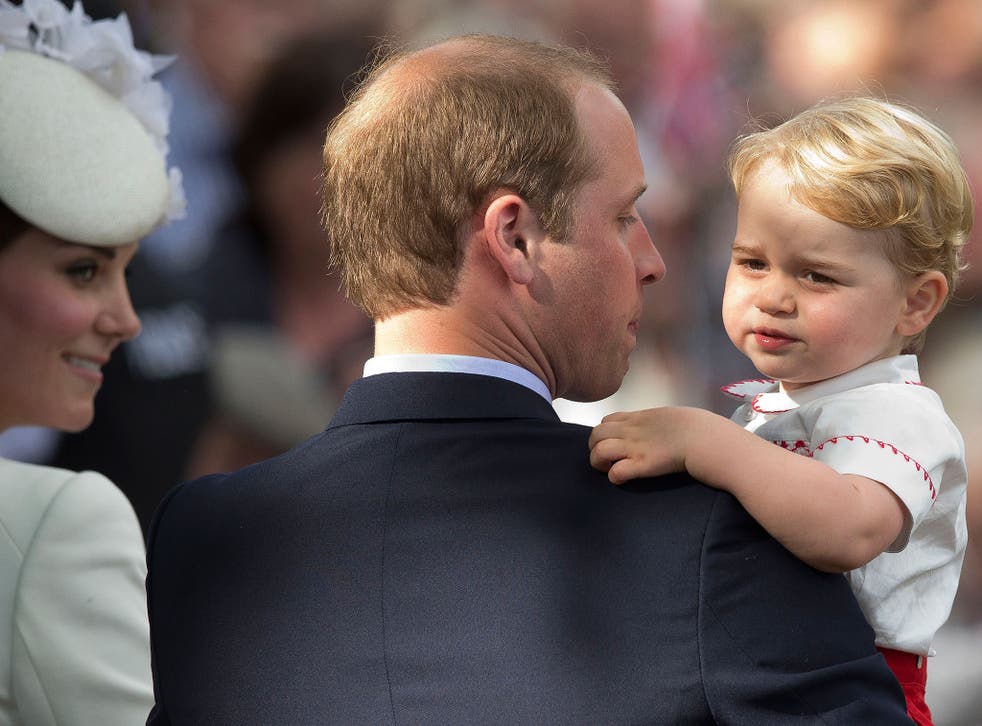 Few of this country's institutions retain the power to cow the media. Neither politicians, clerics nor prize-winning novelists can expect to have their pronouncements treated uncritically, which is on the whole a good thing. The one exception is the monarchy, which flexed its muscles to dramatic effect last week.
Two members of the Royal Family have let it be known that they are furious, a state of affairs so shocking that it led the news bulletins. Royal correspondents spoke in sonorous tones about the distress suffered by the Duke and Duchess of Cambridge when people take photographs of their son, Prince George.
Not the "good" photos issued by the couple themselves, obviously. You know the ones I mean, showing George wearing the kind of smock top that had gone out of fashion even when I was a toddler, along with the carefully posed images of George holding his baby sister, Princess Charlotte. The "bad" photos, to be clear, might look cute but they're not, since they were taken by unauthorised photographers. These pictures are so bad, in fact, that the police have warned anyone taking them that they risk being shot. Has everyone taken leave of their senses?
This story is a perfect illustration of the absence of journalistic rigour towards any claim made on behalf of the royals. "I could do that," I often think when a royal "expert" is wheeled out to comment. I could stand in front of a camera, regurgitating the latest press release and adding a few unoriginal observations – legacy of Princess Diana, right to a "normal" childhood, blah blah blah – of my own.
I haven't heard a single interlocutor ask for details of the more lurid claims made in an open letter to the media from Jason Knauf, the Duke and Duchess of Cambridge's communications secretary. Who are these young children who have been used to lure George into view at playgrounds? How do the couple know that children are being used in this way?
Then there's the unnamed photographer who created a "hide" in his car to take pictures of George in a play area. It's not how I'd want to spend a day, but the point Knauf didn't make (and neither did any of his willing echoes in the media) is that it's not clear if he had broken any laws. People are allowed to take pictures in a public place as long as their behaviour doesn't amount to stalking, in which case it could have been dealt with under the Protection from Harassment Act.
The Duke and Duchess have threatened to use the Act in the past, warning a photographer called Niraj Tanna to "cease harassing" Prince George and his nanny after he was spotted by royal protection officers in Battersea Park. The photographer denied harassment, insisting he was entitled to take pictures in a public place, and nothing more was heard about the threatened injunction. The couple may fear a terrorist attack, but that's a reason for reviewing overall security, including the wisdom of allowing George to play in a public park.
What no one bothered to ask after the publication of Knauf's letter is what harm the Duke and Duchess have actually suffered. They are annoyed, but that's different from being frightened, alarmed or distressed. It's a distinction missed by one of their supporters, Hannah Weller, who successfully took the Daily Mail to court after it published photographs of her on a shopping trip with her infant children. You might think that was an adequate remedy, but Weller was on this weekend's Today programme, talking about her campaign for a change in the law to prevent publication of any unpixelated images of children without their parents' express permission.
Everyone is entitled to privacy at home or somewhere the public is not normally admitted. The principle is clear and straightforward, and The Sun breached it when it published pictures of Prince Harry naked at a party in Las Vegas three years ago. That piece of bad behaviour happened, despite the fact that it was the targeting of his elder brother, Prince William, which brought the whole phone-hacking scandal into the open. If the News of the World's royal correspondent hadn't decided to hack mobiles belonging to members of the Prince's circle, we might never have had the Leveson inquiry or the Hacked Off campaign, which I ran until a couple of months ago.
With occasional exceptions, the British press is wary of upsetting the Royal Family these days. Knauf thanked UK publications for refusing to publish unauthorised pictures of the Cambridges' children, blaming the problem on a handful foreign publications which buy paparazzi photos. Sadly, some British editors are not always as responsible when it comes to non-royal children: last summer The Sun published a picture of a four-year-old boy on its front page, claiming that he had the mark of the "devil" on his torso. The paper had the family's permission, but that doesn't alter the fact that the child was too young to consent to being paraded in this way.
I know it's August, notoriously a slow month for news, but that hardly applies when we're in the middle of an unprecedented refugee crisis. I'm furious about lots of things, including the demonisation of people fleeing the world's worst regimes, but the prominence given to this silly-season story about one privileged family takes my breath away. Deference is far from dead, and the royals haven't lost their capacity to push genuinely important stories down the news agenda.
Joan Smith was executive director of 'Hacked Off' until June 2015
Register for free to continue reading
Registration is a free and easy way to support our truly independent journalism
By registering, you will also enjoy limited access to Premium articles, exclusive newsletters, commenting, and virtual events with our leading journalists
Already have an account? sign in
Register for free to continue reading
Registration is a free and easy way to support our truly independent journalism
By registering, you will also enjoy limited access to Premium articles, exclusive newsletters, commenting, and virtual events with our leading journalists
Already have an account? sign in
Join our new commenting forum
Join thought-provoking conversations, follow other Independent readers and see their replies