Prince William on the front of Attitude magazine continues the gay media's glorification of white cis males
It's been suggested the Duke of Cambridge will be influential in fighting homo-, trans- and biphobia in Commonwealth countries – but let's not forget whose family profited from imperial murder and slavery in the first place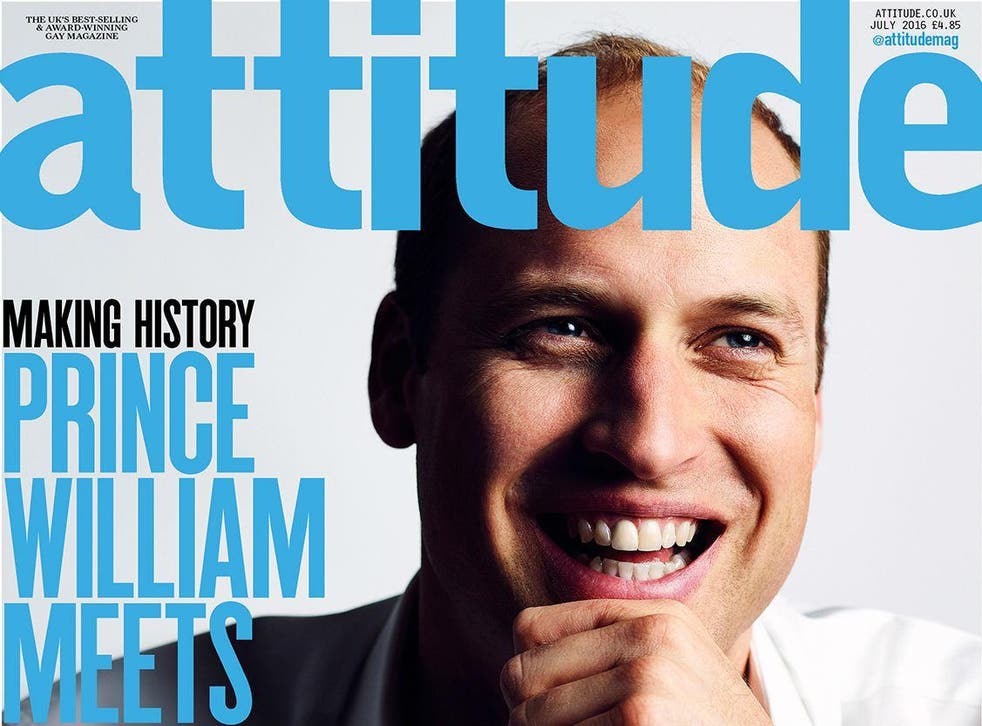 The Duke of Cambridge (Prince William to us proles) has appeared on the front page of the gay magazine Attitude, apparently to raise awareness and campaign against bullying. While undoubtedly a great cause, something rankles about it being seen as a brave and ground-breaking move for the royal family to sit down and talk to LGBT+ people about their lives in 2016. Although it's a coup for Attitude and a news-stand hit in troubled times for the magazine industry, what we see is yet another white guy who is heterosexual on the front cover of a magazine aimed at gay and bisexual men.
Recently black queer rapper Mykki Blanco set off a discussion about the dominance of shirtless white guys in gay media (I hesitate to call it LGBT) on Twitter. Queer people of colour joined the debate on the #GayMediaSoWhite hashtag created by Vicktor T. The general consensus was that men of colour are rarely featured on the covers of major magazines, and if we are, we're usually part of a couple or group with white men. If not that, we might even feature on an alternate cover: see Attitude's recent choice to feature model Laith Ashley on the cover, but to also offer up an alternate Matt Lister cover at the same time. There's also an expectation that for media visibility, black men have to be extremely conventionally attractive and muscular, in a way that white straight reality TV and soap stars do not have to be.
If we featured at all inside the magazines, it's usually in a feature about homophobia in our communities or majority black countries – important discussions, sure, but not our main stories. It's been suggested the Duke of Cambridge will be influential in fighting homo-, trans- and biphobia in Commonwealth countries – but let's not forget whose family profited from imperial murder and slavery in the first place.
Some have seen complaints about the lack of diversity in our spaces as some sort of backlash against cisgender white gay men. In an interview with Attitude magazine, singer Steve Grand uttered the words, "Young, good-looking, white, gay men – we love to hate those people".
While it's true that white cisgender gay men face prejudice in wider society, it is clear that they are considered the default when it comes to queerness. Steve Grand may feel that he is hated but this is not borne out by googling Attitude magazine covers or those of the Gay Times, as white cis gay men - and heterosexual ones - dominate our leading magazines, and it's a similar situation in the USA or even in nations such as Brazil where people of colour are in the majority.
The power of gay media is that it can inform opinion, and also give explicit messages as who gets to be included in our culture. I've had a white gay guy hiss to my face that "black people all hate (gay people)!" Shortly before telling this charming chap to Foxtrot Oscar, I pulled out my wedding photos with my Barbados-born black mother and my relatives at my very gay wedding. I wonder how this man - who lived in an area with few black people - had formed such an opinion?
Gay media and its expectations of cis white people has a tangible effect on other gay spaces. Recently a queer club night was widely criticised for using Islamophobic imagery as part of its promotion. Only a few months ago, a drag act which was based on offensive racist and sexist stereotypes of black women was cancelled following a successful campaign led by Chardine Taylor-Stone, a black queer woman.
For white cis gay men reading this who currently feel uncomfortable, I should reassure you that some of my best husbands are white cis gay men. It's time to ask why you feel discomfort and consider how you and your friends can help improve the situation. Because the starting point should always be the wellbeing of everyone in the LGBT+ community. And when it comes to representation, the Duke of Cambridge – the very pinnacle of privilege – represents the exact opposite of inclusiveness for queer men of colour.
Join our new commenting forum
Join thought-provoking conversations, follow other Independent readers and see their replies