Prison reform long overdue, but David Cameron's pledge requires bold and politically unpalatable decisions
With prison places costing £40,000 a year, the Government is currently throwing good money after bad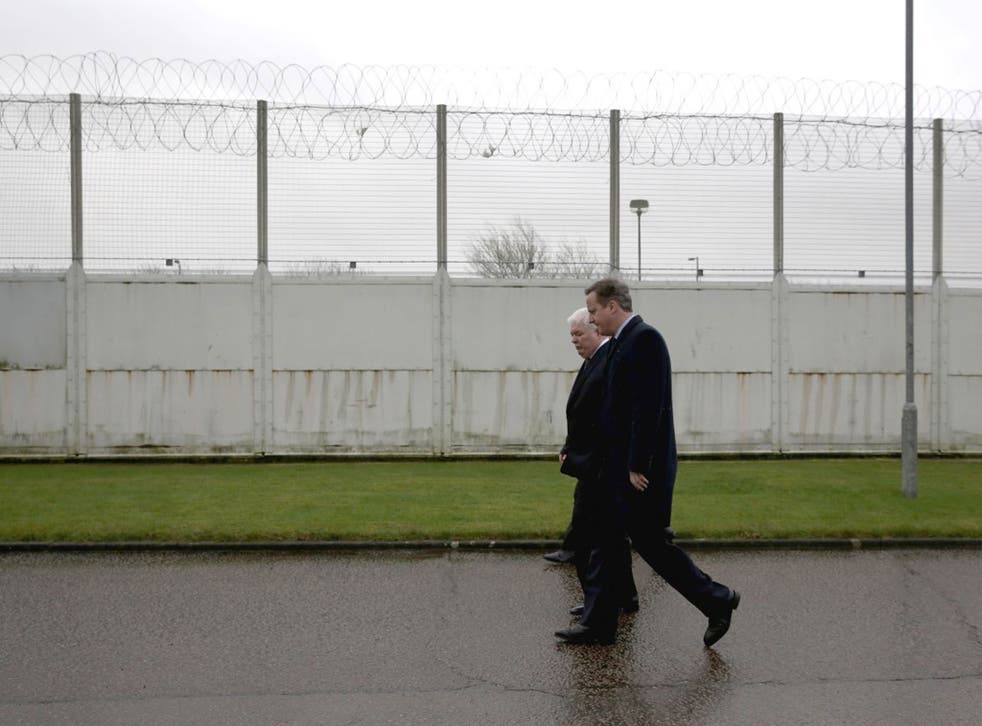 For a quarter of a century the nation's jails have been failing catastrophically, becoming vast warehouses where offenders are stored without hope of help to become productive and law-abiding members of society.
There are numerous instances of good practice in the prison system and many dedicated staff work with shrinking budgets to turn inmates' lives around, but the challenge they face is growing as conditions deteriorate and tensions rise behind bars. Two-thirds of jails are overcrowded; drugs are relatively easy to obtain; levels of suicide, self-harm and violence are climbing; and riot squads are being called in more regularly to quell disturbances. With many inmates also confronting problems with mental health and addiction, and almost half lacking any formal qualification, it is no surprise that reoffending rates are shamefully high.
The Chief Inspector of Prisons for England and Wales, who is used to witnessing grim conditions, has described the situation as the worst for a decade, warning that too many jails are "places of violence, squalor and idleness". These are the daunting problems which David Cameron and Michael Gove, the Justice Secretary, have pledged to confront as part of the Prime Minister's commitment to tackle the country's deep-rooted social problems.
There can be no doubt that the men are genuine – the Prime Minister devoted a section of his Tory conference speech to the issue, while Mr Gove will be judged by his promise to bring a "reforming zeal into the dark corners of our prison system". It marks a refreshing change of tone from the depressing days of Chris Grayling's spell as Justice Secretary, when his fondness for winning cheap headlines by talking tough and his willingness to cut costs combined to intensify the crisis in prisons. But Mr Cameron and Mr Gove will need political courage to turn an inspiring vision into reality. The former – who insisted nine years ago that prison reform was part of the Tories' central mission to "tackle social breakdown" – has previously shown little determination to force through change in an area which wins few votes. In 2010 he appointed the reform-minded Kenneth Clarke as Justice Secretary to oversee a "rehabilitation revolution", only to replace him with the hardline Mr Grayling just when the Clarke approach was showing the first signs of success.
At a time when high-volume crimes are falling, Labour, Tory and Coalition governments alike have presided over a prison population which is the highest in Western Europe and have done nothing to reverse the increase in average sentences. Mr Cameron will have to take politically unpalatable decisions to ease the pressure on jails, freeing resources for the expensive and time-consuming work of rehabilitation.
Imaginative alternatives need to be sought to incarceration – notably the use of tagging to keep less serious offenders out of "academies of crime" – and a message should be sent to judges and magistrates to consider alternatives to imprisonment if public safety is not at risk. Above all, Mr Cameron has to face up to the difficult truth that it will take money to pay for the targeted programmes of education, training and counselling required to get to grips with the problems of illiteracy, lack of job skills and drug addiction which are interlinked in prisons.
This is an unpalatable message for an administration so committed to austerity, but reducing reoffending will eventually save money and improve lives inside and outside jails. With prison places costing £40,000 a year, the Government is currently throwing good money after bad.
Register for free to continue reading
Registration is a free and easy way to support our truly independent journalism
By registering, you will also enjoy limited access to Premium articles, exclusive newsletters, commenting, and virtual events with our leading journalists
Already have an account? sign in
Register for free to continue reading
Registration is a free and easy way to support our truly independent journalism
By registering, you will also enjoy limited access to Premium articles, exclusive newsletters, commenting, and virtual events with our leading journalists
Already have an account? sign in
Join our new commenting forum
Join thought-provoking conversations, follow other Independent readers and see their replies