If America takes a legal stand on hate speech, it will be liberals, not neo-Nazis, who suffer
We in the UK have laws designed to combat hate speech. But they provide a salutary lesson. Having established the principle, we very nearly went too far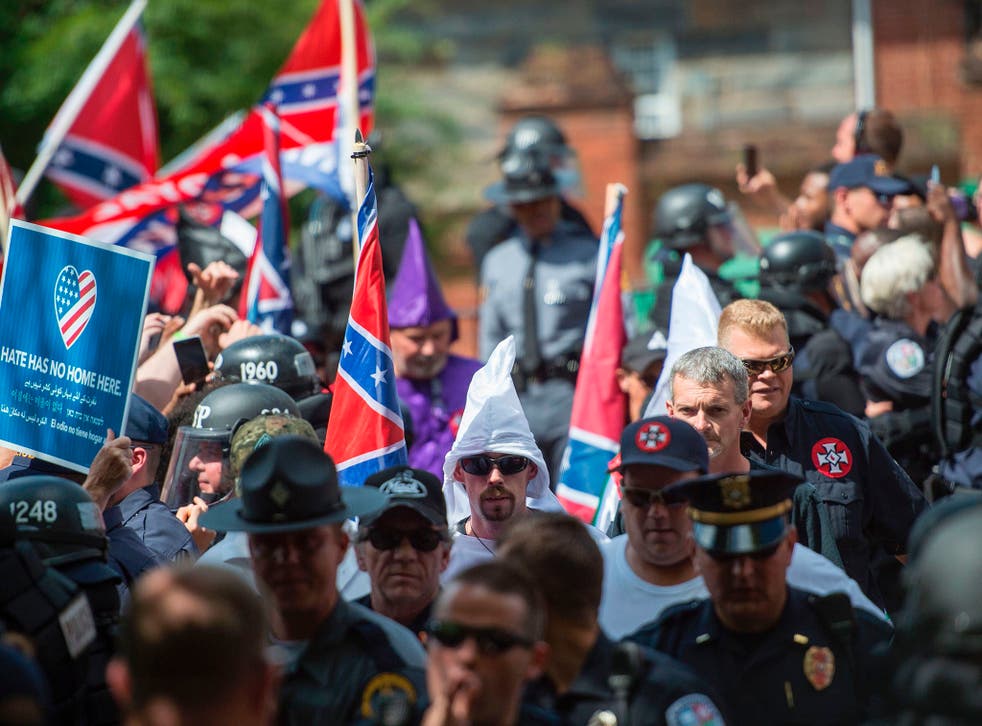 Yet another American City will reluctantly play host to a gathering of the right at the weekend.
This time it's San Francisco, one of the birthplaces of American counterculture, a hippie Mecca during the 1960s, and a modern centre of liberal activism where Donald Trump polled just 9 per cent.
I doubt the symbolism of planting a flag in the middle of that will have been lost on Patriot Prayer, the event's organiser.
Its founder, Joey Gibson, has recently publicly sought to disavow the extreme right wingers that were a notable presence at his earlier events.
The Southern Poverty Law Centre, which tracks hate groups, has highlighted the group's unlovely history, accusing him of "trolling the Northwest with a series of rallies designed to provoke violence and populated with extremists".
It did note his apparent "change of approach" but Mr Gibson would hardly be the first extremist to present a Janus face to the media. San Francisco's mayor Ed Lee certainly thinks that's what he's doing, calling the event "shameful" and accusing the group of trying to incite violence.
World news in pictures

Show all 50
Rallies like his, the one in Boston that preceded it, together with the blatantly neo-Nazi event in Charlottesville, Virginia, that saw the death of a counter-protestor, have sparked an intense debate in the US. Where should the line be drawn between free speech and hate speech? What should the limits be in a country that, in many ways, serves as an example to the world by enshrining the right to free speech in its constitution.
The American Civil Liberties Union, often the bete noir of the right, has caused considerable controversy by taking a stand in favour of the right wing protestors in Charlottesville. While it condemned racism in all its forms, the ACLU of Virginia still argued all sides should have been allowed permits to demonstrate.
"Democracy will be better and stronger for engaging and hearing divergent views," it wrote. "Racism and bigotry will not be eradicated if we merely force them underground."
African Americans, and Jews, might question that given the chants that were heard and the New York Times recently ran a piece by attorney and academic K-Sue Park arguing for a rethink on its part.
"For marginalized communities, the power of expression is impoverished for reasons that have little to do with the First Amendment. Numerous other factors in the public sphere chill their voices but amplify others," she opined. Others including the alt right. Or rather, the extreme right. Let's tell it like it is.
She argued that "a well-funded machinery ready to harass journalists and academics has arisen in the space beyond First Amendment litigation".
"If you challenge hateful speech, gird yourself for death threats and for your family to be harassed."
Donald Trump challenges, and cherry-picks, coverage of his Charlottesville statements at rally
When it comes to the First Amendment, she was saying the right is trying to have its cake and eat it and that the ACLU's support of it in Charlottesville was misplaced.
However, Conor Frierdersdorf, writing for The Atlantic, criticised what he described as liberal groups trying to restrict free speech. He argued that "a broad reading of the First Amendment is still the framework that best protects ethnic and religious minority groups".
He maintained that "marginalized groups — street activists, Muslim immigrants, Black Lives Matter protesters — would suffer particularly at this very moment if the faction of progressives who want to limit free speech got their way".
His best point was that, with an authoritarian President in the White House, one who regularly attacks the media, there is a real danger that any moves to restrict free speech, in an effort to combat hate speech, could ultimately hurt liberals the most.
We in the UK have laws designed to combat hate speech. But they provide a salutary lesson. Having established the principle, we very nearly went too far.
Hundreds gather for Charlottesville vigil
Consider the Public Order Act which stated that "a person is guilty of an offence if he uses threatening, abusive or insulting words or behaviour." At issue was the word insulting. It was only removed after a high profile campaign involving the comedian Rowan Atkinson, gay rights campaigner Peter Tatchell, and one David Davis, now Brexit Secretary, among others, in the wake of incidents such as the arrest of a critic of scientology, and a student who made a joke. Theresa May's Home Office eventually accepted a change to the wording that removed the word "insulting."
That should come as a relief to some of the largely right wing Brexiteers who have been filling up my Twitter feed with witless abuse recently, in response to an admittedly provocative piece by myself that was aimed squarely at the rhetoric of their leaders.
If you threaten someone, it's a little different. That is an assault on their free speech, and there is a strong case for legal redress against those that do so.
However, the best way to combat hate speech is still, as the ACLU suggested, to expose it to the market place of ideas where, at the moment, it doesn't appear to be doing too well. The Boston demonstration by the right saw a couple of hundred people gathering in a gazebo being opposed by a crowd of 45,000 plus. Point to them.
The owner of the Boston Red Sox, John Henry, subsequently talked about renaming Yawkey Way, home of the team's historic ball park, named after his predecessor Tom Yawkey, who has been justifiably accused of being a racist. The Charlottesville protests have also sparked a debate about whether more confederate statues should come down.
A backlash against some of the hatred, poison and bile we have seen, seems to be underway. A correction, if you like, in the marketplace of ideas in favour of more enlightened views. Led, encouragingly, by the young.
It is the visibility and the behaviour of the alt/extreme right that has sparked it.
Jeff Sessions: The Charlottesville car attack could be a "hate crime"
In that, the US may be further along than we are in Britain, although both nations have a long, long way to go. I'm not underestimating the danger we still face.
But here clever, and cynical, politicians, and political actors, have been less open about their views, choosing instead to rely on dog whistles.
As such, they have largely managed to retain a veneer of respectability that they don't deserve. They receive less challenge from the media than they ought to get as a result.
We haven't seen anything quite like the odious Nick Griffin's brief, and disastrous, appearance on Question Time when the BNP was at its zenith. Our own alt right often seems to get a pass.
So America, with its first amendment, might have the right of this one.
In the meantime, here's wishing the counter protestors in San Francisco all the best. Stay safe.
Register for free to continue reading
Registration is a free and easy way to support our truly independent journalism
By registering, you will also enjoy limited access to Premium articles, exclusive newsletters, commenting, and virtual events with our leading journalists
Already have an account? sign in
Join our new commenting forum
Join thought-provoking conversations, follow other Independent readers and see their replies