The Queen should put pressure on Nigeria's government to respect the people of Biafra
As Commonwealth heads of government meet this week in London, Biafrans are renewing their calls for independence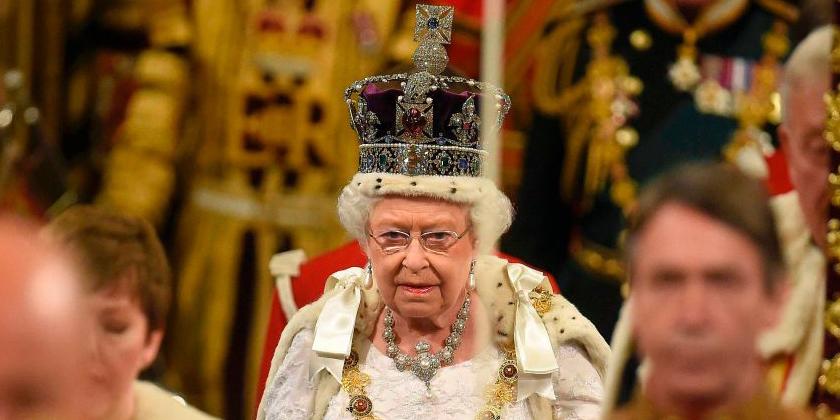 It happened on the afternoon of 14 September last year, 2017.
I had come back to visit my family home in Biafra a few weeks earlier from Germany, where I now live. I call it Biafra because Biafra is my country, not Nigeria.
My mother and father, my older brother Nnamdi Kanu and I were in the house, along with friends. It was my son's thirteenth birthday. I had just been on the phone congratulating him when the first gas canisters were thrown over the fence followed by gunfire. It was 4pm. The house was surrounded by Nigerian soldiers.
Jeremy Corbyn calls for Commonwealth to decide own head after Queen dies
I found it hard to breathe. Everyone was panicking. I was witnessing a full on military attack on my parents' home. I saw a soldier jump over the high fence that surrounds our house and open our main gate. He started shooting at the young men inside. That was when I realised if I didn't escape now I would die.
There were soldiers and guns everywhere. How I got out only heaven knows. I remember I had to jump two walls. There was sporadic firing from the soldiers and one of the people who tried to follow me, a good family friend, was killed. My youngest brother, Emmanuel, had left a few minutes before and was only a few metres away. Since that afternoon, I've heard nothing from my mother and father and my brother Nnamdi.
The only explanation for my family being targeted by the Nigerian government is that we believe in an independent Biafra. People may remember the Biafran War fifty years ago. For a few years, between 1967 and 1970 we were a free state. I was born during the war in December 1969. My family had to leave our home in Umuahia to escape the invasion by the Nigerian army then. My mother was pregnant with me and it was no longer safe. There was fighting just behind our house.
Biafran people were shot and bombed and starved to death; millions of them. Our experience was genocide. My parents lost most of their relatives.
So I grew up in an occupied country, an unhappy country. We were forced to be part of a state manufactured by colonial rule: Nigeria. I remember my father, like everyone else, was given the equivalent of £20 in recompense, to start again.
Nigerian President Muhammadu Buhari says he wife 'belongs in the kitchen'
But despite everything, we had a very happy childhood and a loving family life. My older brother Nnamdi and I did everything together. We were about the same height, so we even shared clothes and shoes. He took care of me as a younger brother and guided me. My father traded in farm produce. Now he is a traditional ruler. People look up to him. They trust him.
When I was younger I knew I couldn't stay in Biafra. Since the mid-'70s our culture, our history, our people had been all but erased. My brother and I needed to do something to help people to remember and we couldn't do it there.
I moved to Germany twenty-one years ago and raised a family. He moved to London and began the online Radio Biafra, broadcasting in English and Igbo, the language of Biafra, stories about our country, music, commentary and news. The Nigerian government has wanted to shut this down since it first broadcast in 2010.
Nnamdi also started our organisation, Indigenous Peoples Of Biafra, IPOB, seeking peaceful ways to bring about self-determination and independence for Biafra through democracy. We are a young organisation. Many of our members are too young to remember the war, but we are passionate that we will see an independent Biafra and a free Biafran people in our lifetimes.
Many Biafrans have been killed or detained before, during and after the 14th September 2017. There have been peaceful protests to commemorate the war where the security services have just opened fire on us.
As far as we are concerned, the government of Mohammadu Buhari is determined to stifle the independence movement. This week, President Buhari will meet the Queen at the Commonwealth Heads of Government Meeting. The Queen needs to know that, if my experience is anything to go by, Buhari's government will resort to the most serious human rights violations in order to gag the people of Biafra.
World news in pictures
Show all 50
I am back in Germany now. After my escape from the family home I had to stay in hotels under a false name and only managed to leave Nigeria, spending a few tense hours at the airport, because I have a German passport and was travelling under a visa. A long time ago I gave back my Nigerian passport and I suppose the authorities looked at me as a foreigner.
But Nnamdi, my brother, our leader, has disappeared. The Nigerian authorities deny any involvement and have ignored our requests for information about his whereabouts and the whereabouts of my mother and father. If they are dead, we should be allowed to bury them. If they are alive, they should be freed. To add to this personal tragedy, Nnamdi has a baby son in London he has never seen and a fifteen-year-old boy who needs answers. He is a British citizen. The British authorities should be investigating his disappearance too.
My family house is under police guard. The rest of my family dare not go there. People are dead or in hiding. But still I'm optimistic about the future.
The Biafran people know what they want. My children and my brother's children will see an independent Biafra, a Biafra based on democracy and fairness. Nothing can stop that.
Join our commenting forum
Join thought-provoking conversations, follow other Independent readers and see their replies