It's right to get rid of 'Bame' – but this report minimises racism in the process
The government cannot use a report to absolve us all of our complicity in upholding systemic inequity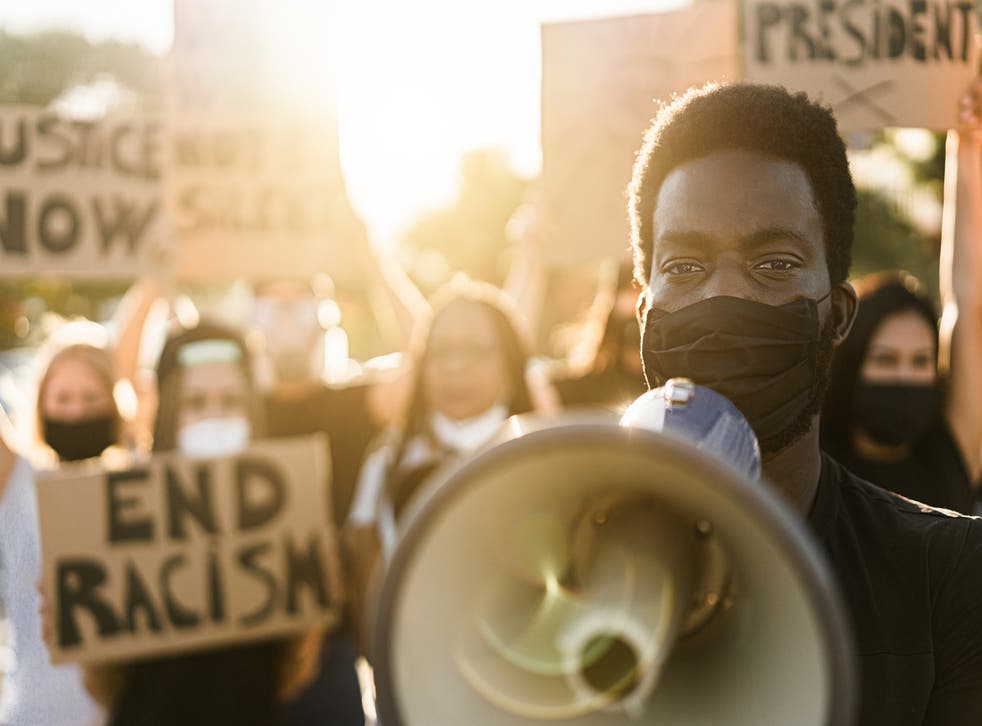 This week the UK government realised that it doesn't cut it to use a one-size-fits-all term for everyone who isn't white. Then, with a breathtaking piece of conflation and oversight, government advisers abandoned a clear opportunity to make positive anti-racist progress.
The government commission on race and ethnic disparities has decided to scrap the use of the term "Bame" as it's considered "unhelpful" by those it refers to. The commission's report then goes on to offer the UK as an exemplar of inclusive best practice, concluding that we are not a racist country.
Along with others who've been lobbying for change, I'm definitely raising a glass in celebration of the decision to stop using a term that erases identity and labels us all as a "problem". But my joy falls flat with the rest of the race disparities unit's conclusions.
Last year Inc Arts ran our #BAMEOver campaign to eradicate the use of the acronym. Ours was just one voice among many: there's been #AbolishBame, #ByeByeBAME and countless others – highlighting the strength of feeling for a term created by others about people "not like them". We created a statement to help people navigate the language of terminology.  
We argued – like the commission itself does – that the issues of racism are not uniform. We pointed out that the difference in educational attainment is one such example where it's vital to look further into what is going on in our schools beyond the clumsy and ineffectual categorisation of all non-white students as "Bame" students. Somehow it's this evidence that has been amplified as proof of the absence of institutional racism in our schools.
In a summary of the report released on Wednesday, the unit concludes that because students of African and Indian heritage have higher than average education outcomes at GCSE level, this is proof that we're no longer a racist society. It concludes that there are "some pockets" of racism in society, most significantly online, but that institutional racism doesn't exist.  
Read more:
It ignores the redoubtable research by the University of Aberdeen that points out what the university's researchers dubbed "the white working-class paradox" – that despite this group performing least well in education they outperform their ethnically diverse peers in employment and social mobility opportunities.
The unit's conclusions ignore what's going on at every stage of interaction with our justice system from the arrests through to sentencing. The MacPherson report, following the murder of Stephen Lawrence in 1993, identified institutional racism more than 25 years ago. Wednesday's report threatens to erase its findings, which are still relevant today, and the long fight by Baroness Doreen Lawrence and her family to seek redress within our criminal and justice system.
Wednesday's report overlooks what's happening in GP surgeries and hospitals – from ethnically diverse people having a higher likelihood of fatality from coronavirus, right through to the increased chance of black women dying in childbirth. It ignores recent Office for National Statistics data on redundancies during the pandemic, and how these have landed disproportionately on ethnically diverse people. The summary of the report seeks to minimise the evidence that people who are not white are more likely to be paid less – irrespective of their qualifications.
There are huge swathes of UK society where people from African and Caribbean heritage, and those from Asian diasporas, are woefully underrepresented and marginalised. A roll call of senior leadership – from FTSE 500 companies to the third sector, and pretty much anywhere else you look – provides evidence that ethnically diverse people are not represented anywhere close to our proportionate presence in the UK.
We cannot make the decision to change the use of one term, while continuing to use another unhelpful term, "minorities", with abandon. If you continue to use the term "minorities", you explicitly signal that the matters pertaining to this group are of a lesser priority than those of the "majority".
Language is important but action is even more so. Racism is nuanced and complex. Sharp focus is needed on individual identity, and sharp action on stopping racist outcomes – through investment, and fair redress through the use of the Equalities Act.
Most of all we need all of us to take an active part in learning and understanding, and not use a report to absolve us all of our complicity in upholding systemic inequity.
Amanda Parker is the founder of Inc Arts UK
Register for free to continue reading
Registration is a free and easy way to support our truly independent journalism
By registering, you will also enjoy limited access to Premium articles, exclusive newsletters, commenting, and virtual events with our leading journalists
Already have an account? sign in
Register for free to continue reading
Registration is a free and easy way to support our truly independent journalism
By registering, you will also enjoy limited access to Premium articles, exclusive newsletters, commenting, and virtual events with our leading journalists
Already have an account? sign in
Join our new commenting forum
Join thought-provoking conversations, follow other Independent readers and see their replies