Refugee crisis: Canada's chance to rediscover its generosity
Out of America: The image of a country once known for its compassion and decency has been sullied by complicity in the high-profile death of a three-year-old Syrian boy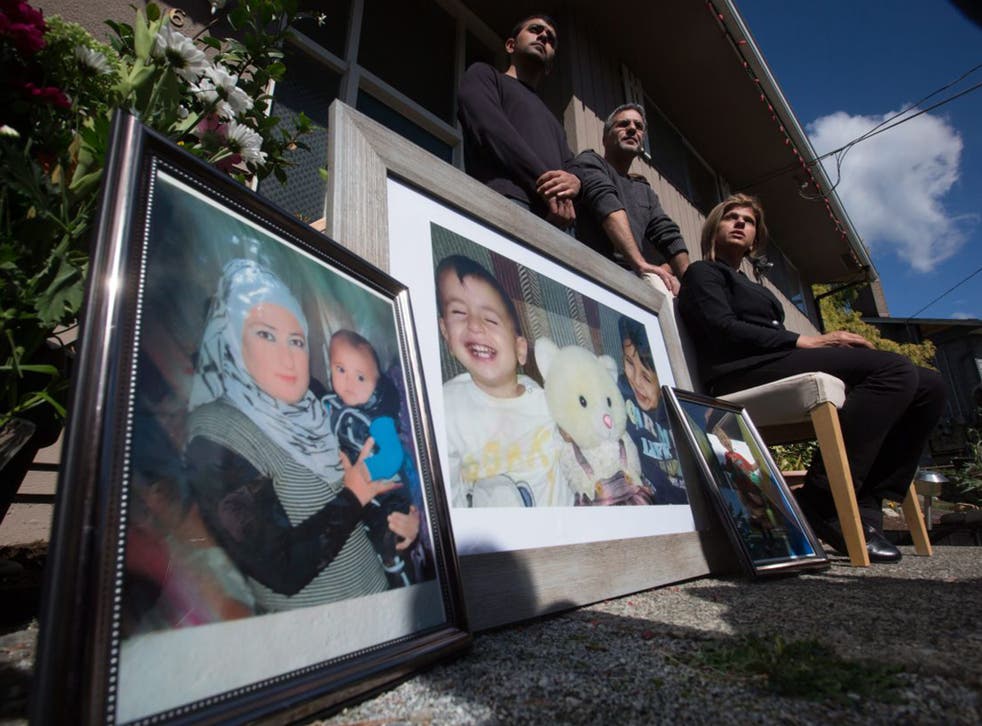 Whatever happened to Canada, the land of compassion, the land so decent it verged on plain boring, the land that selflessly led the world, providing troops for peacekeeping missions abroad and repeatedly flinging open its doors to desperate refugees fleeing less fortunate nations?
Maybe the boring monicker still holds. But in so far as we pay attention at all to the world's second-largest country, our views of it have gradually been recast. From the top spot, it has fallen to 65th place among nations contributing soldiers to peacekeeping. Once proud of its image as environmentally pristine, it is now aching to export its dirty tar-sands oil via pipelines through the US high plains.
What we think may not matter much to Canadians; what Americans think even less so. (Fondness for Americans is not generally a Canadian trait.) But a month out from a general election, there are signs that many voters are asking themselves some of the same questions. Have we – or has our conservative government under Prime Minister Stephen Harper, who is asking for a fourth term – been feckless about things that we, as Canadians, used to hold dear, those things that used to be sources of national pride?
This outbreak of self-interrogation has been spurred most urgently by Canada's stingy – so far, at least – response to the Syrian refugee crisis that has engulfed Europe. The North American continent is far away, so a degree of detachment may be understandable. On Thursday, the White House said that President Barack Obama had ordered that the US take in 10,000 displaced Syrians over the next year, a step forward but still a tepid response given the size of the US population.
Under Mr Harper, 2,500 Syrians have been allowed to resettle in Canada, even though he has pledged to welcome 20,000 Syrians, Iraqi and other nationals over four years if he is re-elected. This comports not at all with the old Canada we used to know, which opened it arms to tens of thousands when the Soviet Union crushed Hungary in 1956, rushing immigration officers to Vienna to process them. Canadians embraced no fewer than 50,000 refugees from Vietnam, the boat people, during that country's war.
This lost generosity might have passed most voters by but for Aylan al-Kurdi, the three-year-old Syrian who drowned earlier this month as his family tried to flee Turkey for Greece. Perhaps the images of his lifeless body on the beach would have awoken Canada's slumbering conscience. But it took on a special resonance when reports emerged that he had an aunt in Vancouver who had been trying to get papers for his extended family in Canada and had been rebuffed. Suddenly, Canada was complicit.
It is too soon to say if the furore those images unleashed will prove the turning point in the election. Poor economic growth numbers are also a factor. But as Mr Harper has come under attack for his stance from the leaders of the opposition New Democrat and Liberal parties, Tom Mulcair and Justin Trudeau, his popularity has started to droop. A Forum Research poll last week had Mr Mulcair's NDP on track to form a minority government after the elections, which are set for 19 October.
"It has been a kind of wake-up when Canada has recovered its historical memory of what kind of place it once was," suggests Michael Ignatieff. The leader of the Liberal Party from 2009 to 2011 who is now teaching at the Harvard Kennedy School in Boston, Mr Ignatieff is clear that this stance on the refugees is hurting Mr Harper. "There is simply no question," he said in an interview last week. "These people are desperate to get out of the modern, literal equivalent of hell and I think most Canadians get that."
Mr Harper may be about to bend, at least a little, possibly expediting processing for Syrian refugees or raising the intake ceiling. Or both. New plans were in the offing, he said on Thursday, without offering details. Thus far, though, he has stuck to a two-pronged refrain: first, Canada is bombing Isis and is thus doing something more important, addressing the Syrian crisis at its root.
"What's enough?" Mr Harper asked when pressed by the CBC network on why Canada wasn't taking in more refugees. "It's not just enough to turn around and say, 'Oh let's admit more refugees.' We can admit thousands, tens of thousands, hundreds of thousands more refugees and we are still going to see those kinds of images."
Second, Mr Harper says throwing the doors wide open would be too risky because who knows who might slip in. "I think some of Harper's dog whistle here has been to really play on Canadian's security concerns," Mr Ignatieff suggested, while conceding that there is some legitimacy to them. Last week, Canada observed the 14th anniversary of the 9/11 attacks along with Americans.
But much closer to home was last October's assault on Parliament Hill in Ottawa, which left one Canadian dead. The government said the perpetrator, Michael Zehaf-Bibeau, who also died, had been inspired by jihadist terror groups. It responded by passing controversial new laws to expand the surveillance powers of the Canadian intelligence services and allow for the stripping of Canadian citizenship from dual nationals tied to terror groups.
"There is simply no doubt that 9/11 and the terror attack in Canada last autumn has made Canadians warier. There is the issue of terrorism that wasn't there before," Mr Ignatieff concedes. "It's a different context." But it is his belief that Canada can pay attention to that reality and live up to its open-arms heritage, by investing in a system properly to screen refugees and letting in those that set off no alarms.
Which party wins next month may not matter nearly as much as how the debate ignited by a dead three-year-old is resolved. Canada has a chance to rediscover a bit of its old self.
Rupert Cornwell is away
Register for free to continue reading
Registration is a free and easy way to support our truly independent journalism
By registering, you will also enjoy limited access to Premium articles, exclusive newsletters, commenting, and virtual events with our leading journalists
Already have an account? sign in
Register for free to continue reading
Registration is a free and easy way to support our truly independent journalism
By registering, you will also enjoy limited access to Premium articles, exclusive newsletters, commenting, and virtual events with our leading journalists
Already have an account? sign in
Join our new commenting forum
Join thought-provoking conversations, follow other Independent readers and see their replies