Restoring Beirut's Pink House is a cheering idea amid destruction
As a strange development in an age when developers have probably destroyed as many old Beirut houses as the civil war did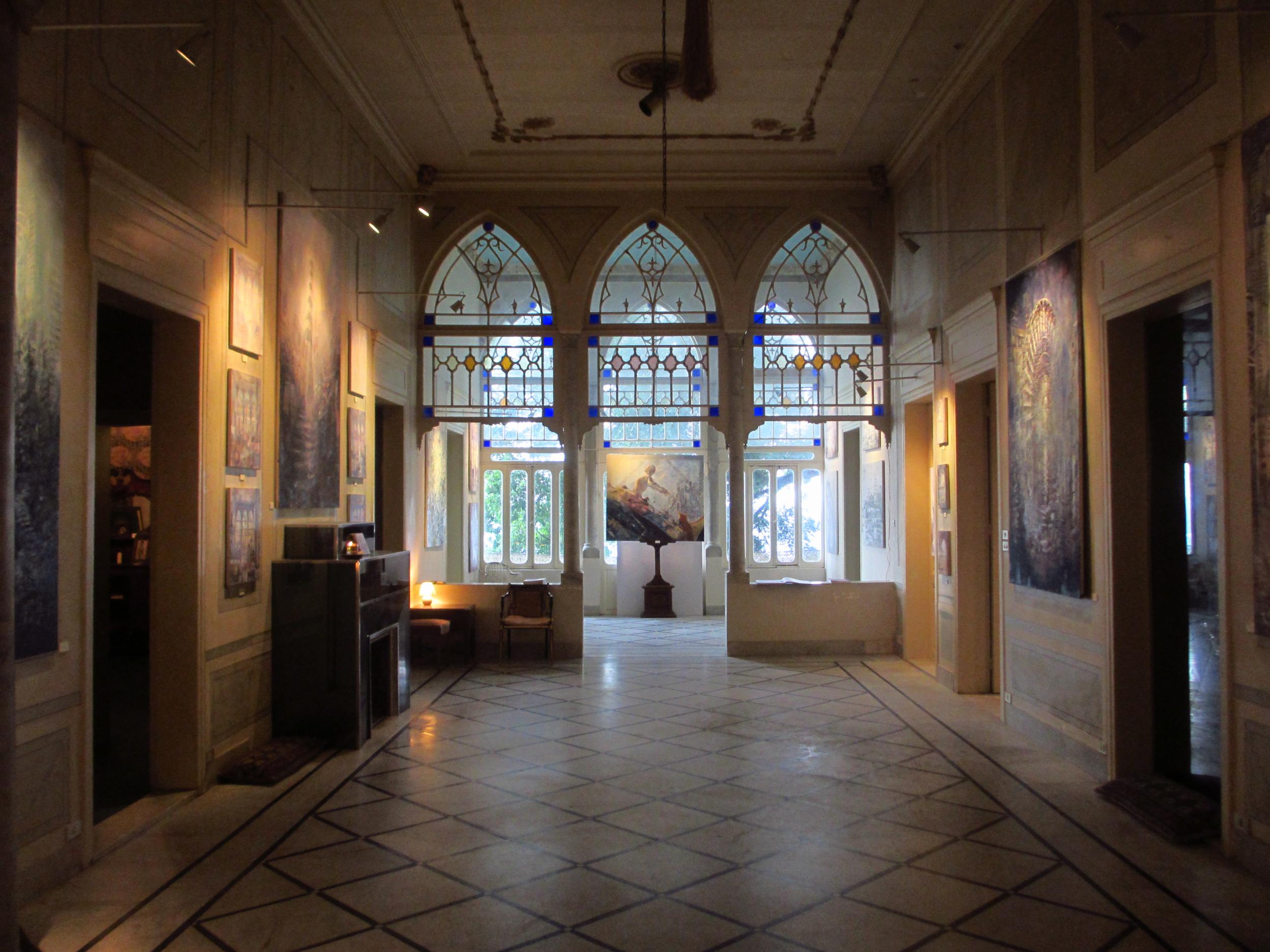 Just when you thought the heritage of the Middle East was being destroyed, here's a tale to prove the opposite. Maybe. In Syria, our world's history is being blasted apart. This is no "light at the end of the tunnel" story, maybe just the spark of a match on a blackened wall at night – a Lebanese wall, just 100 miles from Damascus.
The old and semi-derelict Pink House on the seafront is Beirut's best-known building, its Ottoman arcades and balconies symbolising the great Levantine city once regarded as the jewel in the crown of the Sultan's Empire. It survived sea battles in the First World War, Vichy troops and Allied invasion in the Second World War and, though damaged by Israeli shells, survived Lebanon's 1975-90 civil war.
So imagine my reporter's suspicion when taking a Lebanese property billionaire and philanthropist to lunch – yes, I took him to lunch, not the other way round – he leaned across the table and said: "I am telling everyone, I am going to keep and restore the Pink House for my children and the children of their children – it is for the future of Lebanon." Strange words from Hisham Jaroudi in an age when developers have probably destroyed as many old Beirut houses as the civil war did.
Indeed, there are Beirutis who will tell you that 74-year-old Jaroudi has in the past destroyed some of them himself. A monstrous tower block behind the Pink House was constructed by my lunch guest – though he's since been endowing educational and medical institutes in the city. I suspect that a collapse and a dramatic operation to save his life changed his perspective of his native city. "They took me straight to the hospital and operated – all the surgeons were waiting," he says. "That saved my life!" And he points to the large surgical scar on the top of his head. Then he sips at a chilled beer and I have the feeling that Hisham Jaroudi will live many more years. He must – because he's got to save the Pink House. A prodigal son?
Much of Jaroudi's enthusiasm was fired by my friend, the British artist Tom Young, who has lived in Lebanon, painting its buildings, old and new – and, to my delight, its ancient railway track – since coming here in 2006, marrying a Lebanese artist and even living in the Pink House before staging an art exhibition in its great rooms. He took me on a ghostly tour of a building which I had looked at a thousand times over the past 40 years but never dared to enter. It stands just below the disused French lighthouse on the most beautiful promontory in Beirut, a place of stone floors and echoing rooms, some walls still covered in the green cloth fashionable in late Ottoman society. Young wants it to become a cultural centre, a place where all of Beirut's people can meet on common ground – something that a church or mosque can't provide in a sectarian society.
"When we opened the exhibition, thousands of Lebanese came who had never been inside it," Young says. "Some were crying because they were so moved. You realised how much this building was loved. We brought schoolchildren to paint and Syrian refugee orphans, and it was amazing – to see these well-off business men and women talking to little children from Syria who would otherwise be selling flowers on the street." Young, who will show some of his paintings of the building at Gallery 54 in London this week, has acquired a dark affection for the place. "At a performance during the exhibition, several people saw shadows on the walls which could not have been made by the people themselves."
Given its history, there may well be some ghosts around. There's a basement of vaulted stone arches – the remains of an original hunting lodge upon which Mohamed Ardati built his home in 1882; he and his relatives and the wealthy Daouk family lived in the house for decades, entertaining visitors who included a British dentist, an American consul and a youthful Charles de Gaulle. In the 1960s, the American abstract painter John Ferren lived upstairs. Young has a copy of a letter written by a professor in 1918 in which he describes standing on the Pink House balcony to watch the Ottoman navy as it shelled food supply ships approaching Beirut.
One of Ardati's three sons, Adil, leased two floors of the house to the el-Khazen family – one of whom was Sami el-Khazen, a prominent Lebanese artist and interior designer. His mother Margot stayed on throughout the civil war when Israeli shells broke several balconies. Sami died in Paris and his sister Fayza looked after Margot. The Ardati family, who had no children, sold the house to Hisham Jaroudi. Margot died in the Pink House in 2011, and Fayza left last year – as Tom was praying that he could persuade Jaroudi to save the building.
But prayers have not saved most of the elegant Beirut which flourished under Ottoman and French rule. An entire palace simply decayed away in the face of developers, and the seafront of which the Pink House is such an ornament is now lined with high-rise apartments, which make Beirut look more like Jeddah than the capital of Lebanon. The remains of the graceful 19th-century Ottoman port buildings were simply pulled down. Much of the re-built city centre was bought up by wealthy but absentee owners and lies at night like an abandoned film set. So it's up to Hisham Jaroudi to prove that the Middle East can preserve the past rather than destroy it.
To learn more about the Pink House project, click here
Join our commenting forum
Join thought-provoking conversations, follow other Independent readers and see their replies