Ricky Gervais does not get enough credit for being offensive
My favourite joke of the night was the one about child molestation. No… come back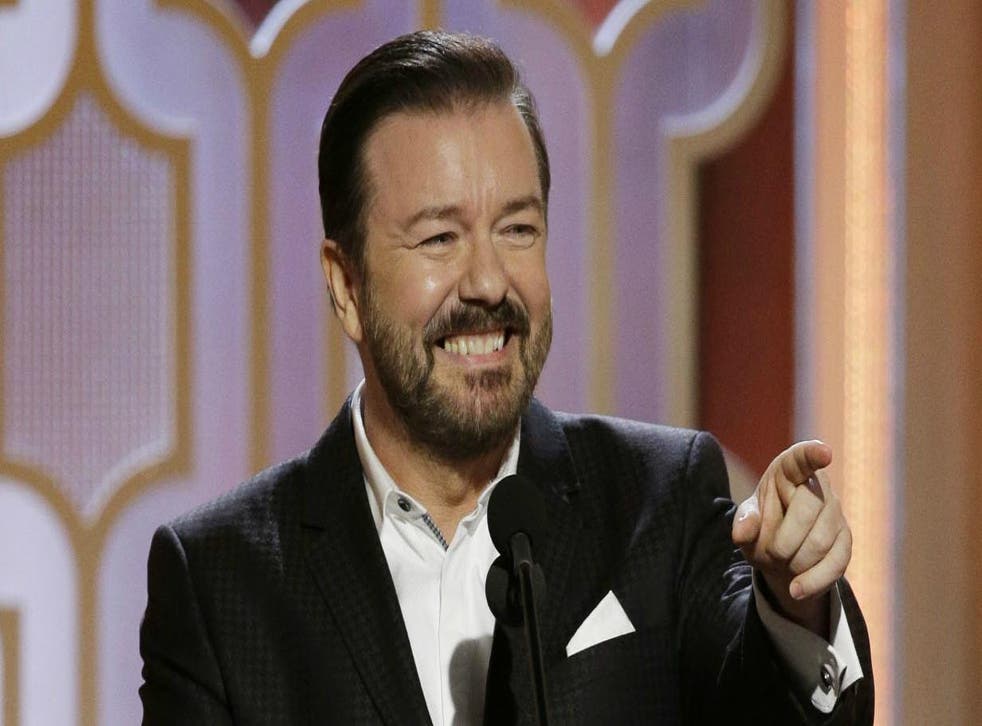 Yesterday – it transpired – was a great day to bury a scandal. If comedian Ricky Gervais could have possibly foreseen the passing of earthly musical legend David Bowie when penning his Golden Globes opening monologue, perhaps he'd have sailed it even further into offensive waters. As it stood, due to the hurricane of Bowie grief, hardly anyone noticed, despite it including quips on Caitlyn Jenner, fatal motor accidents, Ben Affleck's adultery, whiny feminist multimillionaires such as Jennifer Lawrence, Mel Gibson's anti-Semitism and Schindler's List.
Gervais – and we should applaud him for this – is one of a rapidly diminishing breed of post-Twitter entertainers who will make these types of gags openly trusting his audience is advanced enough to cope. I'm not sure he gets enough credit for that. Ashamedly, I've had my moments of "outrage" at Gervais over the years – in the early years of social media it came so easily – but in recent times I've felt the need to rethink. I like Gervais. I like that he sticks up adamantly for dogs and cats. He wrote The Office, for God's sake. There are parts of Extras that make me cry. His podcasts rattle around my house continually due to my other half's passion for listening to them when washing up. Gervais's silliness, bullishness and utterly non-British confidence is infectious. "Better get dressed and offend some humourless cunts I suppose," Gervais tweeted before donning his suit for the ceremony. I was one of these humourless cunts once, I thought.
Once there, Gervais kept up the volley of glorious awfulness, including a section insinuating that the Golden Globes are little more than the predictable trickle-down of film company bribery and that, furthermore, he uses one of his three golden gongs – and I choose my words delicately here – to shove into an intimate orifice for recreational purposes.
So, yes, all very offensive and career-ending; however, over on the internet barely a howl was heard – nor a pearl clutched or a scalp required – because Bowie had shuffled dramatically into the afterlife. Possibly the only thing the internet relishes more than being offended – wringing the jollity out of one-liners, demanding comedians apologise – is being bereaved. By 11am yesterday, all Twitter and Facebook's energies were diverted into ornate and often self-serving tributes over who loved Bowie the most.
I felt for Gervais by this point. It was hardly worth him bothering to risk his neck, by daring to make a joke about Caitlyn Jenner's past 12 months. Yes, an actual Caitlyn Jenner gag! Hell, he's brave. "I've changed, said Gervais. "Well, not as much as Bruce Jenner. Obviously, now Caitlyn Jenner. What a year she's had. She became a role model for trans people everywhere, showing great bravery in breaking down barriers and destroying stereotypes. She didn't do a lot for women drivers, but you can't do everything."
Now, that's a brilliant quip, in my opinion. And that's speaking not only as a woman, but as one who loves Jenner, loves equality and would love to take to the open road but has failed her test on several occasions for being a woman who drives everywhere at 21mph while looking in the rear-view mirror to examine her eyebrows. I wish this were a one-liner, but it isn't. And I know I cannot claim mortal offence at Gervais as long as women like me exist. And of course not all women drive like me. That's the joke bit, by the way. It's a playful look at clichés about women.
Ricky Gervais' most controversial Golden Globes moments

Show all 9
Of course, the potentially career-destroying #jokeskill part of this Gervais joke was the bit where he acknowledges that Caitlyn ever had another name: Bruce. To the fleeting, unregimented eye this might seem fine. This, after all, was a show-business ceremony and for approximately 155 episodes of the hit global entertainment show Keeping Up with the Kardashians millions of viewers, just like me, loved her as Bruce. A mere two years ago Caitlyn was the patriarchal figure and stepdad to the unruly, pouting Kardashian sorority. But, heartless, offensive idiots, it is not fine for Gervais to refer to Bruce, ever, ever, under any circumstances.
It is now, from my experience, impossible to say anything publicly about Jenner – other than the sort of glowing, motivational yada one might notice on a stupid person's fridge magnet – without inviting a sonic blowout of dramatic internet yowling.
Rather wonderfully, the rules of what can be said non-offensively about Caitlyn Jenner are so perilously akin to a carpet of eggshells that even Caitlyn Jenner can no longer speak about herself publicly without being attacked by screaming hordes for offending people like Caitlyn Jenner. She has recently cancelled her "Unique Lives and Experiences" speaking tour, which is rather sad, but will perhaps leave her down time to lie on the sofa and watch a box set of The Office.
My favourite joke of the night was the one about child molestation. No, come back, it's the way he tells it: "The Catholic Church are furious about the film [Spotlight], as it exposes the fact that 5 per cent of all their priests have repeatedly molested children and been allowed to continue to work without punishment," Gervais said. "Roman Polanski called it the best date movie ever." As the camera panned the audience, the great and good of showbiz pulled their best wide-eyed, non-committal faces. They wanted to laugh, but the industry is small and skins are thin and memories are long and they also want to work again. Thank heavens, Gervais is still reckless. None of us, not even celebrities, has the right to sail through life unoffended.
Register for free to continue reading
Registration is a free and easy way to support our truly independent journalism
By registering, you will also enjoy limited access to Premium articles, exclusive newsletters, commenting, and virtual events with our leading journalists
Already have an account? sign in
Join our new commenting forum
Join thought-provoking conversations, follow other Independent readers and see their replies