If Ridley Road Market closes down, there will be no going back for east London
As the monuments of east London's multicultural history have been slowly picked off by developers, there isn't much left of its past – including its locals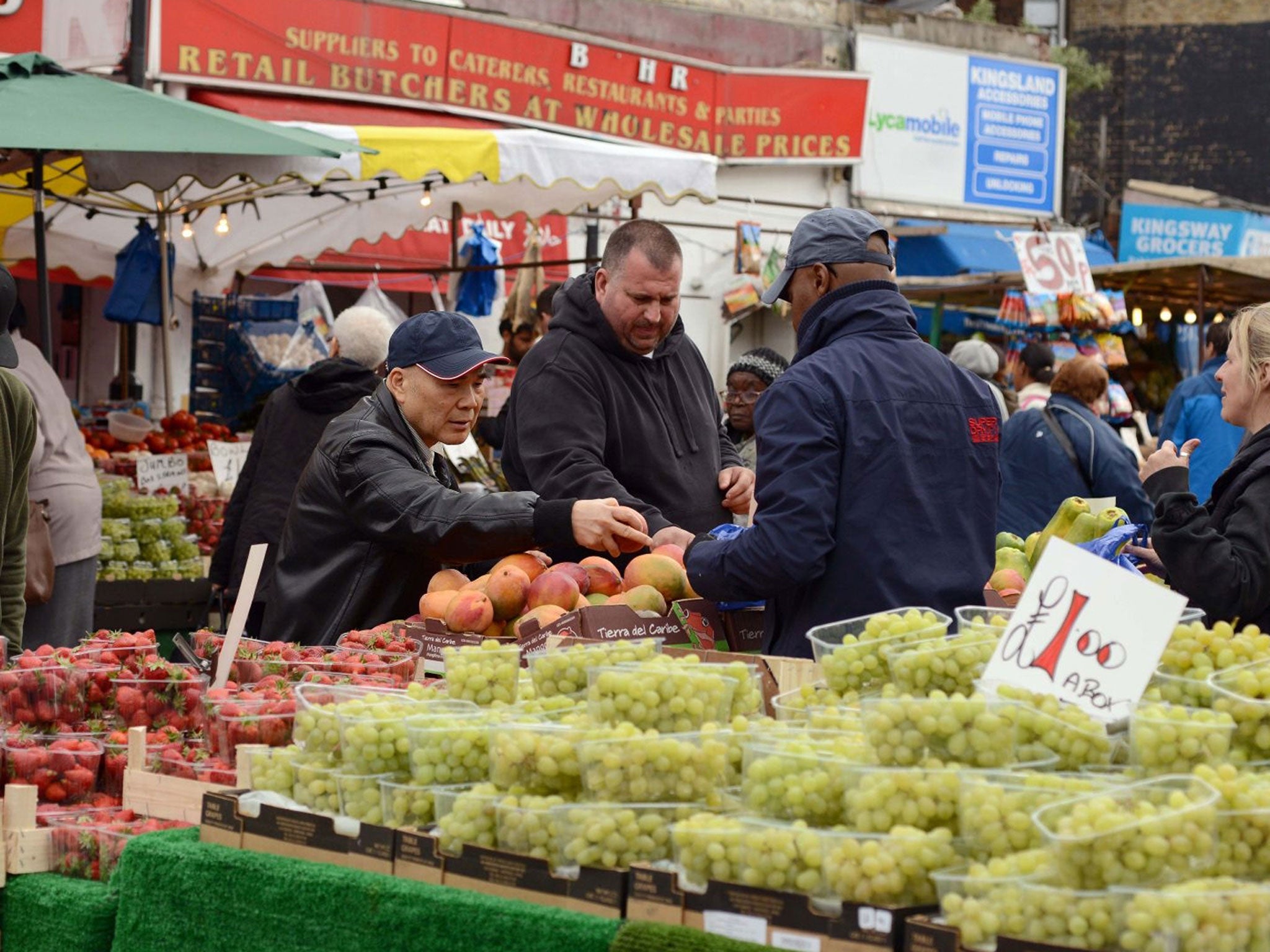 When my parents moved from Nigeria to London in the Eighties they probably didn't envisage the "ultra-trendy" upbringing I would have as our Shoreditch home was engulfed by first-wave hipsters.
What I would experience as "cool" would actually turn out to be the plight of the gentrification, which would see house prices in Hoxton reach the millions by the time I neared the age the new arrivals were when they bought their first home.
For centuries, east London has attracted immigrants from across the world, making it the cultural melting pot it is today – the place we all know and love. In the late-19th century the number of Jewish emigres was so significant that 150 synagogues were built in Tower Hamlets. But the same people who moved here and made the place attractive to the young professionals who have taken a liking to it have slowly been pushed and squeezed out. Today, only four synagogues can be found.
This form of ostracisation often comes in the form of regeneration projects, where affordable homes and local businesses cherished by the community are substituted for luxury flats. The flats are often praised for creating "mixed-income communities", but when house prices in Hackney have increased by 568 per cent over the last 20 years, the highest rise in the UK, we should call it "replacing" communities, not mixing.
What will east London look like after the athletes leave?
Show all 3
But the gentrification of the east London may reach its pinnacle very soon. Since the 1880s, Ridley Road Market has been a significant part of the Dalston community. The 150-stall market has been taken over by the Jewish, Caribbean and Turkish communities at various points in its existence. However, this cultural landmark has been fighting for its life over the past few months as stall holders struggle to fend off Larochette Real Estate Inc's redevelopment plans. The developers bought Ridley Road Shopping Village, the indoor part of the market, in 2016.
On 11 October, stall holders were notified that Ridley Road Shopping Village, occupied by 20 stall owners and 60 affordable studio spaces for artists, would be closed down by the end of the month. Its closure only came to a halt after a petition which has received over 9,000 signatures garnered stall holders – the ones who didn't up and leave after they were slapped with two-weeks' notice – some time. But, petitions and protests can only go so far. This is a fight that needs to be put to rest.
Funding from Sadiq Khan in December has seen the street receive a £1.5m grant, which may include free wifi, card machines and weather-resilient stalls; but there's no point fixing the smaller issues when the larger problem is whether the market will still be there in the first place.
This is not just about preserving the area as a safe space for the mixed community that has resided there for so long, but also about protecting their livelihood and quality of life. There is no point being in a community that you cannot afford to be in.
Ridley Road Market has long been one of the most affordable markets in Hackney. While other markets pride themselves on specialist menus and one-off designers, Ridley Road has always had accessibility at its heart.
Support free-thinking journalism and attend Independent events
But the rapid gentrification of the nearby area has already seen the market suffer significantly.
Mohammed Barry, who has been a trader at the market since 2006, told Al Jazeera that the development of luxury high-rise buildings on Dalston Lane saw him lose 50 per cent of his customers. "People that normally used to buy from me, they are no longer in this area," he said. "People that live in those luxury places, they don't need me. They don't even know that I'm here."
Dalston Square was also a significantly disdained project, which saw the The Four Aces Club – one of the first venues to play black music in Britain – cease to exist by 1997. In 2007, it was demolished to make room for three residential tower blocks as part of the redevelopments of east London leading up to 2012 Olympics. In this part of Dalston, trendy cafes and lavish shops can now be found.
As the monuments of east London's multicultural history have been slowly picked off by developers, there isn't much left of its past – including its locals. If Ridley Road Market dissipates into the abyss much like its counterparts, this will be the end of the east London we once knew and, for some, could afford.
Join our commenting forum
Join thought-provoking conversations, follow other Independent readers and see their replies