Rio 2016: The one team everyone should be supporting
There's a group of newcomers that ought to capture your attention. They won't be wearing any recognisable nation's banner or singing their own anthems. They are all refugees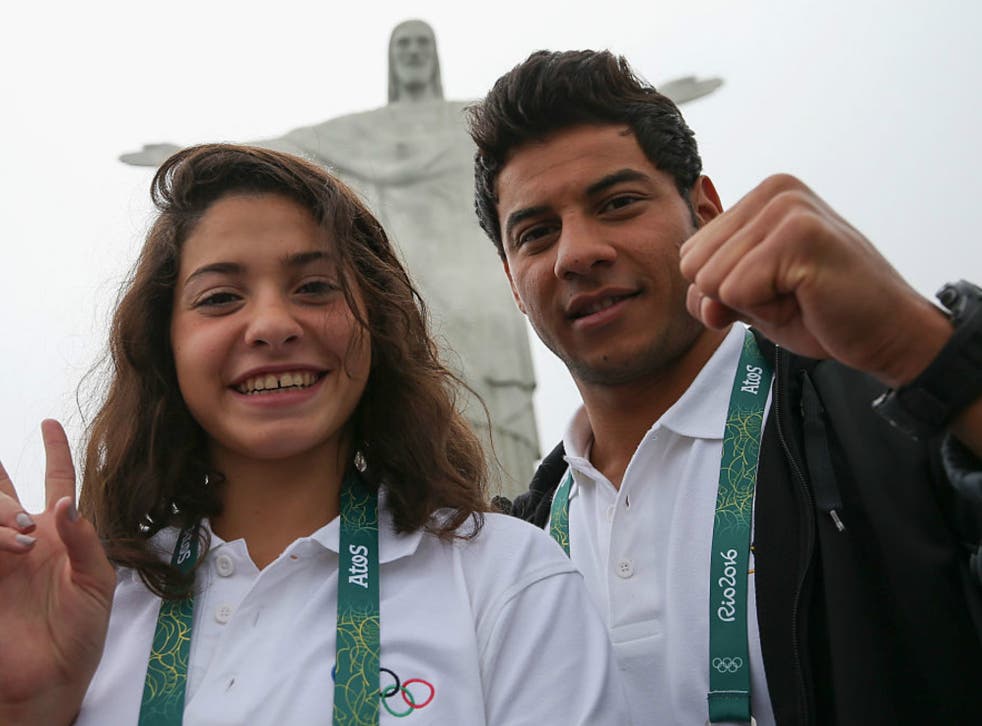 As the countdown to the Rio Olympics ticks closer to zero, the buzz around the Games has reached a fever pitch. Fastest sprinter alive Usain Bolt is back again - perhaps for the last time. Michael Phelps is looking to add to his 22-medal collection. Serena Williams doesn't have Maria Sharapova standing in her way. And, of course, in the midst of all this, Russia's under fire for doping, the Olympic sailing ramp collapsed, rooms in the Olympic village have leaks and faulty wiring, and oh – the waterways in Rio hold viral levels 1.7m times what is considered "alarming" in the United States and Europe.
But all's well that ends well, right?
With the onslaught of pre-Games chaos, it can be easy to forget what we're all here for, the reason we'll all be glued to the telly when the buzzer sounds. We're here to see champions. We're here to see heroes. And while it's simple enough to scan our own country's team for a glittering warrior, there's a group of newcomers that ought to capture your attention. They won't be wearing any recognisable nation's banner or singing their own anthems. They'll be carrying the Olympic flag itself, representing "the biggest flag - which is all countries."
They are all refugees - two swimmers from Syria, a marathoner from Ethiopia, five middle-distance runners from South Sudan, and two judokas from the Democratic Republic of the Congo.
Jamaica's first-ever Olympic diver heads to Rio
A year ago, in the summer of 2015, International Olympic Committee President Thomas Bach was watching reports on the refugee crisis pour in. He was shocked by the numbers. And, really, the numbers should horrify all of us: over 20 million refugees had been forced to leave countries such as Syria, Afghanistan and Somalia, while the number of those forcibly displaced from their homes worldwide came to over 65 million. More recent reports don't give us any room for optimism: at least 3,120 people have drowned or suffocated trying to cross the Mediterranean Sea in "overcrowded, unsafe smugglers' boats" this year already, according to the International Organisation for Migration. That makes 2016 set to be the deadliest year on record for those braving the Med.
And the worldwide response? Static. Crickets. White noise. The six wealthiest countries in the world (the US, China, Japan, Germany, France and the UK) between them host only 9 per cent of the world's refugees. These nations might account for the majority of the global economy, but they've somehow only rescued 9 per cent of the world's refugees. The rest have died, been forced back home, or been taken in by poorer countries.
Which brings us to the summer of 2016: Rio de Janeiro, Brazil. The IOC supported and assembled a team of refugees, auditioning 43 refugee athletes from around the globe before selecting the final ten. This is the first time in the history of the Games that an entire team has been composed of refugees – without a motherland, without a home, but with a purpose. They are now official Olympians. They live in the Olympic village. They will run, swim and grapple with gold medallists. They might even become medallists themselves.
But the road to Rio wasn't paved with gold for any of them. In a world where so many refugees are treated as less than human, called "terrorists" and, in some particularly ignorant columns, "cockroaches", getting to an Olympic challenge is no easy feat. And that's assuming you survive escaping your own country in the first place.
Take swimmer Rami Anis, for instance. He was raised in Aleppo, Syria, where he trained as a swimmer until endless kidnapping and violence forced his family to send him to Istanbul, where he hoped to stay for a few months or so. Weeks became months; months became years, as they so often do in the paperwork of immigration. So Anis did what, to any of us, sounds insane: he boarded an inflatable dinghy and floated to the Greek island of Samos. He was eventually welcomed into Belgium, where he's trained for the Olympics ever since.
Then there's another Syrian: Yusra Mardini, a swimmer as well. She fled Damascus with her sister, and when their vessel off the Turkish coast began to fill with water, they got out of the boat - and literally pushed it towards Greece.
The 8 Team GB at Rio 2016 prints

Show all 8
Or look at judoka Popole Misenga. He was only nine years old when he ran from the fighting in Kisangani, Democratic Republic of Congo. In a recent interview, he burst into tears, saying, "I have two brothers I haven't seen for years. I don't remember their faces… I'm here in Brazil participating so that one day I can bring them to live with me here in Brazil."
And Anjelina Nadai Lohalith has not seen or spoken to her parents since she was six. Yes, you read that right: six. She says helping her parents (whom she believes are still alive) is her main motivation for competing in races. She would use any prize money to "build her father a better house."
These aren't just refugees, and they aren't just Olympians. They're people.
As Kim Clausen, a field coordinator for MSF Sea's search and rescue operations, told The Independent: "It seems like a lot of people in the EU think everyone coming over is a terrorist and that we should leave them to die. I wish I could take every one of these politicians out on a trip to see these people and hear their stories about how they have been raped and tortured and kept as slaves, and how they are fleeing everything around them. Building walls so you don't see the suffering doesn't mean it isn't happening."
By this point in time, the argument is tired: Opening border control will subject the UK (or the US or France or wherever) to uncontrolled violence. Terrorism will abound. Our countries will no longer be safe. This kind of fear foreshadowed (and indeed facilitated) Brexit, and while there are certainly important arguments as to how to safely field immigrants across borders, the all-doors-closed position is overly simplistic and inhumane. There is a way to rescue refugees without the UK coming apart at the seams. But it takes interest, it takes investment, it takes politicians finally paying attention. It takes people caring.
So when we all finally sit down in our pubs, cafes and living rooms to cheer for our favourite sports (personally, I love a good 100m butterfly), it might be smart to look out for a few unfamiliar faces. They're from Syria, Ethiopia, South Sudan and the Congo, and they've gone through a hell of a lot to get here – more than I can even imagine.
And if you're still against welcoming refugees, well, they might just change your mind.
The full list of athletes below:
Rami Anis (M): Country of origin – Syria; host NOC – Belgium; sport – swimming
Yiech Pur Biel (M): Country of origin – South Sudan; host NOC – Kenya; sport – athletics, 800m
James Nyang Chiengjiek (M): Country of origin – South Sudan; host NOC – Kenya; sport – athletics, 400m
Yonas Kinde (M): Country of origin – Ethiopia; host NOC – Luxembourg; sport – athletics, marathon
Anjelina Nada Lohalith (F): Country of origin – South Sudan; host NOC – Kenya; sport – athletics, 1500m
Rose Nathike Lokonyen (F): Country of origin – South Sudan; host NOC – Kenya; sport – athletics, 800m
Paulo Amotun Lokoro (M): Country of origin – South Sudan; host NOC – Kenya; sport – athletics, 1500m
Yolande Bukasa Mabika (F): Country of origin – Democratic Republic of the Congo; host NOC – Brazil; sport – judo, -70kg
Yusra Mardini (F): Country of origin – Syria; host NOC – Germany; sport – swimming
Popole Misenga (M): Country of origin – Democratic Republic of the Congo; host NOC – Brazil; sport – judo, -90kg
Join our new commenting forum
Join thought-provoking conversations, follow other Independent readers and see their replies