There is enough evidence to ban Russia from Rio 2016, and the Olympics' credibility rests on it
The cold truth is that no small number of the Olympic sports need Russian money to prop them up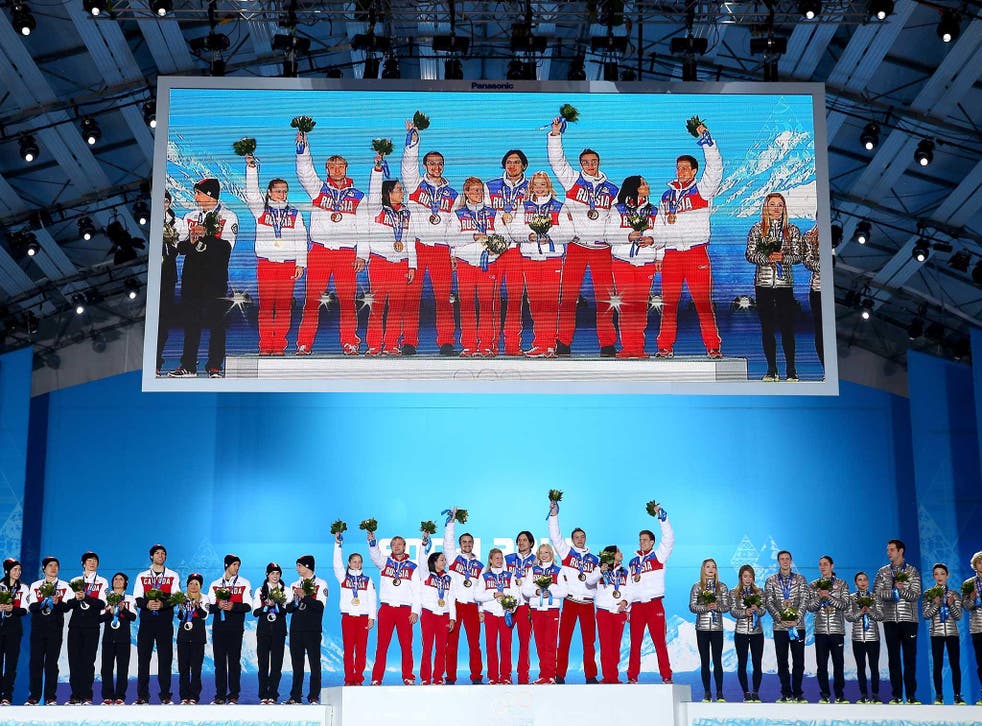 Russia is still marching around in a land of paranoia and denials, incapable of seeing what the whole world sees: its institutionalised cheating is so embedded in the country's sporting culture that there is no likelihood of change for a generation, maybe many generations.
The evidence of a state-sponsored doping regime has been uncovered by so many individuals, with such minimal difficulty, that you have to say Russia's criminality is laughably transparent. The eviscerating analysis of Professor Richard McLaren, who on Monday reported on a concerted doping cover-up in the "majority of winter and summer sports", came a month after the International Association of Athletics Federations found that Russia's outlook on doping had "not changed materially at all". This, seven months after a 322-page World Anti-Doping Agency (Wada) report found "a deeply rooted culture of cheating".
And so it was that, after the Court of Arbitration for Sport (CAS) on Thursday rejected the appeal of 68 Russian athletes seeking to overturn a Rio Olympics ban imposed by the IAAF, the Russian sports minister, Vitaly Mutko, proclaimed in another fit of pique that the "civil courts" would see Russia right on this.
"In my view, it's a subjective decision, somewhat political and one with no legal basis," Mutko was quoted as telling the Tass news agency about the CAS decision. That would be the same Mutko who was named 21 times in the McLaren report and, as one of the characters at the core of the whole filthy business, has subsequently been banned from the Rio Olympics by the International Olympic Committee (IOC).
Gemili reacts to Russian ban
We now wait to discover whether the IOC will ban the Russian delegation from its Rio Games, too, or leave individual sporting federations to make unilateral decisions.
The case for a blanket ban was already overwhelming, given what we know about Russia's security services conspiring to stave off the lack of medals which so embarrassed Vladimir Putin after the disastrous 2010 Winter Olympics in Vancouver. But after CAS's ruling, any other course of action would now scar the Rio Games indelibly.
The IOC says it will rule on Sunday, though is there really anything for the executive committee's 15 members still to deliberate on after their teleconference meeting on Tuesday?
Russia and England fans clash at Euro 2016 – in pictures

Show all 15
The cold truth is that no small number of the Olympic sports badly need Russian money to prop them up. Pressure is malignly applied. That is why the individual federations cannot be relied upon to make the right decision and expunge Russian delegations, pending evidence that change might be afoot in the Russian sporting psyche.
The Switzerland-based swimming and diving body Federation Internationale de Natation is one federation whose intentions are very unclear. It did not reply on Thursday to requests for an assurance that it would inform the Russian delegation that they were not welcome in Brazil.
The civilised world is bending over backwards to help the Russians help themselves. Exclusion from Rio was by no means cast in stone when last November's Wada report, by Dick Pound, laid bare the obscenely organised and calculated Russian doping regime. Even this week, the IOC asked the member of its executive committee perhaps best placed to offer expertise on what McLaren had uncovered – the current Wada president Craig Reedie – to step away when it discussed the findings, because Wada had called for a Russian ban from Rio and Reedie was thus deemed less than neutral.
Russia does not comprehend such rational, intellectual discussion. Dazzled by the prospect of medals, with all the attendant self-reflected glory, and fearful of the consequences of challenging Putin's status quo, it just sinks deeper into the pitiful swamp of victimhood.
To have written about the evidence of doping in football which McLaren uncovered (as I did on Wednesday) was to invite more of the usual abuse. "Kill him," said one respondent. Not one Russian response on Twitter was positive.
The same foul smell is everywhere. No individual has been so impugned by the McLaren report as sports minister Mutko, yet European football's governing body Uefa continues to parade his qualifications and virtues on their website. Not one Uefa figure has suggested that there might be inquiries into the 11 positive drug tests in Russian club football which McLaren reported on, and whether teams competing in next season's Champions League or Europa League will be asked to explain themselves.
In a telephone interview with Associated Press and two other international news agencies last week, IOC president Thomas Bach was asked whether the organisation would accept the CAS ruling if it upheld the IAAF ban. Bach replied: "Yes." The credibility of Rio will be shot to pieces is he is not as good as his word.
Register for free to continue reading
Registration is a free and easy way to support our truly independent journalism
By registering, you will also enjoy limited access to Premium articles, exclusive newsletters, commenting, and virtual events with our leading journalists
Already have an account? sign in
Register for free to continue reading
Registration is a free and easy way to support our truly independent journalism
By registering, you will also enjoy limited access to Premium articles, exclusive newsletters, commenting, and virtual events with our leading journalists
Already have an account? sign in
Join our new commenting forum
Join thought-provoking conversations, follow other Independent readers and see their replies