Rise of AfD is about more than the refugee crisis, but Angela Merkel is no more secure for that
The attributes for which the German Chancellor has long been praised now appear to be at the root of her difficulties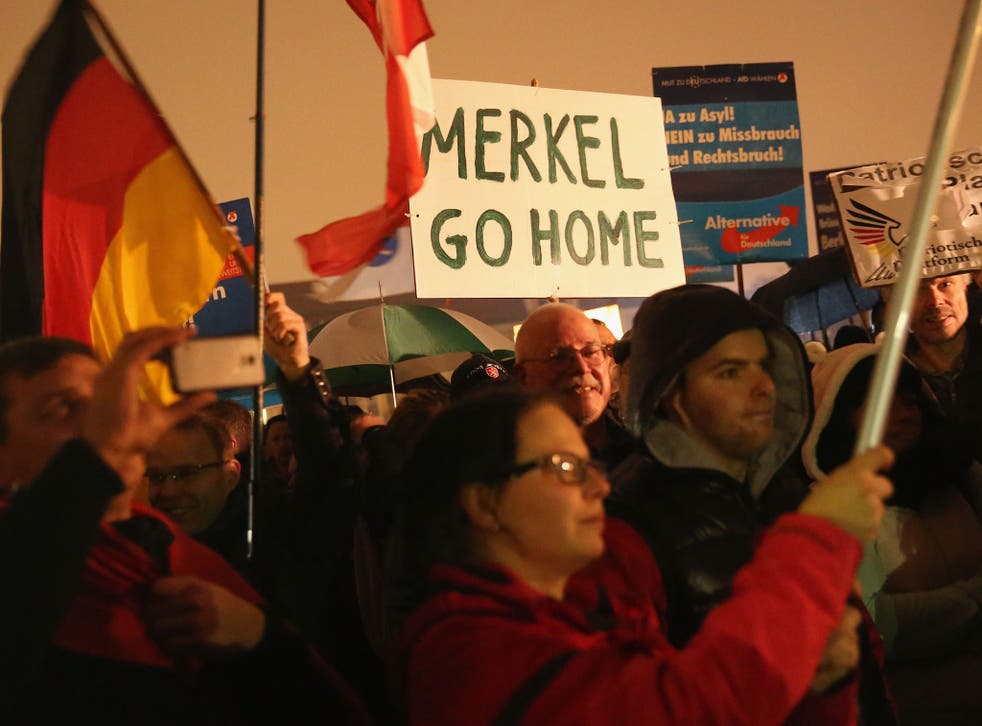 There is little schadenfreude to be savoured from German Chancellor Angela Merkel's humbling in the country's local elections. The remarkable gains of the anti-immigration party Alternative für Deutschland in all three electoral states points to a popular desire to close Ms Merkel's perceived "open door" to refugees, but also to the fact that Germany now appears little more resistant to the lure of nationalism than its European neighbours.
Ms Merkel's centre-right Christian Democratic Union party had long been braced for a shock. The AfD, formed three years ago with the initial objective of opposing Germany's European Union membership, has in the past six months built up a populist momentum comparable only to that of the Donald Trump campaign.
As anticipated, AfD made decisive gains in the poor eastern state of Saxony-Anhalt – coming second in the vote – but its performance in double-figure percentages in both Rhineland-Palatinate and Baden-Württemberg are what mark the greatest cause for concern for Germany's fragile grand coalition. AfD's charismatic co-leader Frauke Petry, every inch Ms Merkel's far-right equivalent, heralded "a good day for democracy in Germany": a decidedly mature tone for Ms Petry, given her assertion in February that German police should have the right to shoot at migrants at the border "if necessary".
Ms Petry has previously run her campaign on an anti-Merkel, anti-immigration ticket; it remains to be seen whether she can build support for her party away from the single issue of sealing Germany's borders. However, that a party explicitly aiming to make Germany "a Fatherland once again" now holds parliamentary seats in eight of the country's 16 federal states should cause concern to liberals right across Europe.
There are bigger losers in this battle than Ms Merkel and the CDU. The Social Democrats look increasingly like an electoral irrelevance. With its diluted left-of-centre position, the party now appears to act as little more than a coalition crutch to the Chancellor. Most embarrassing of all for the SPD was the news that it had plummeted to 12.7 per cent in Baden Württemberg (down from 23.1 per cent in 2011), meaning it no longer has eligibility to govern as a junior partner for the state, and casting doubt on the likely performance of the party in the federal elections next year.
In effect, the grand coalition formed by the CDU and SPD in 2013 has been to the detriment of both parties. As they move to the middle, with Ms Merkel's pro-immigration stance receiving equal coalition support, part of Germany's conservative voter base has inevitably decamped further to the right. Meanwhile, the triumph of Germany's nascent Greens in Baden Württemberg suggests both main parties are also in danger of losing votes to nimble new movers on the left.
What was most striking about AfD's runaway campaign, however, was its capacity to bring non-voters to the ballots. A massive 40 per cent of AfD's vote in Saxony-Anhalt came from previous non-voters, with 56 per cent of voters for the far-right party claiming they were motivated by the refugee crisis. This is a feat which, if repeated, could spell a seismic shift in the make-up of the Bundestag come autumn 2017.
The potential loss of the German Chancellor as a world leader, the politician who has thrown herself into the complicated mess of the Syrian refugee crisis and provided a bridge between Vladimir Putin and the West, is difficult to overstate. But the attributes for which she has long been praised – her implacability, determination and grit – now appear to be at the root of her difficulties. Ms Merkel's principles on immigration are noble. But she must not allow a well-founded position to become a point of perceived intransigence.
Join our new commenting forum
Join thought-provoking conversations, follow other Independent readers and see their replies