My conversation with the son of Soghomon Tehlirian, the man who assassinated the organiser of the Armenian genocide
'He was not what an assassin should be. He first told me the story of how he killed Mehmet Talaat Pasha when I was 10'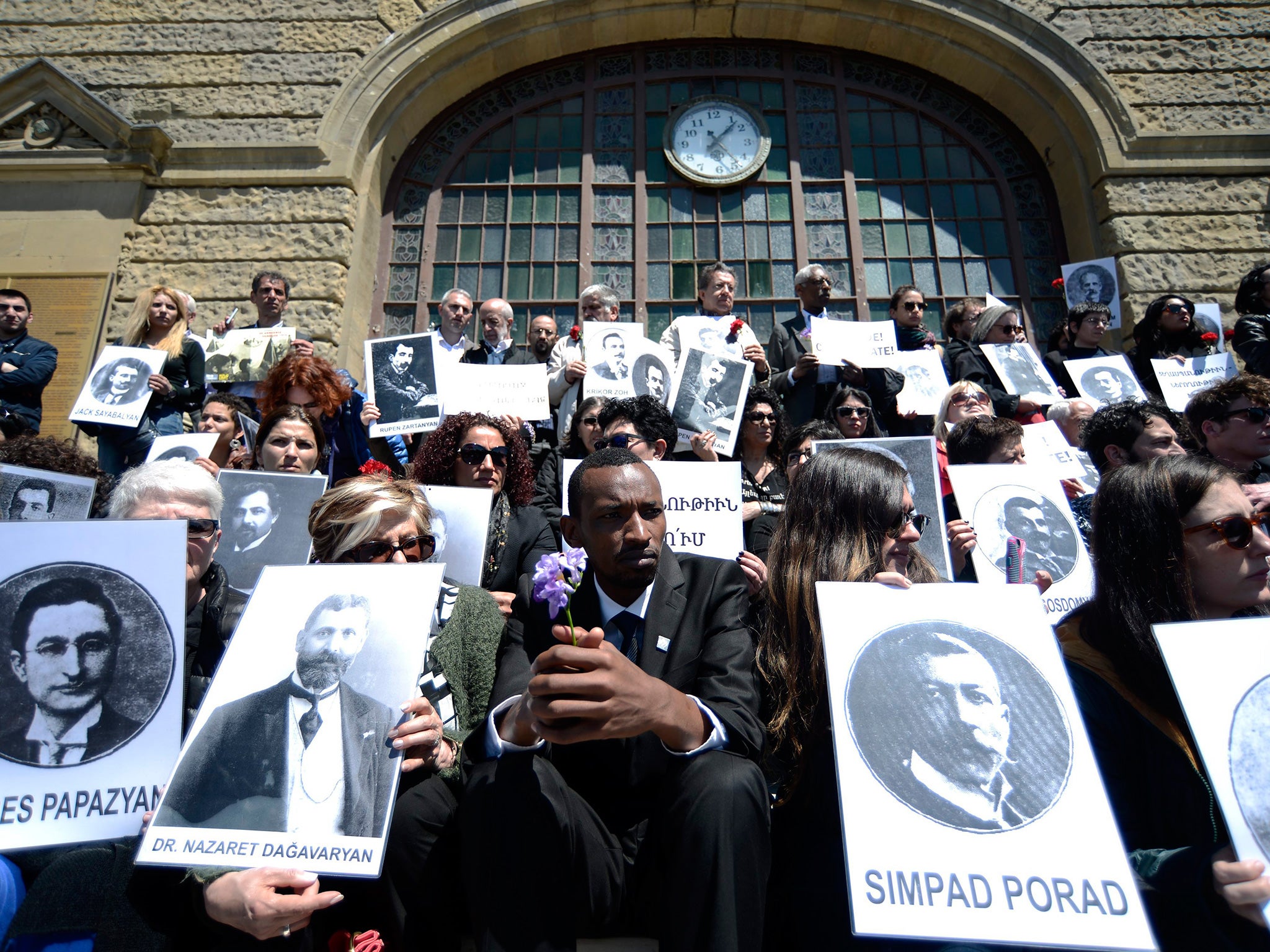 Soghomon Tehlirian Junior doesn't have much time for those who want the Armenian genocide recognized by the world. "The Armenians keep trying to tip things out of the grave," he says. "It's three generations ago. It's history. Everyone killed a lot of people. You can't go back to the Spanish inquisition and the Roman Empire and bring it back. That's not me. I never remember my father saying one bad word about the Turks. He just wanted to live his life in peace."
I listen to the brisk, youthful voice of this 86-year-old Armenian talking to me down the phone from America and I have to shake my head to remember that his father, Soghomon Tehlirian, was the assassin who shot dead Mehmet Talaat Pasha, the Grand Vizier of the Ottoman Empire and organizer of the 1915 genocide of one and a half million Christian Armenians.
He killed Taalat in a Berlin park in 1921 as part of the Armenians' 'Operation Nemesis' to destroy all who had plotted the extermination of their people. So appalled was the German Weimar Republic's court by the evidence of the 20th century's first industrial holocaust, that it took jurors at Tehlirian's trial just two days to declare the Armenian assassin 'not guilty'.
So Soghomon Tehlirian got off scot-free, went to make his fortune in Yugoslavia where his sons was born, and ended up in California. His younger son was 12 when the Germans invaded the Balkans in 1941.
"I saw the gun my father used to shoot Talaat Pasha, but when the Germans came, he threw it into the Danube," he says. "When the Germans occupied Yugoslavia, owning a Luger pistol would have been a death sentence."
The family story is both gruesome and tragic and Soghomon Tehlirian's younger son has changed his family name to distance himself from history – and from the Turks who still regard his father as the world's most famous "terrorist".
He asked The Independent not to reveal his new identity. "No names, no address… I'm out of it. You never know, if some crazy Turk finds out…"
Tehlirian Junior's older brother is now dead. His father died in America in 1960. It was a request that couldn't be refused. But the surviving son's memory of Soghomon Tehlirian is razor sharp.
Armenians mark 101 years since genocide
Show all 10
"He was the most gentle, mild man you could ever meet, almost naïve. Me and my older brother had to force him to tell us what happened. He never liked to talk about it. He was a man of very few words. He used to write poetry and draw very well.
"He was not what an assassin should be. He first told me the story of how he killed Talaat when I was 10."
For more than a century, the Armenians have blamed Talaat Pasha, the ruthless Ottoman interior minister, for organising and completing the genocide of the Christian Armenians of what is now Turkey. The male victims were shot into mass graves, beheaded beside rivers, or drowned. Their women were sent into the deserts of northern Syria on death marches which often ended in rape and starvation. Children were burned alive.
Talaat Pasha, like the Nazi war criminals who followed his example less than three decades later, sought sanctuary abroad after his country lost the First World War. He chose Berlin. And that is where Soghomon Tehlirian Senior was sent in 1921 to kill the tall, bearded man who lived quietly in the Charlottenberg district of the German capital.
"My father shared a room with a group of students," his son remembers. "He said it was right across the street from Talaat. In photographs, Talaat had a moustache, but he had grown it into a full beard and he had two bodyguards."
Talaat made the classic mistake of adopting a routine. "He went for a constitutional every day at 11.0 am. My father got behind him and called out his name, 'Talaat', and he turned round and my father shot him... I don't know what happened to the bodyguards. The people who saw all this grabbed my father and beat him and it was only the Berlin police who saved him from being lynched. Later, I found out that he had also killed an Armenian Quisling in Istanbul who was spying for the Turks during the genocide."
Indeed, in 1921 Tehlerian assassinated Hartyun Mkrtchian, who had helped Talaat round up the initial Armenian clergymen, journalists and lawyers for exile and death in April 1915. Vidkun Quisling was the Norwegian head of the Nazi occupation government in Oslo in 1940 – like the word 'genocide', his name did not exist as a noun until after the Second World War – and Quisling was also executed, albeit after a post-war trial.
By the time he killed Talaat, therefore, Tehlirian, who was born in Erzerum province in Turkey in 1896, already had the blood of an Armenian informer on his hands. The 1921 Berlin court, trying him for Talaat's murder but appalled by the evidence of the slaughter of hundreds of thousands of Armenians – which the present German parliament acknowledged as genocide only this month – set Soghomon Tehlerian free after two days.
Popular Armenian history would have it that Tehlerian's entire family – his father, mother, sisters and all three brothers – were murdered in front of him during the genocide. This is untrue. Soghomon Tehlirian was not in Armenia at the time.
He was in Serbia, having moved there quite by chance on the very day in June 1914 that Gavrillo Principe shot the Archduke Ferdinand in Sarajevo, setting off the First World War.
"My father never had a sister," his son says. "He and two of his brothers were in Serbia. It was his mother – my grandmother – who was killed in the genocide, along with his oldest brother Vasken, who would have been my uncle and who had been a medical student in Beirut.
"My father went to Russia during the [Bolshevik] Revolution and joined General Antranik Ozanian's Armenian army, which had been fighting alongside the Russian Tsar's army against the Turks. I have a photograph of my father in a fur hat with [bandoliers of] bullets draped round him. The Russian front was then in [the Armenian city of] Van. I don't know if he knew then what had happened to his mother and brother but he did find his 12-year old niece, lost in the woods in western Armenia. Her name was Armenouhi and she was the daughter of my uncle – my father's older brother Missak – and Missak's first wife."
In 1917, Soghomon Tehrlirian met a 15-year old Armenian girl called Anahit. "She was the great love of his life," his son says today.
"After his trial in Berlin, my father went to Cleveland in the US but Anahit, who would become my mother, was inside what was now the Soviet Union and she couldn't get out. She went to the local passport office in Tbilisi and said she wanted to go to America to marry my father, but they said 'no'. Then she and her older sister met a businessman in Tbilisi in 1923, who listened to her story and then gave her his business card and told the two girls to show it to the Soviet passport office.
"The moment they did so, they gave Anahit an exit visa and her sister a full Soviet passport. They never knew who the businessman was. Anahit's mother – my grandmother – told her she was too young to go on her own and that her sister, who would be my aunt, must travel with her."
The two girls left for Marseilles – but the US refused Anahit's sister an entry visa because she was a citizen of the new Soviet Union. She had to return.
"My father gave up his business in Cleveland and travelled to Marseilles," his son says. Soghomon Tehlirian married Anahit and decided to go to Yugoslavia because he had family and friends there. But the politics of revolution followed him like an albatross.
In Yugoslavia, he opened a successful coffee business and his business card, according to his son, announced that he was 'official coffee grinder to the Royal Court' of King Alexander. He had a monopoly on coffee in Yugoslavia "and drove around in a Ford station wagon, delivering coffee to the King's palace".
But after the Second World War and Tito's accession to power, Soghomon Tehlirian befriended a street urchin and asked him to work in his coffee emporium. "He became a Communist," Tehlirian's son says, "and one day he walked into the store and told my father: 'Now, you get out of here – this belongs to the people.' My father came home in tears. They just kicked him out."
Soghomon Tehlirian spent the rest of his life in the US before dying of a brain tumour in 1960. His wife Anahit died in 1979.
"In his last years, the Armenians showed my father off in cities around America – in Boston, Cleveland, New York," his son says today. "He would give patriotic speeches but he really never liked to talk of what happened." His grave can be found in the Ararat cemetery in Fresno, California, topped by a gold-plated Armenian eagle holding in its claw a serpent representing Tehlirian's celebrated victim, Talaat Pasha.
Talaat's own ashes lie today within a much visited mausoleum in central Istanbul. They were returned to the Turks in 1943 in a train decorated with the Nazi swastika, and on the orders of Adolf Hitler – who hoped this would persuade neutral Turkey to join the Axis powers. In vain.
Join our commenting forum
Join thought-provoking conversations, follow other Independent readers and see their replies