Kate and Will's third baby is further proof that the royal family needs to be nationalised
All in all, the Queen is probably worth the best part of half a billion; so extremely wealthy by most standards, but not on the scale of some in the world. That is in fact public property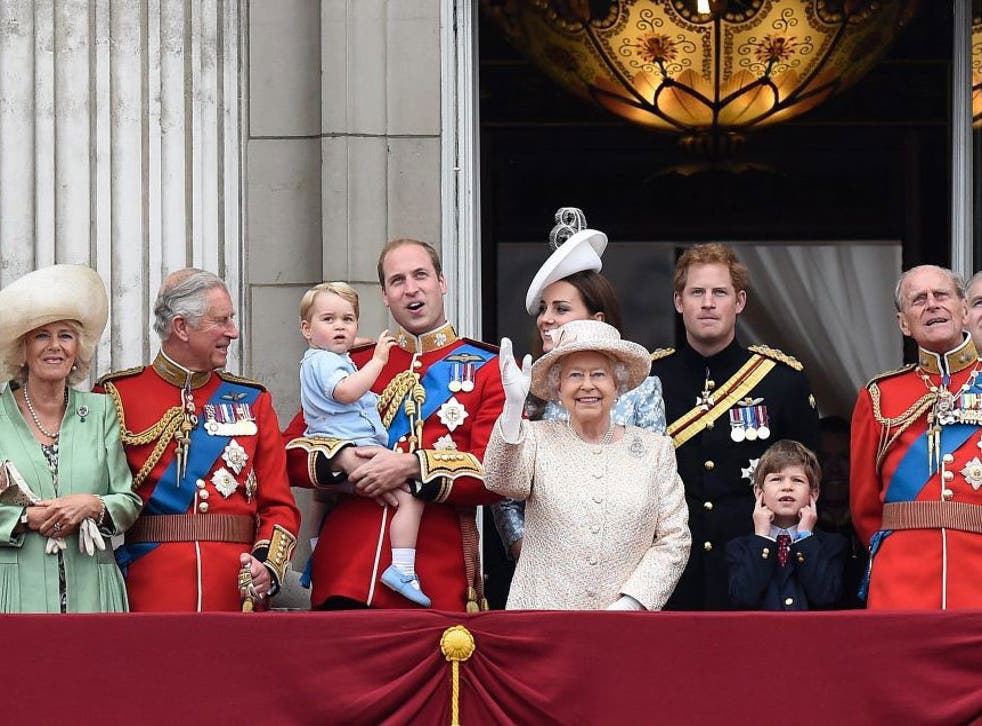 I'm afraid that I have to confess that when I heard the news that the Duchess of Cambridge was to have another child I experienced a slight feeling of morning sickness myself. Curmudgeonly, yes, but my first thought was, I'm sorry to say, "Who's paying for that, then?"
Well, me. And you. We will be footing the bill for the fees at Eton (boy) or Marlborough (girl), for the ponies (polo or My Little) and for the security detail. A lifetime of private school fees then nannies, flunkies, amazing travel, limos and the most expensive clothes, food and the royal jelly awaiting this lucky baby, and all of the costs of bringing this latest addition to the dynasty will be borne, one way or another, by what is in fact public funding. When will they stop breeding?
Given the Windsors' remarkable fertility, we can see the size of the royal family ballooning some more in the coming decades. If all the living children, grandchildren, great grandchildren, cousins and nieces and nephews of monarchs are counted it would come to hundreds. After a time and after a degree of separation from the line of succession they start to "go common", by which I don't mean that they abandon their drawling accents and typical murdered vowels, but they do tend to get sort-of jobs and have to put the toothpaste on the toothbrush themselves. (Like Princess Margaret's son, who wound up as a fancy "society carpenter").
UK news in pictures

Show all 51
Still, there are probably too many who receive some form of public subsidy, more or less hidden, maybe through grace and favour residences, travel on the public purse "promoting Britain", often indistinguishable from a free holiday, or access to royal other facilities of one sort or another. To do them credit, Prince Charles and the Queen have moved to rationalise the annuities and funds that go via the Sovereign List (voted by Parliament) or otherwise to the many members of the clan. There are plenty of lopping opportunities on the overhanging branches on the family tree. Thanks to the child-rearing activities of the Queen's antecedents there is a dizzying community of these, often bearing Shakespearean-sounding titles, but mostly very obscure now. Only the most obsessive royalist could, I suggest, work out which Kent is which, identify the Duke of Gloucester in a police line-up of elderly aristocrats, or distinguish one Lascelles from another. (Personal note: I did actually recognise HRH the Duke of Kent when I almost ran him over on Kensington High Street when I was test driving a Nissan Juke in "sunlight yellow" – a bizarre brush with regicide I still have nightmares about. Certainly an undignified way for the old boy to go. Oddly enough he was on his way to the cashpoint).
Anyway there's a lot of royals about, probably more than at any time in history. Imagine if Princesses Beatrice and Eugenie have a few sprogs each…and then Harry and Meghan. Plus all of Princess Anne's and Prince Edward's offspring (who I'd forgotten about; I looked them up. Edward's son is, absurdly, the nine-year old hereditary "Viscount Severn", just so you know where public money, as defined here, is going. He has a lake in Manitoba named after him, a bit confusingly, seeing he was named after a river). So there is more slimming to do. All that said, I do wish mum Kate and future baby well.
All you need to know about the new royal baby
At this point the answer to the question about the upkeep of royal babies and the rest of it usually comes as follows – "The taxpayer doesn't pay that much – a lot of it is down to the Queen's personal income". This is true, and there's a distinction between the money Parliament votes for the Queen and her family to fulfil royal duties on the one side – all those banquets for foreign dignitaries for example – and the "private" income she and the Prince of Wales receive from their hereditary ownership of the Duchies of Lancaster and Cornwall, respectively. From those monies they look after their own. There are some other private sources of income too, from undisclosed but substantial investment portfolios – shares, bonds and other property I guess. Taxes are paid on a voluntary basis. Nice. The Sovereign Grant, by the way, is related to the value of Crown properties – belonging to the state and before the mid eighteenth century was regarded as the personal wealth of kings and queens. But if the value of the rents and incomes form the Crown Estate ever falls then the Grant does not index down with them. A bit of a one-way bet really. I don't accept, however, that this is really "private" at all. The distinction is a political convenience.
My contention, then, is that the monarchy and the British state are in fact inextricably linked and that the properties, incomes and privileges enjoyed by the monarch and those around the sovereign are in fact there by consent of Parliament and People. That is the reality of the relationship between sovereign and sovereignty (which, as the EU Referendum shows, firmly rests with the People), and it is time that the royal finances caught up with the democratisation of British society.
Royal Family: Who has been the busiest in 2017?
All in all, the Queen is probably worth the best part of half a billion; so extremely wealthy by most standards, but not on the scale of some in the world. That is in fact public property.
Whatever the wealth amounts to, it is there as a function of the ruling dynasty being part of the fabric of the British state for 1,000 years (with a brief Cromwellian interruption). I am no republican, so I only ask this question as a way of making the analysis clear: If the royal family were to be abolished, would the Windsors be allowed to hang on to the income and assets of their various duchies and investment portfolios? No. Nor any of the palaces, paintings, cars, stamp collections, first editions, rare manuscripts and documents, race horses, tiaras, frocks, gifts received on royal visits from the people of Fiji or wherever, farms, antiques and manifold other assets they've amassed over the centuries. Apparently the Queen's grandma, Queen Mary, would just rock up at some stately home and if she fancied some nice bit of furniture would just drop a heavy hint to that effect and, lo, it would be in a van going to Buck House. Some of her predecessors were even less polite. In any case, the distinction between the royals' "private" and "public" income is bogus, and the pretence of it is serving no one well.
We all need to ask what is the best use of those financial assets, and – most importantly – ensure that they are being spent in a way that is not offensive to the rest of the national family. To put it slightly harshly, Wills and Kate are not about to join the ranks of the "just about managing", the folk who might find the idea of a third mouth to feed leaving them with some trepidation. So the nation needs to be content with the income and lifestyle – and size – of the royal family. Some will never be reconciled to the sort of privileged life they lead and would prefer them all to be made to live on a "worker's wage", like some Labour MPs insist on, or used to, donating the rest of their salaries to charity or some socialist cause. Maybe Jeremy Corbyn still believes that.
I don't think that is right or necessary, and indeed would be ridiculed. What is required is to make those members of the royal family who do perform public duties properly salaried, with set holidays and expenses the same as any other public servants. The royal family, then, needs to nationalised.
After that they can live undeniably lavish and comfortable lifestyles, with no financial concerns, though I admit that the kind of press intrusion they have to suffer has to end, as the death of Diana reminds us. Twenty years ago Earl Spencer said that "It would appear that every proprietor and every editor of every publication that has paid for intrusive and exploitative photographs of her, encouraging greedy and ruthless individuals to risk everything in pursuit of Diana's image, has blood on his hands today." He was right.
Prince George: Best moments from his fourth year
Maybe I am a bit ahead of things here. After that awkward time back in 1997, the Queen has stabilised the institution and it has made a long march back to assured popularity. Today, of all days, fawning and sycophancy are much more in evidence than militant republicanism – but that consent, as we have seen before, can be a fragile thing. I share the enthusiasm for a constitutional monarchy. But with the clan getting so big, and the costs of running crumbling royal residences and stately occasions escalating the time, there is a need to get the framework of Britain's constitutional monarchy right, and that means making sure the population is broadly OK with it and comprehends what it does.
In her constitutionally near-flawless way, the Queen has recognised that she reigns solely by consent and the institution she has lead so skilfully since 1952, in times so changed and changing still, has to adapt and indeed bow to public expectations. All the Diana commemorations show us how important it is for that convention to be followed, even in areas that are nominally "private", including, at that time, private family grief.
The concept of vast untaxed "personal" wealth being transferred down the generations is not one that sits well in today's Britain. The new prince or princess will be growing up in a Britain where attitudes to inequality of opportunity and wealth are hardening rapidly. It would be a tragedy if that political feeling was to damage the institution of the monarchy, which is actually a valuable one and has mostly served the country well. I happen to like the fact it has been around for a long time and offers continuity; that is in itself a political and economic asset, and a valuable one, when set against the kind of upheavals that have happened in almost every other European state. It's worth keeping, so it's worth making sure that it is of manageable scale and the money is not diverted to dissolute opulence while the people are going through hardships. That, around the world, has usually been a prompt to get rid of the whole thing. A dedicated monarchist ought to recognise that.
Register for free to continue reading
Registration is a free and easy way to support our truly independent journalism
By registering, you will also enjoy limited access to Premium articles, exclusive newsletters, commenting, and virtual events with our leading journalists
Already have an account? sign in
Join our new commenting forum
Join thought-provoking conversations, follow other Independent readers and see their replies