Russia athletics corruption: Allegations so serious that only the most drastic response can save the sport
Wada's former chief, Dick Pound says what he and his colleagues found is just the 'tip of the iceberg'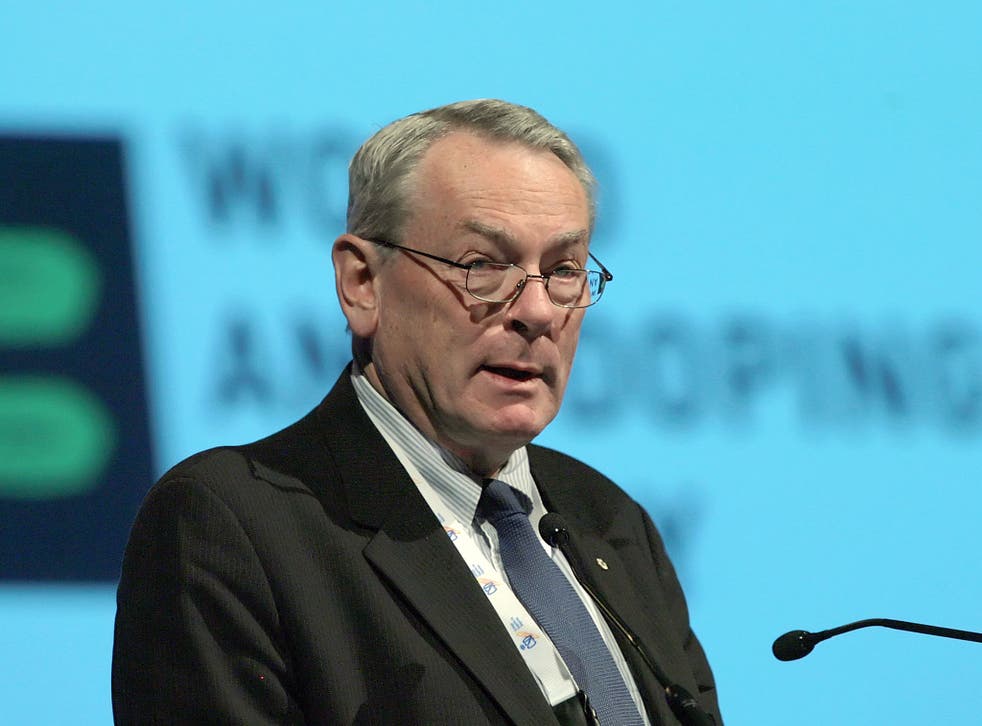 If there is one man with cause to cheer the damning report into the institutional failings of the International Association of Athletics Federations (IAAF), it is Sepp Blatter. It turns out that Fifa may not be the most deficient global sporting organisation after all. The revelations and recommendations of the Independent Commission appointed by the World Anti-Doping Agency (Wada) had been well trailed; but they were no less startling for that. To conclude that Russia should be banned from international athletics competitions is a marker of how serious things have become.
Wada's investigation was prompted by a German documentary which uncovered evidence of systemic doping within Russian athletics, as well as attendant cover-ups and corruption. The primary whistle-blower, an employee of the Russian Anti-Doping Association (Rusada) named Vitaly Stepanov, has been in hiding ever since the documentary went to air.
A year on and the allegations' veracity has been confirmed – and then some – by the Commission led by Wada's former chief, Dick Pound. Indeed, there was little equivocation from Mr Pound and his colleagues: they describe a "deeply rooted culture of cheating" in Russian athletics, probably going back to Cold War times, which ultimately led to the "sabotaging" of the London Olympics in 2012 because some of those who competed – and won medals – were not clean.
If the first step towards setting matters right is to recognise how badly things have gone wrong, then this is all to the good. Similarly, it is encouraging that the IAAF, led by one of Britain's greatest athletes, Seb Coe, has responded positively and accepted it must take responsibility for what happens next.
Its decision-making council will start the process of considering sanctions against Russia immediately and Lord Coe himself boldly promised that "we will do whatever it takes to protect clean athletes and rebuild trust in our sport". So far, so good.
However, as Fifa has shown, positive words don't always translate into action. The past records of Wada and the IAAF are not unblemished when it comes to dealing with claims of misconduct. After all, before turning to a documentary-maker, Mr Stepanov took his allegations to Wada directly to little or no effect. The IAAF for its part pooh-pooed press reports over the summer that suggested it was in possession of evidence which showed widespread doping, far beyond Russia. Lord Coe described the claims as "a declaration of war on my sport".
There can be no more procrastinating. Nor can there be kowtowing by the international bodies to national associations. Lord Coe in particular must take the lead, and he should push for Russia's exclusion from the Rio Olympics next year, tough though that may be.
As for the IAAF itself, French prosecutors are already investigating former president Lamine Diack, who is suspected of money laundering and corruption, as well as two other key figures. Lord Coe can say with some degree of credibility that action is under way, though there may be further embarrassment when the Wada Commission releases its findings about the IAAF – currently withheld until the legal proceedings involving Mr Diack are concluded.
Moreover, Lord Coe will be deeply worried by Mr Pound's admission that what he and his colleagues found is just the "tip of the iceberg". "We don't feel Russia is the only country with a doping problem," he said. Britain's former champion must find a way to change his sport's direction as swiftly as possible: for as things stand, it seems far too many are simply involved in a race to the bottom.
Register for free to continue reading
Registration is a free and easy way to support our truly independent journalism
By registering, you will also enjoy limited access to Premium articles, exclusive newsletters, commenting, and virtual events with our leading journalists
Already have an account? sign in
Register for free to continue reading
Registration is a free and easy way to support our truly independent journalism
By registering, you will also enjoy limited access to Premium articles, exclusive newsletters, commenting, and virtual events with our leading journalists
Already have an account? sign in
Join our new commenting forum
Join thought-provoking conversations, follow other Independent readers and see their replies